Outdoor baby showers, a rising trend, bring extra joy to anticipating a new arrival. These gatherings charm expectant parents and planners, offering a refreshing twist on indoor affairs. Their allure? The natural beauty of backyards, beaches, and parks adds a touch of magic to the celebration.
This article will explore a trove of outdoor baby shower ideas amidst nature's splendor. Plus, we'll share essential planning tips for unforgettable and enchanting celebrations. Join us in this journey where the great outdoors meets the boundless joy of welcoming new life.
Download Baby Shower Checklist FREE TEMPLATE.
Unique outdoor baby shower ideas
1. Boho chic luxury pop-up picnic party
Elevate your celebration with a luxurious pop-up picnic party that combines sophistication and boho chic charm. This versatile concept can be set up in your backyard, by the beach, or in a local park, adding a touch of magic to these outdoor locations.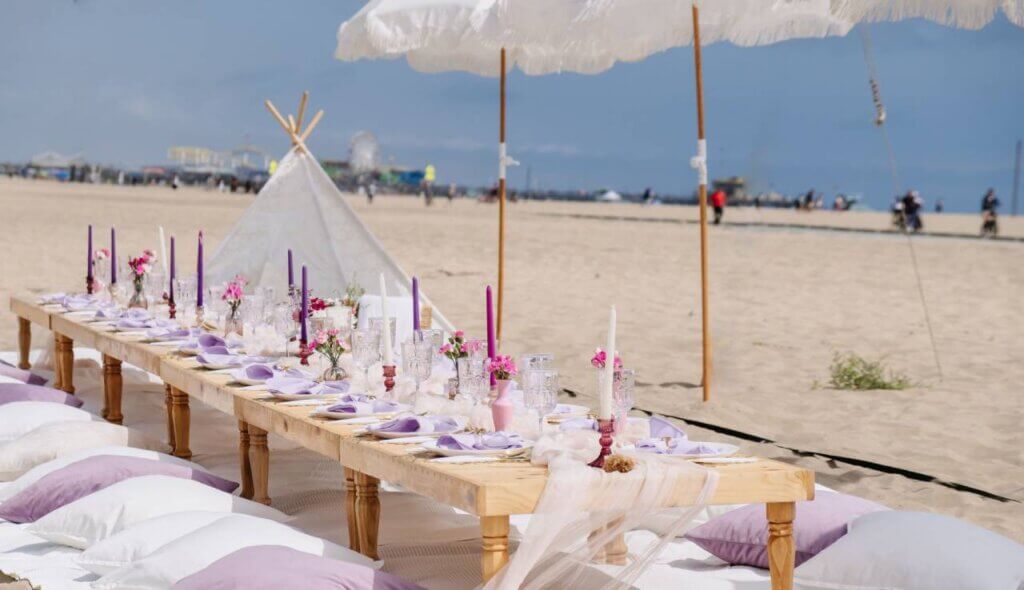 Decor ideas:
Lay out plush picnic blankets with soft cushions for a comfortable seating arrangement with boho chic flair.
Use exquisite tableware and elegant table settings to create a refined ambiance.
Set up a gourmet spread with various delectable treats and fine wines, embracing the boho chic aesthetic.
Incorporate elegant floral arrangements or succulent centerpieces to complement the bohemian vibe.
Activities:
Consider live acoustic music or a professional wine-tasting session to elevate the experience.
Arrange a baby-themed trivia quiz to keep guests engaged and entertained while embracing the boho-chic spirit.
Create a designated area for a baby photo booth with props for memorable snapshots, in line with the boho chic theme.
Book your luxury pop-up picnic baby shower party with Picnic Makers.
2. Enchanting garden party 🌸🧚‍♂️✨
Imagine a lush garden adorned with colorful flowers, fairy lights, and delicate bunting.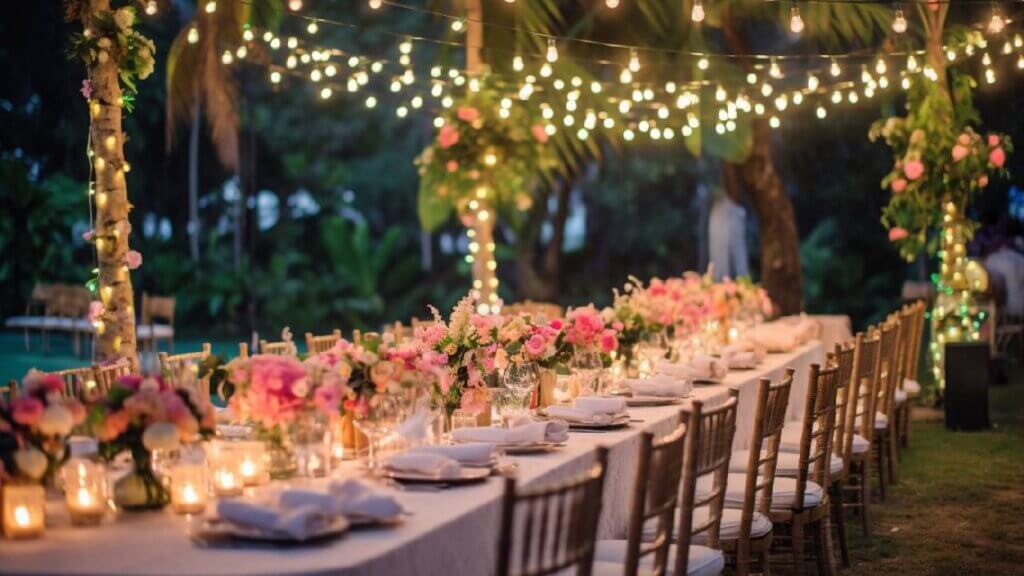 A garden party is the perfect way to celebrate the miracle of life in a picturesque setting, ideal for backyards, parks, or even beachside locations.
Decor ideas:
Use floral centerpieces with pastel hues to add a touch of elegance.
Hanging fairy lights in the trees and around the party area for a magical ambiance.
Create a cozy seating area with vintage-inspired furniture.
Set up a charming dessert table with a variety of treats.
Activities:
Arrange a flower crown-making station.
Have a tea-tasting corner with a selection of herbal teas.
Organize a garden-themed scavenger hunt for the kids.
3. Beachside bliss 🏖️🌊🌴
Escape to the soothing embrace of the coast with a beachside baby shower. Whether it's the sound of the waves or the salty breeze, a beach-themed celebration offers serenity and is perfect for coastal locations.
Decor ideas:
Embrace a nautical theme with seashells and anchor decorations.
Provide beach blankets and umbrellas for a relaxed seating arrangement.
Decorate with driftwood and seagrass for that rustic beachy vibe.
Serve seafood delicacies and tropical mocktails to complement the beachside atmosphere.
Activities:
Organize a sandcastle-building competition.
Set up a beach volleyball or frisbee tournament for active fun by the shore.
Create a seashell painting station for guests to unleash their creativity while enjoying the beach.
4. Woodland wonder 🌲🍂🌳
A woodland-themed baby shower is ideal for nature enthusiasts and those who appreciate rustic charm. The tranquility of the forest creates a serene atmosphere, perfect for woodland locations or nature reserves.
Decor ideas:
Utilize wooden furniture and natural materials for a rustic look.
Hang string lights and lanterns to illuminate the area and create a magical woodland atmosphere.
Scatter pinecones and leaves as table decor for a touch of nature.
Serve a hearty, outdoor picnic-style meal amidst the woodland wonder.
Activities:
Organize a guided nature walk to explore the surroundings and connect with the woodland setting.
Set up a crafting station using natural materials for DIY woodland-themed baby shower favors.
Host a storytelling session around a campfire for a touch of woodland magic and togetherness.
5. Rustic barn celebration 🐓🚜🌾
Embrace the charm of a rustic barn celebration for your outdoor baby shower.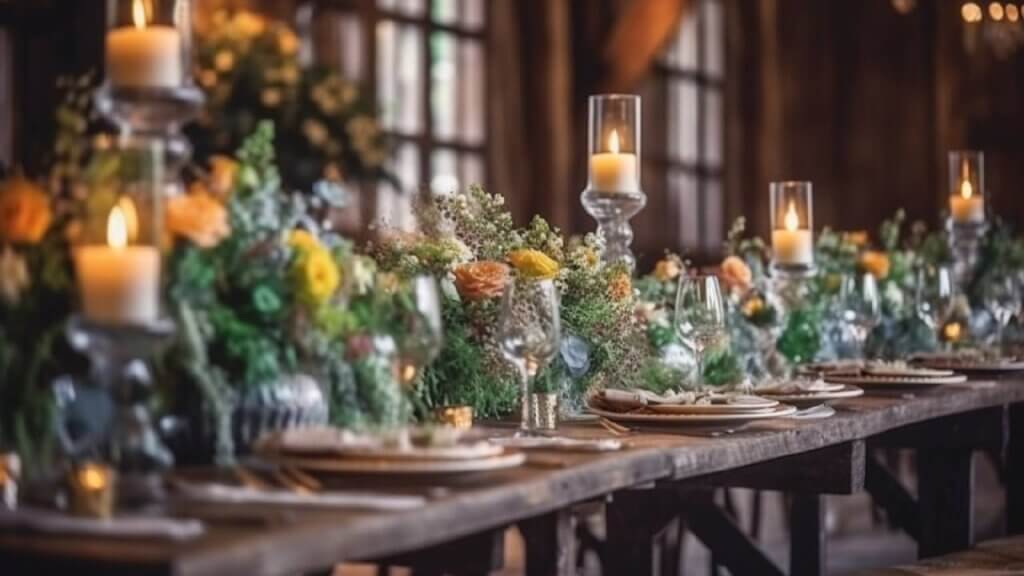 This theme is perfect for barn or countryside locations, offering a rustic and cozy ambiance.
Decor ideas:
Decorate with burlap table runners and wildflower bouquets to enhance the rustic barn atmosphere.
Incorporate wooden elements and mason jar centerpieces for a touch of country chic.
Create a cozy seating area with hay bales and rustic furniture.
Serve farm-to-table dishes like farm-fresh salads, pies, and artisanal cheeses to complete the rustic experience.
Activities:
Arrange a farm tour for guests to interact with the animals and explore the rustic surroundings.
Host a pie-making contest with various fillings for sweet and savory pies, perfect for a rustic barn celebration.
Consider a farm-themed crafting station where guests can decorate onesies or baby bibs with farm motifs, keeping the rustic theme alive.
6. Campfire coziness 🔥⛺🌲
If you love bonding around a campfire, a cozy campfire-themed baby shower is a beautiful choice. It's all about warmth, togetherness, and sharing stories, suitable for various outdoor settings.
Decor ideas:
Arrange comfortable seating with outdoor cushions and blankets for ultimate campfire coziness.
Create a central campfire area for roasting marshmallows and making s'mores, the highlight of the campfire theme.
Hang mason jar lanterns for a soft and rustic glow.
Serve comfort food like chili, cornbread, and hot chocolate to complement the campfire atmosphere.
Activities:
Sing campfire songs and share heartwarming stories around the fire, embracing the campfire coziness.
Organize a stargazing session with telescopes for a touch of wonder if possible.
Set up a baby-themed trivia game for guests to test their knowledge and enjoy friendly competition.
7. Carnival extravaganza 🎪🎉
Consider a carnival-themed celebration to inject fun and excitement into your baby shower.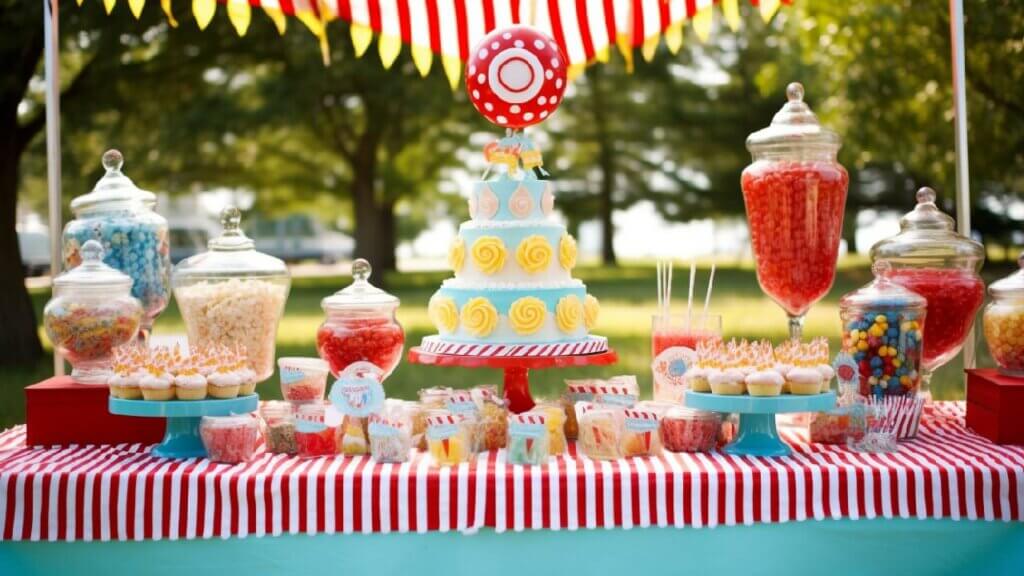 It's a great way to bring out the child in everyone and is suitable for various outdoor locations.
Decor ideas:
Use bright, bold colors and striped patterns for your decor, capturing the vibrant carnival atmosphere.
Set up classic carnival games like ring toss, duck pond, and a prize wheel.
Create a concession stand with popcorn, cotton candy, and snow cones for a taste of the carnival experience.
Have a face-painting booth for guests of all ages to embrace their inner carnival spirit.
Activities:
Organize a baby-themed carnival game where guests can win prizes for added excitement.
Set up a photo booth with props for memorable snapshots in the carnival theme.
Consider hiring a stilt walker or clown for added entertainment and a touch of whimsy.
8. Vintage fairytale ✨🧚‍♀️
Transport your guests to a fairytale world with a vintage-themed baby shower. It's all about elegance, nostalgia, and magic, suitable for various outdoor locations.
Decor ideas:
Use vintage teacups, saucers, and lace doilies as table settings, enhancing the vintage fairytale aesthetic.
Hang ornate frames with baby photos of the parents-to-be for a nostalgic touch.
Decorate with antique baby carriages and vintage toys for a fairytale atmosphere.
Serve an afternoon tea with delicate sandwiches and pastries, in line with the vintage theme.
Activities:
Arrange a vintage photo booth with props like feather boas and top hats for memorable snapshots.
Host a baby-themed trivia game with questions about old wives' tales, keeping the vintage fairytale theme alive.
Set up a storytelling corner with classic children's books to create a whimsical atmosphere.
9. Backyard barbecue bash 🍔🌭
Transform your backyard into a delightful haven for a backyard barbecue bash or baby shower. This American homeowner-oriented idea celebrates the joy of togetherness and is ideal for those who love the comforts of home.
Decor ideas:
Set up picnic tables with gingham tablecloths and mason jar centerpieces for that classic backyard barbecue look.
Hang string lights and fairy lights to create a cozy and inviting ambiance.
Decorate with colorful banners and bunting to add a festive touch to your backyard.
Activities:
Fire up the grill and serve classic barbecue dishes like burgers, hot dogs, and grilled corn.
For outdoor fun, organize lawn games such as cornhole, horseshoes, or a friendly backyard baseball game.
Set up a DIY s'mores station for guests to roast marshmallows and create sweet treats.
10. Farm-to-table delight 🚜🍅🌻
If you're a fresh and rustic charm fan, a farm-to-table baby shower is an excellent choice.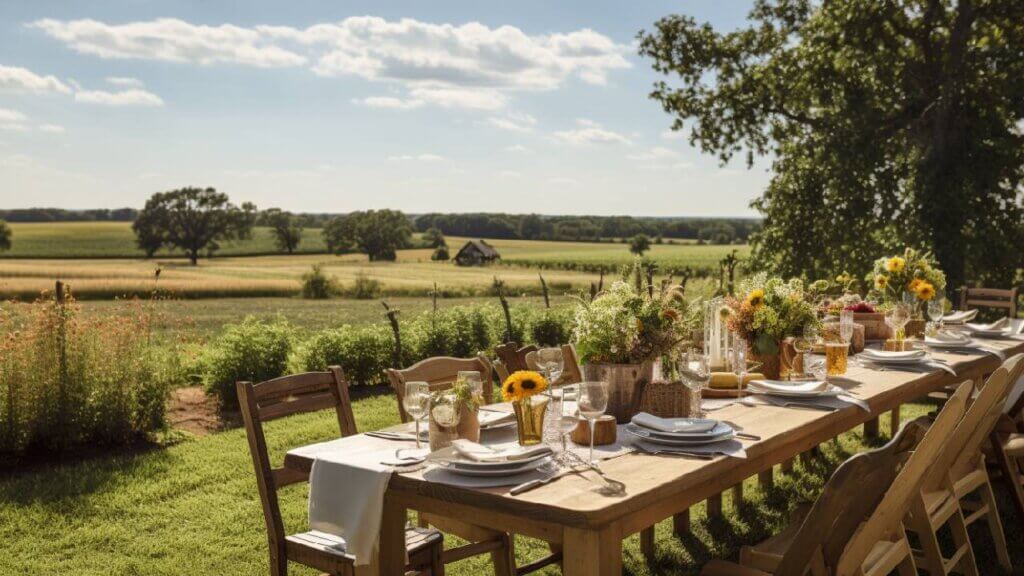 It's all about celebrating the harvest and is suitable for outdoor locations with a farm or countryside setting.
Decor ideas:
Use wooden tables and mason jars for a rustic farm-to-table look.
Incorporate farm-fresh produce into your table decor for an authentic feel.
Create a cozy atmosphere with burlap table runners and wildflower bouquets.
Serve farm-to-table dishes like farm-fresh salads, pies, and artisanal cheeses to complete the farm-to-table experience.
Activities:
Arrange a farm tour for guests to interact with the animals and explore the farm, aligning with the farm-to-table theme.
Host a pie-making contest with various fillings for sweet and savory pies, perfect for a farm-to-table delight.
Consider a farm-themed crafting station where guests can decorate onesies or baby bibs with farm motifs to continue the rustic charm.
11. Tropical paradise 🌴🍹🌺
Escape to a tropical paradise with a lush and vibrant baby shower theme. It's all about embracing the exotic and is suitable for outdoor settings with tropical flora and a beachy ambiance.
Decor ideas:
Use vibrant tropical flowers and lush greenery as centerpieces for a vibrant tropical paradise.
Hang tiki torches and string lights for a festive tropical atmosphere.
Create a tropical paradise with bamboo furniture and colorful linens.
Serve exotic fruit cocktails and tropical-inspired cuisine to complete the tropical paradise experience.
Activities:
Consider a hula dancing lesson for guests to immerse themselves in the tropical vibe and enjoy a taste of the tropics.
Host a tropical trivia game with questions about famous tropical destinations for a fun and engaging activity.
Set up a tropical photo booth with props like leis, sunglasses, and oversized fruit to capture the spirit of the tropical paradise.
These 11 unique outdoor baby shower ideas and essential planning tips will help you create an unforgettable and enchanting celebration amidst the splendor of the great outdoors. Enjoy the journey where the beauty of nature meets the boundless joy of welcoming new life.
Planning the outdoor baby shower
Organizing an outdoor baby shower requires careful planning to ensure every detail aligns with your vision.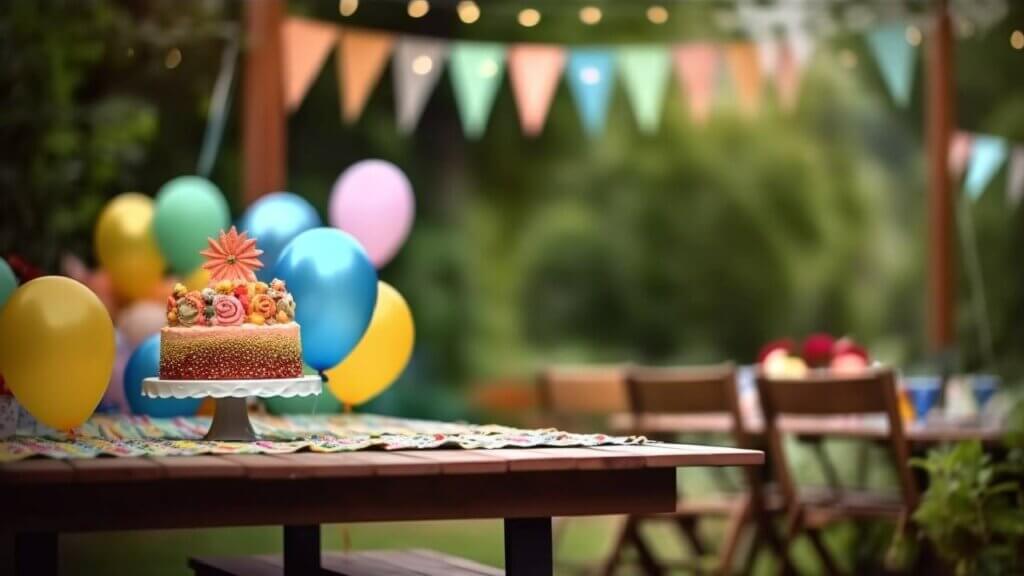 Here are essential steps to guide you through the process:
Step1. Pre-event preparation 📆
Before you dive into the fun details, consider these crucial pre-event preparations:
Choose the Right Location: Select a suitable outdoor venue, whether it's your backyard, a nearby park, a beach, or any other outdoor space. Ensure it aligns with your theme and has the necessary facilities.
Set the Date: Pick a date that works for the parents-to-be and important guests. Check for any local events or holidays that might affect availability.
Create a Guest List: Compile a list of potential guests and prioritize who to invite. Keep in mind the capacity of your chosen outdoor location.
Step 2. Invitations and themes 🎉
Once the basics are in place, focus on setting the tone and theme for your outdoor baby shower:
Design Invitations: Create visually appealing invitations that match your chosen theme. Include details such as date, time, location, and RSVP information.
Select a Suitable Theme: Choose a theme that resonates with the parents-to-be and the outdoor setting. Themes like "Boho chic picnic," "Woodland wonder," or "Tropical paradise" can set the stage for an enchanting experience.
Step 3. Decor and seating 🎈🪑🌼
Enhance the outdoor ambiance with carefully chosen decor and comfortable seating arrangements:
Choose Decor Elements: Select decorations that complement your theme. This might include table centerpieces, banners, balloons, and lighting options.
Arrange Seating: Consider the comfort of your guests by providing ample seating. Picnic blankets, chairs, or rented furniture can help create cozy areas for socializing.
Step 4. Food and drinks 🍔🍹🍽️
Planning the menu is a vital part of the outdoor baby shower experience:
Menu Planning: Decide whether you'll cater the event, have a potluck-style gathering, or prepare the food yourself. Consider the dietary restrictions and preferences of your guests.
Catering: If you choose to cater, research local caterers with experience in outdoor events and a menu that aligns with your theme.
Beverage Options: Offer a variety of drinks, including non-alcoholic options for non-drinkers and expectant mothers. Consider serving themed cocktails or mocktails.
Find best picnic food ideas.
Step 5. Activities and entertainment 🎵
Keep your guests engaged and entertained throughout the event with thoughtful activities:
Themed Activities: Incorporate activities that align with your theme. For example, a garden party could feature flower crown-making, while a carnival-themed shower might include classic games.
Interactive Games: Plan baby shower games that encourage guests to mingle and enjoy the celebration. Traditional games like bingo and trivia are always crowd-pleasers.
Entertainment: Consider live music, a professional entertainer, or even a DIY karaoke setup to add fun to the event.
Learn why diaper raffle is a great baby shower game.
Step 6. Contingency plans
Outdoor events are susceptible to weather changes, so be prepared:
Weather Contingencies: Have a backup plan in case of inclement weather. This could be a nearby indoor location or rented tents for rain protection.
Notify Guests: Communicate the backup plan to your guests in advance so they know what to expect.
Step 7. Safety considerations
Ensure the safety of your guests is a top priority:
First Aid Kit: Have a well-stocked first aid kit on hand in case of minor injuries or mishaps.
Food Safety: If serving food outdoors, pay extra attention to food safety practices to prevent foodborne illnesses.
Childproofing: If children will be at the event, childproof any potential hazards in the outdoor area.
Step 8. Capture memories 📸
Lastly, don't forget to capture the special moments of the day:
Photographer: Consider hiring a professional photographer to document the event and ensure high-quality photos.
DIY Photo Booth: If budget is a concern, set up a DIY photo booth with props and a backdrop where guests can take their snapshots.
By following these steps and planning meticulously, you'll be well-prepared to host a memorable and enchanting outdoor baby shower that celebrates the joy of welcoming new life amidst the beauty of nature.
Conclusion
In summary, outdoor baby showers offer a unique and refreshing way to celebrate the upcoming arrival of a new baby amidst the natural beauty of outdoor settings like backyards, beaches, and parks. The 11 diverse outdoor baby shower ideas provide a range of options to create memorable moments.
Successful outdoor baby showers require careful planning, including choosing the right location, designing invitations, selecting decor, and organizing activities. As you embark on this journey, may the beauty of the outdoors enhance the joy of welcoming new life, creating lasting memories shared with loved ones.
Find more baby shower ideas:
FAQs
Can I host an outdoor baby shower in any season?
Absolutely! Outdoor baby showers can be held in any season with some planning. Spring and summer offer lush backdrops, while fall provides stunning foliage. Even winter can be charming with cozy decor and heating options.
What are some essential items to have in case of unexpected weather changes?
It's wise to have backup plans for sudden weather shifts. Consider renting tents, umbrellas, or a nearby indoor venue. Have a plan to notify guests of any venue changes well in advance.
How can I ensure the safety of guests in an outdoor setting?
Safety is crucial. Place first-aid kits in accessible locations. Ensure any outdoor games or activities are age-appropriate and supervised. Check for potential hazards like uneven terrain.
What's best to keep food fresh at an outdoor baby shower?
Consider renting chafing dishes or coolers with ice packs to maintain food freshness. Keep perishable items in a shaded area and serve hot food promptly. Avoid leaving food out in direct sunlight for too long.
Are outdoor baby showers suitable for large guest lists?
Yes, outdoor baby showers can accommodate large guest lists. However, ensure you have sufficient seating and facilities for the guests. Consider renting additional seating and restroom facilities if needed.
How do I handle potential insect nuisances during an outdoor baby shower?
To minimize insect nuisances, use citronella candles or torches and provide insect repellent for guests. You can also set up screened-in areas for food and activities.
What are some eco-friendly practices for outdoor baby showers?
Embrace eco-friendliness by using biodegradable plates and utensils. Encourage guests to carpool to reduce emissions. Consider planting a tree as a meaningful gift or favor to offset the event's environmental impact.