A baby shower is a remarkable event to honor the mother-to-be with anticipation, love, and celebration for the upcoming arrival of her baby girl. From adorable pink, blue, or neutral boho themes to sophisticated and elegant setups, each baby shower can be unique and specially tailored. 
Let's explore creative, enchanting, and fun baby shower themes and decoration ideas for girls that can make this celebration memorable for all involved.
Dreamy & delicate themes for a girl's baby shower
Floral fairy garden 🌸🧚‍♀️🌼
A floral fairy garden theme brings a magical and whimsical touch to a baby shower. Deck out your space with floral arrangements in pastel colors, fairy lights, and butterfly décor. Don't forget miniature garden details like toadstools and miniature fairy houses to complete the enchanting vibe.
Pink & gold princess 👸💖👑
Celebrate your little princess's arrival with a pink and gold-themed baby shower. Think gold-glittered princess crowns, pink tablecloths, and sparkling gold centerpieces. Embellish the venue with pink balloons and gold tulle for a royal touch.
Boho-chic 🌸🌿✨
A boho-chic theme combines earthy, natural elements with soft, pastel tones. Adorn your space with dreamcatchers, feathers, and macrame décor. Add floral centerpieces in rustic vases and floor cushions for seating to create an inviting and laid-back vibe.
Fun & playful baby shower ideas for girls
Under the sea 🌊🐠🌴
Inspired by the mysterious beauty of the ocean, this theme includes decorations of seashells, starfish, and mermaid details. Use blue, turquoise, and purple hues for the main color scheme.
Candy land 🍭🍬🍩
Host a sweet celebration with a Candy Land theme. Use brightly colored decorations, oversized lollipops, candy-themed balloons, and tables laden with sweet treats.
Safari adventure 🦁🌿🌴
A girl's safari adventure theme offers a unique twist with pink, jungle-inspired decorations. Think pink safari animals, tropical leaves with splashes of pink and gold accents, and animal print table runners.
Imaginative & story-themed
Unicorn fantasy 🦄✨🌈
Unicorns symbolize magic, miracles, and enchantment. Decorate with rainbow colors, unicorn figurines, star-shaped balloons, and a unicorn-themed cake to bring this fantasy to life.
Alice in Wonderland 🎩🔵🐇
Captures the whimsical essence of this beloved story with teacup centerpieces, playing card garlands, and a rabbit-shaped cake. Bright colors and bold patterns are key.
Classic fairy tales 📚🧚‍♀️🐉
From Cinderella to Sleeping Beauty, a classic fairy tale theme offers many decorative possibilities. Choose your favorite tale and decorate accordingly with storybook illustrations and themed desserts.
Classy & elegant themes
French patisserie 🥐🍰🇫🇷
Think of Parisian cafes, macarons, and delicate pastries. Use a soft pink, white, and gold color palette with accents of vintage details, such as ornate picture frames and chandeliers.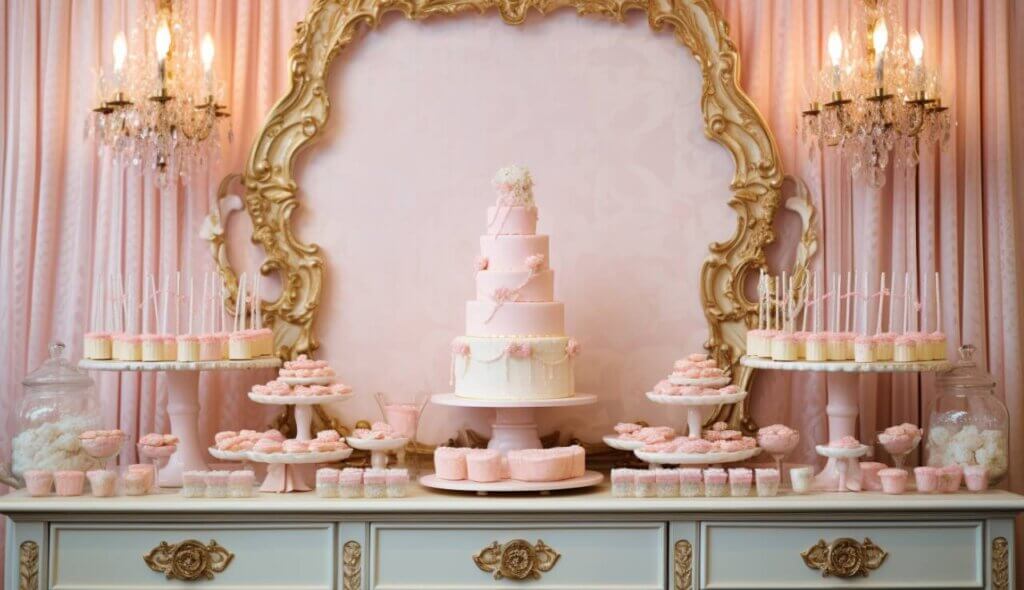 Ballerina bash 💃🎀🎉
A ballerina-themed baby shower exudes elegance and grace. Decorate with pink tulle, ballet slippers, and pearls. A cake designed like a tutu or a ballet stage adds a sweet touch.
Vintage tea party 🎩🍵🌸
A vintage tea party theme incorporates antique teapots, floral china, and lace tablecloths. Soft pink and cream hues work best, complemented by fresh flowers and tiered cake stands filled with petit fours.
Seasonal & holiday-themed
Pink Christmas 🎄💖🎅
If your baby shower is in December, consider a pink Christmas theme. Use pink and silver Christmas decorations, snowflakes, and a pink Christmas tree for a festive touch.
Easter blossoms 🐣🌸🌼
An Easter-themed baby shower can be filled with pastel colors, bunny decorations, and Easter egg elements. A floral centerpiece adds a fresh spring vibe.
Autumn harvest 🍂🌾🍁
An autumn harvest baby shower theme is ideal for fall babies. Use warm earthy colors, pumpkins, leaves, and rustic elements like wooden crates and burlap.
Cute & cozy themes
Sleepytime dreams 💤🌙💭
Decorate with fluffy clouds, moons, and stars. A soft color palette of white, pale blue, and silver helps create a soothing and cozy atmosphere.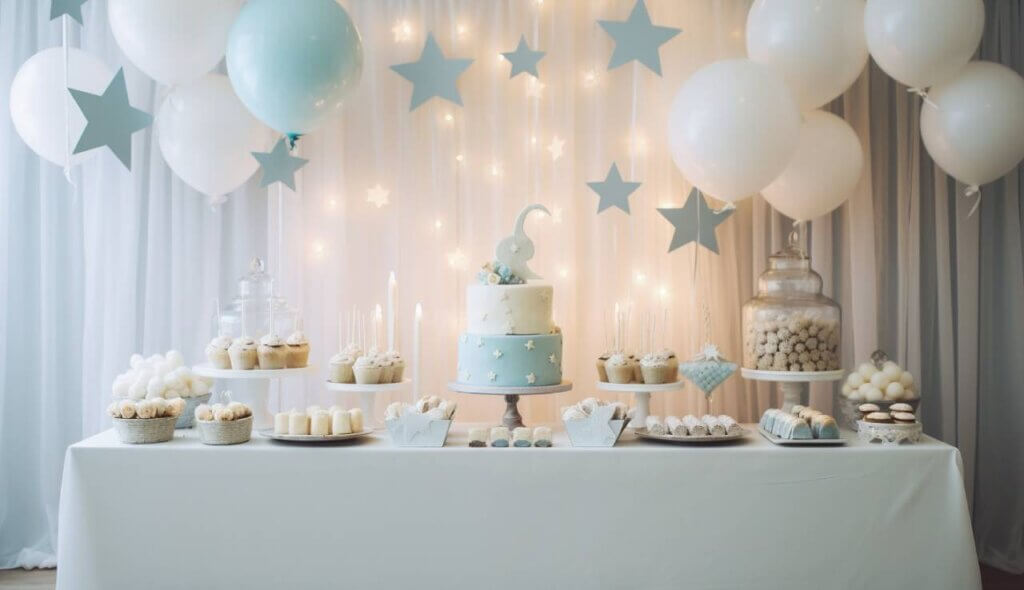 Winter Wonderland ❄️🌲🏰
A winter wonderland theme includes snowflakes, white and silver decorations, and cozy elements like faux fur rugs and warm lighting.
Quirky & unique themes
Luxury pop-Up picnic 🍾🧺🌳
Celebrate the imminent arrival of your baby girl with a luxurious picnic-themed baby shower. As a chic and stylish outdoor celebration, this theme brings a touch of elegance to a traditional picnic setting.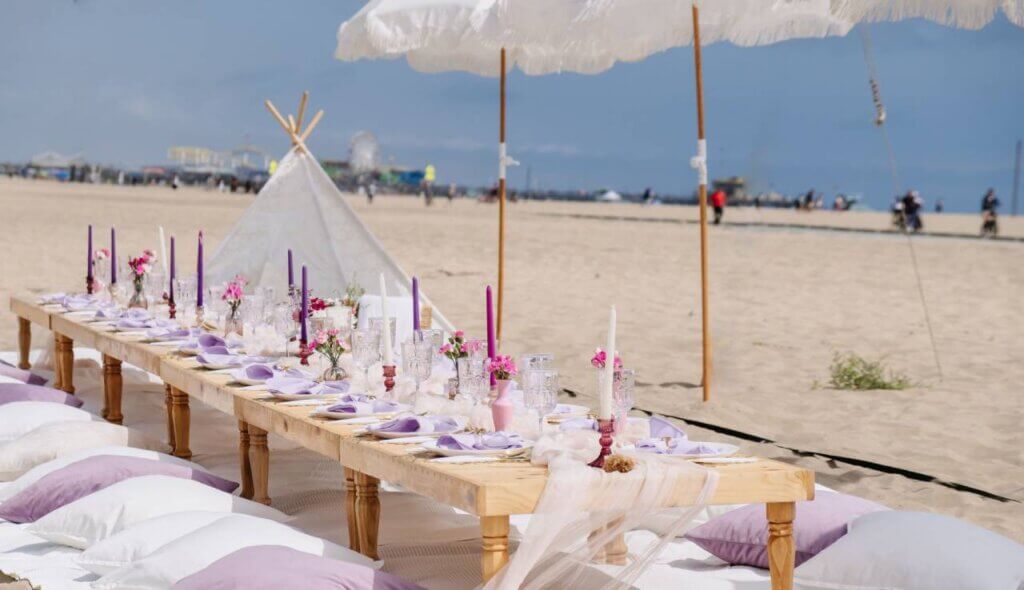 Expect designer setups with handmade low picnic tables, boho-style umbrellas, and cozy pillows. The setup also includes refined flatware, tableware, and glassware. Immerse yourself in the ambiance with soothing music from a Bluetooth speaker while complimentary snacks tantalize your taste buds.
Pink flamingo 🌸🦩🌸
A pink flamingo theme offers a tropical, fun vibe. Use pink and green decorations, flamingo-shaped balloons, and tropical fruit centerpieces.
Carnival fun 🎪🎡🎉
A carnival-themed baby shower is filled with bold colors, popcorn, candy floss, and fun games. Striped tents, balloons, and funfair signs complete the theme.
Lavender and lace 💜🕊️🎀
For a unique, sophisticated baby shower theme, try lavender and lace. Use lavender flowers, lacy tablecloths, and decorations in shades of purple and white.
Planning a baby shower is about celebrating the mom-to-be and her upcoming little princess, creating unforgettable memories.
These baby shower themes and decoration ideas for boys and girls, including the specially curated luxury picnic theme by the Picnic Makers, offer a wide range of choices catering to all styles and preferences.
Remember, the most cherished theme echoes the mum-to-be's unique personality and style, ensuring a memorable and joyful celebration.
FAQs
What are some unique baby shower themes for a girl? 
Unique themes can range from an Under the Sea or Safari Adventure to a Candy Land or Retro Diner theme.
What can I use for a vintage-style baby shower? 
A vintage tea party theme can incorporate antique teapots, floral china, and lace tablecloths with soft pink and cream hues.
How can I incorporate a favorite story into a baby shower theme? 
Choose a favorite tale like Alice in Wonderland or a classic fairy tale, and decorate it with storybook illustrations, themed desserts, and relevant props.
What baby shower theme would work for a winter celebration?
Winter Wonderland is a great theme for a winter baby shower, with snowflakes, white and silver decorations, and cozy elements like faux fur rugs and warm lighting.
How can I incorporate the outdoors into a baby shower theme?
A baby shower luxury picnic theme, Teddy Bear Picnic, or Autumn Harvest theme can incorporate outdoor elements like picnic baskets, teddy bears, pumpkins, leaves, and other rustic details.