The possibilities are endless when planning a baby shower, particularly for a boy's baby shower. It's all about creating a memorable event that celebrates the upcoming arrival of the little man. Whether you're going for chic, classic, or whimsical, here are 31 fabulous boy baby shower themes that excite and inspire you.
1. Baby shower luxury picnic 🧺
Imagine a day out in the sun, surrounded by lush greenery, family, and friends, savoring delightful gourmet snacks as you celebrate your upcoming joy. That's precisely what a baby shower luxury picnic offers, an extraordinary way to toast the new beginning.
Why is this cool? It's because picnics are inherently social and relaxing, offering a perfect setting for a baby shower. A baby shower luxury picnic theme transforms a simple party into an upscale event that beautifully marries elegance and nature.
It's a novel, fresh take on boy baby shower themes, taking you away from the typical indoor event, letting you breathe, laugh, and enjoy a stunning environment.
Download our free Baby Shower Checklist + Guest List Invitation Tracker
2. Nautical adventure 🤿
If you love the sea, why not incorporate that into your baby shower themes for boys? A nautical adventure baby shower features elements like sailboats, anchors, lighthouses, and more. The color palette is navy blue, red, and white, delivering a fresh, maritime atmosphere. A candy buffet can mimic a sailor's treasure chest, and seafood can be a fun addition to the menu!
3. Jungle safari 🦁
Inspired by the wild, a jungle safari baby shower is full of adventure. Decorate with plush animal toys, palm leaves, and animal print balloons. The guests can enjoy fun games like "Guess the animal sound," the food can be themed as 'jungle treats.' This theme is perfect for nature-loving parents-to-be.
4. Little astronaut 👨‍🚀
If you're a fan of everything celestial, a little astronaut baby shower could be the ideal theme. Decorations featuring stars, galaxies, rockets, and astronauts will set the mood. The cake could be a space mission-inspired creation, and favors could be star-shaped cookies or galaxy slime. This baby shower idea for a boy will surely be out of this world!
5. Sports fanatic 🏆
Is the dad-to-be a sports fan? Then a sports fanatic baby shower is a home run. This boy baby shower theme can incorporate dad's favorite sport or a mix of several sports. Decorate with sports gear, jerseys, and team colors. The dessert table could be designed like a concession stand, with popcorn and hot dogs!
6. Construction zone 🏗️
A construction zone baby shower might be unconventional, but it is fun! Decorate with caution signs, construction cones, and toy trucks. Serve food in construction-themed containers and organize games that involve constructing something. This theme is perfect for a casual, fun-filled baby shower.
7. Dinosaur land 🦕
Let's journey back in time with a dinosaur land baby shower. This is one of those themes for a boy baby shower that's perennially popular. Use dinosaur-themed decorations, and a volcano cake could be the centerpiece. Games could include a fossil hunt or a dinosaur egg race, adding a sense of prehistoric adventure to the day.
8. Enchanted forest 🪄
An enchanted forest baby shower brings in elements of magic and mystery. Decorate with faux trees, fairy lights, woodland creatures, and mystical elements. Serve treats like "fairy cakes" and "magic potions." It's a captivating theme that gives a sense of whimsical wonder.
9. Classic Teddy bear 🧸
A classic Teddy bear baby shower is a timeless choice for a boy baby shower. Teddy bears, soft colors, and cute decorations can create a cozy, warm atmosphere. A teddy bear-themed cake and teddy bear-shaped cookies can be sweet additions to the menu.
10. Circus carnival 🎪
The circus carnival baby shower theme brings joy, color, and lots of fun to your baby shower. Think of striped tents, popcorn, circus animals, and many games. This theme can add a lively, vibrant feel to the celebration.
11. Underwater Atlantis 🌊
Dive into an underwater Atlantis baby shower with seashells, mermaids, and underwater creatures. Decorate in shades of blue, with touches of gold and silver. Organize games like 'fish toss' and offer sea-themed treats to your guests. It's an enchanting theme that can shower your baby with a magical underwater twist.
12. Cowboy western
🤠
Yeehaw! A cowboy western baby shower can be full of fun. Think cowboy hats, toy horses, and bandana prints for decorations. You can serve traditional country food; a cowboy boot-shaped cake could be perfect!
13. Royal prince 🤴
Fit for a little prince; this theme can feature crowns, royal blues, gold, and plush velvet. Serve regal treats and perhaps even a crown-shaped cake.
14. Adventure awaits 🧭
Celebrate your little explorer with an adventure that awaits a baby shower. Maps, globes, vintage suitcases, and airplane decor can all make for an exciting theme.
15. Little gentleman 🕴️
Bowties, mustaches, and top hats – a little gentleman's baby shower can be elegant and cute. Consider a color palette of black, white, and baby blue.
16. Superhero baby shower 🦸‍♂️
Is there a superhero fan in the family? Decorate with comic book prints; you could even encourage guests to dress as their favorite superheroes.
17. Farmyard friends 🌻
Think animals, hay bales, and checkered tablecloths for a rustic farmyard friend's baby shower. You can serve food typically found at a farm feast.
18. Under the stars 🌠
For an evening event, consider an under-the-stars baby shower. Fairy lights, moon and star decorations, and a navy blue and silver color scheme can set the tone.
19. Storybook baby shower 🧚
Incorporate classic children's books into your baby shower with a storybook theme. Each table could represent a different beloved book; guests could bring a book instead of a card.
20. Music lovers 🎶
A music lovers' baby shower can be a melodic celebration from musical notes to instruments. You could even have live music or a lullaby performance.
21. Racecar 🏎️
Zoom into motherhood with a race car baby shower. Use checkered flags, car-themed decorations, and a race track cake.
22. Little scientist 🧪
Inspire a future Einstein with a little scientist baby shower. Think beakers, atoms, and lab coats for a unique and educational theme.
23. Beach bum baby shower 🏖️
For those near the coast, a beach bum baby shower can bring the sand and surf to you. Use shells, sand, and beach balls to decorate.
24. Woodland creatures 🦊
Cute woodland creatures like foxes, owls, and deer can create a lovely, natural woodland creatures' baby shower theme.
25. Rainforest baby shower 🌳
Exotic birds, bright flowers, and lush greenery can transport guests to the tropics for a rainforest baby shower.
26. Travel the world 🗺️
Celebrate the upcoming journey of parenthood with a travel-the-world baby shower. Decorate with maps, globes, and flags from around the world.
27. Pirate treasure 🏴‍☠️
Set sail for motherhood with a pirate treasure baby shower. Use gold coins, treasure chests, and pirate hats for a swashbuckling celebration.
28. Future athlete 🏅
Celebrate a future sports star with a future athlete baby shower. Decorate with various sports equipment, team logos, and jerseys.
29. Winter wonderland ☃️
If the baby is due in winter, celebrate with a winter wonderland baby shower. Use snowflakes, icicles, and cool blue and white hues to set the scene.
30. Little artist 🎨
Celebrate a future Picasso with a little artist's baby shower. Use bright colors, paintbrushes, and canvases for a creative and colorful theme.
31. Buzzy bee 🐝
What could be cuter than a buzzy bee baby shower? Use bee and honeycomb decorations; a honey cake could be the sweetest touch.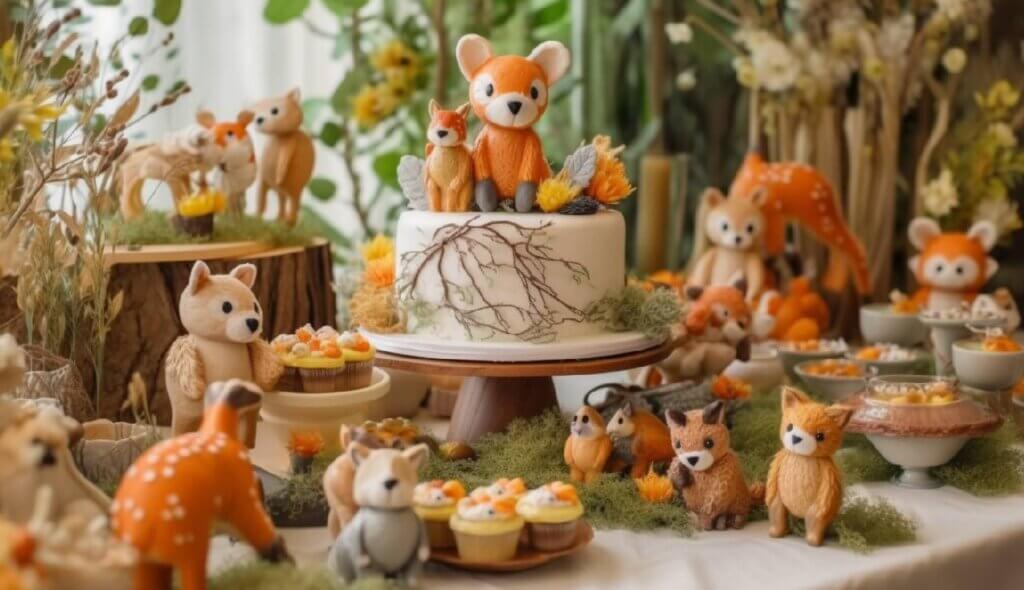 With its vibrant culture and beautiful locations, Los Angeles is the ideal place to bring these boy baby shower themes to life. And whether it's the idyllic beaches of Malibu or the charming locales of Orange County, every corner offers unique venues for your celebration. Embrace the fun, the love, and the joy with Picnic Makers because every baby shower deserves to be extraordinary.
Boy's baby shower ideas FAQs
What are some unique baby shower ideas for boys?
There are many unique boy baby shower themes to choose from. Some creative themes include a little astronaut shower that's out of this world, a little gentleman shower with dapper decorations, an adventure awaits shower that beckons future explorations, and a little scientist shower that's all about discovery.
How can I incorporate a baby boy theme into the baby shower games?
It's easy to weave your theme into baby shower games. For example, a nautical adventure shower could have a pin the sail on the boat game. Meanwhile, a jungle safari shower could feature a guess the animal sound game. Each theme provides an opportunity for games that are both entertaining and fitting.
How can I make my boy's baby shower more interactive for the guests?
To make your baby shower more interactive, consider planning engaging games that tie in with your theme. You could also set up DIY stations; for example, decorate your bib station or design your onesie station. Like a little artist, a painting or crafting activity could be included for a theme. A great idea can be a diaper raffle game.
How can I ensure my baby boy's shower is memorable?
Focusing on the details is the key to making your baby shower memorable. Select a theme that resonates with you and thread it throughout the event, from the decor to the games, the food, and the invitations. Personal touches, meaningful activities, and special guest keepsakes can enhance the event's memorability.
Where can I host a boy's baby shower in Los Angeles?
Los Angeles boasts many venues ideal for a baby shower. Depending on your chosen theme, you could opt for a lush park perfect for a baby shower luxury picnic, a beachfront location for a nautical adventure or beach bum shower, or a function room, restaurant, or even a home for themes like a little gentleman or superhero.