Congratulations on your upcoming bundle of joy! Preparing for a baby is an exciting time, and what better way to celebrate than with a baby shower? Whether you're organizing the shower for yourself or a loved one, there's much to consider, from the guest list to the decorations and games. But don't worry. We've covered everything you need to know to make your baby shower a memorable and special event!
Baby shower checklist
Planning a baby shower can be overwhelming, but having a checklist can help ensure you don't miss anything important. Here is a helpful checklist to guide you through the planning process:
Set a date and time for the baby shower

Create a guest list

Choose a venue or location

Send out invitations at least four weeks in advance

Plan decorations and a theme

Decide on food and drinks

Purchase or make party favors

Plan games and activities

Create a gift registry

Purchase gifts for the mother-to-be

Purchase any necessary supplies (plates, cups, utensils, etc.)

Plan a designated area for gifts to be placed

Set up a photo booth or designated area for taking photos

Confirm RSVPs and finalize the guest count

Set up and decorate the venue on the day of the shower

Enjoy the party and celebrate the mother-to-be!
Download Baby Shower Checklist FREE TEMPLATE.
Creating the perfect baby shower guest list
Planning a baby shower is exciting, but one of the most critical aspects is creating the perfect guest list. You want to ensure that everyone important to the mom- and dad-to-be is included and that the guest list size is manageable for the venue and budget. 
Start by making a list of close family, friends, and coworkers, then narrow it down to a reasonable number. Remember to consider the preferences of the parents-to-be when making final decisions. Once the guest list is set, use a tool like a Google Spreadsheet or a written list to keep track of RSVPs and any special requests. With a well-planned guest list, you can ensure everyone has a great time celebrating the new arrival.
Download Baby Shower Guest List Invitation Tracker.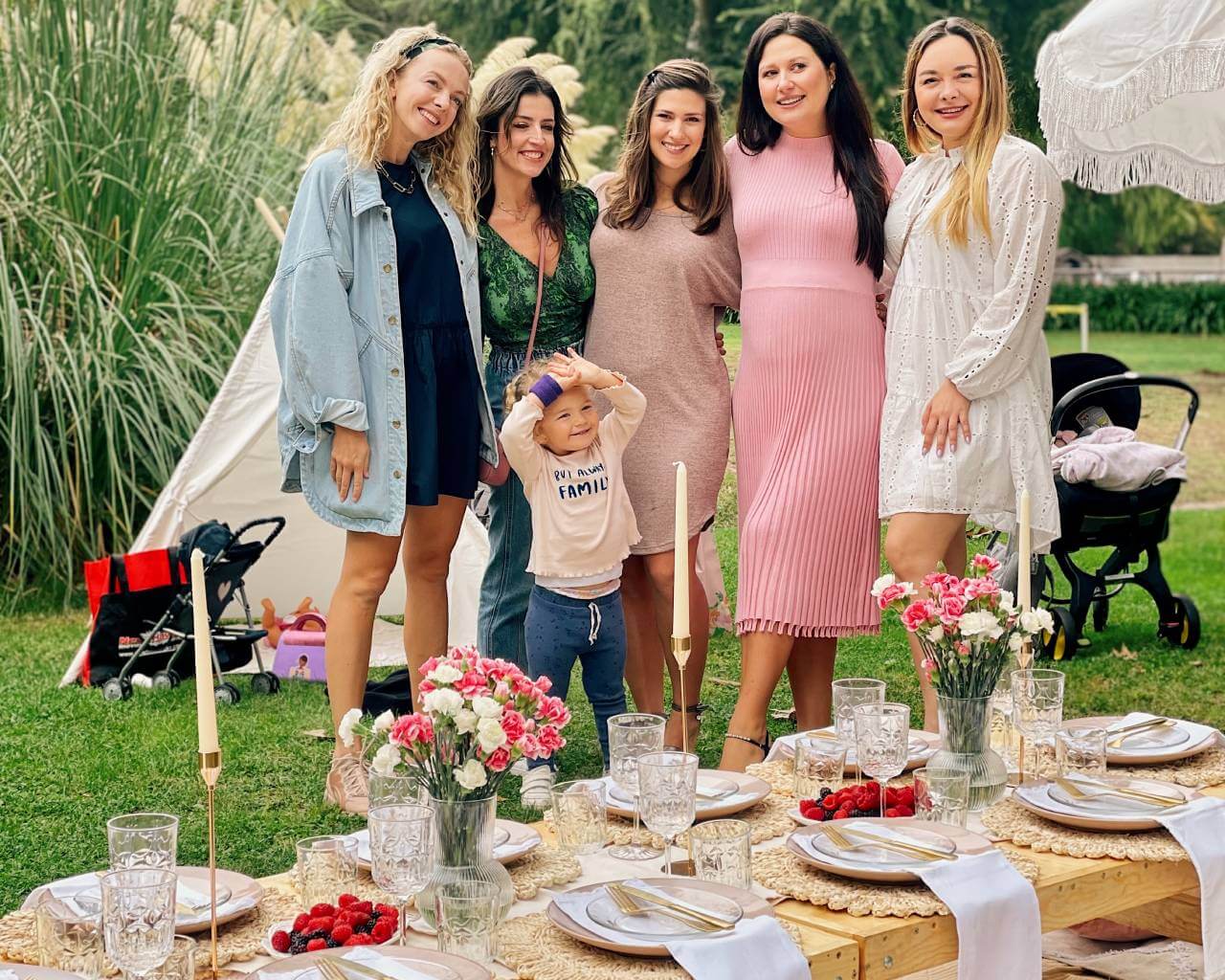 Baby shower venue options
Looking for the perfect baby shower venue can be exciting and overwhelming. Many options exist, whether you prefer a cozy and intimate setting, a fancy restaurant, or the great outdoors. Here are some baby shower venue ideas to help you plan the perfect celebration for the mom-to-be.
Home: Nothing beats the comfort and intimacy of a cozy home setting. You can personalize the decor and menu to suit your taste and budget.
Restaurant: If you're looking for convenience, a restaurant with private rooms is a great option. You don't have to worry about food or decorations; the setting is often elegant.
Party Venue: For a formal event, a party venue with all-inclusive packages for space, decor, and catering is a good choice. Depending on your budget, you can make it as lavish or simple as possible.
Outdoors: Enjoy the fresh air and spacious surroundings with an outdoor baby shower. A backyard barbecue or a picnic in a nearby park are both great options. For a glamorous twist, consider a baby shower luxury pop-up picnic with comfortable seating, stylish decor, and gourmet food.
Church: For a faith-filled celebration with loved ones and the church community, hosting the baby shower at a church with provided services is a great idea.
Destination: If you want to make the baby shower special, consider hosting it at a hotel or vacation rental in a scenic location. This can make for a memorable and fun event for all.
Consider the expecting parents' preferences, the number of guests, the season, and any potential weather issues when choosing the venue.
Unleash creativity: themed baby shower ideas
While planning a baby shower, you need the best theme to take your celebration to the next level of fun and creativity! A specific color scheme, seasonal theme, or a theme based on the expecting parents' interests are all great options. Here are some themed baby shower ideas to get you started:
Color scheme: Choose a specific color or combination of colors, such as pink and gold or blue and silver, and incorporate it into the decorations, games, and favors.
Seasonal theme: A beach party, garden party, or winter wonderland are just a few examples of seasonal themes you can use to make your baby shower even more special.
Hobby or interest theme: If the expecting parents are sports fans, animal lovers, or bookworms, incorporate their hobbies or interests into the theme.

Decorate to impress: baby shower ideas
No baby shower is complete without decorations! Whether you want to keep it simple or go all out, ensure the decorations match the shower's theme. Here are some ideas to decorate your baby shower:
Balloons are always a great addition to any party and can be customized to fit your theme.
Streamers and banners: They add a pop of color and a festive feel to the room.
Floral arrangements: Table floral arrangements are a beautiful way to decorate the tables.
Diaper cakes are both practical and excellent decorations for the baby shower.
Stuffed animals: Incorporating stuffed animals into your decorations is a great way to make them look even more festive and special!
Don't hesitate to get creative and have fun with your baby shower decorations!
Top 5 fun baby shower activities
Baby shower games and activities are a fantastic way to get everyone involved and break the ice! Here are some popular game ideas:
Diaper bingo: a fun twist on the classic game.

Guess the baby food: blind taste testing of baby food jars.

Diaper raffle: guests receive raffle tickets for bringing a pack of diapers.

Diaper decorating station: provide guests with plain diapers and decorating supplies to create unique designs.

Baby name guessing game: guests think of potential baby names based on the expecting parents' preferences.
Consider your guests' interests and comfort levels when planning games and activities. It's a great way to make sure everyone is having fun. Get ready to laugh and have a blast!

Baby shower food & drink options
Food and drinks are an essential part of any baby shower! Here are some popular food and drink options to consider:
Sandwiches and salads: a classic and easy choice.

Fruit platters: a healthy and refreshing option.

Sweet treats like cupcakes and cookies: a delicious addition to any baby shower.

Signature cocktail or mocktail: add a special touch to the shower with a unique and refreshing drink.
Whether you go for a formal sit-down meal or a casual buffet, keep the tastes of the expecting parents and guests in mind. Let's eat, drink, and be merry!
The perfect present: baby shower gift ideas
Gifts are an essential part of any baby shower. Guests are expected to bring a present for the expecting parents and their new bundle of joy. When deciding what to give, it's important to consider the preferences and needs of the expecting parents. Diapers, clothing, and baby gear like strollers or car seats are all popular gift ideas. It's always a great idea to ask the expecting parents if they have a list of specific items they'd like to receive.
Another unique baby shower gift idea is for guests to bring items for a "picnic basket." This is a fun and useful gift for expecting parents. They can use the basket for future picnics and outdoor outings with their newborn. A picnic basket could include a blanket, sun hat, sunscreen, toys, and snacks. It's a thoughtful and creative gift that they will cherish and enjoy!
To help you plan the perfect baby shower, remember to download our free Baby Shower Checklist + Guest List Invitation Tracker. This handy tool will guide you through every step of the planning process, from creating the guest list to selecting the perfect theme and games. Let's make this an unforgettable event for the expecting parents and their loved ones!