Looking for compelling ideas for team building in Los Angeles? You've come to the right place. In the heart of the entertainment world, the City of Angels has many options to foster strong bonds, enhance collaboration, and create unforgettable memories among team members.
Exhilarating outdoor adventures
1. Corporate luxury pop-up picnic 🌟
Picnic Makers, a leading LA picnic company, offers a unique and delightful corporate luxury picnic. Picture this: a high-quality, comfortable blanket spread out beneath the open sky and a meticulously designed table setting adorned with high-end boho-inspired setups and fringe umbrellas that reflect your corporate identity.
Immerse your team in an elegant, relaxed setting that fosters meaningful conversations and strengthens bonds. Step away from the office and elevate your corporate event to new heights of sophistication and style.
Book online now to create a captivating experience that brings your team closer together.
2. Beach Olympics 🤾‍♀️
The sandy beaches of Los Angeles provide the perfect playground for a spirited day of the Beach Olympics. Activities such as volleyball, tug-of-war, and relay races can boost your team's competitive spirit while fostering camaraderie and teamwork.
A day out in the sun, filled with fun and friendly competition, can create lasting memories for your staff.
3. Hiking ⛰️
With the diverse natural landscapes in and around LA, a group hike can be a rewarding experience. As your team overcomes the physical challenges of the trail together, they'll be rewarded with breathtaking views and a shared sense of accomplishment.
This shared challenge strengthens bonds and promotes a healthy lifestyle among your team.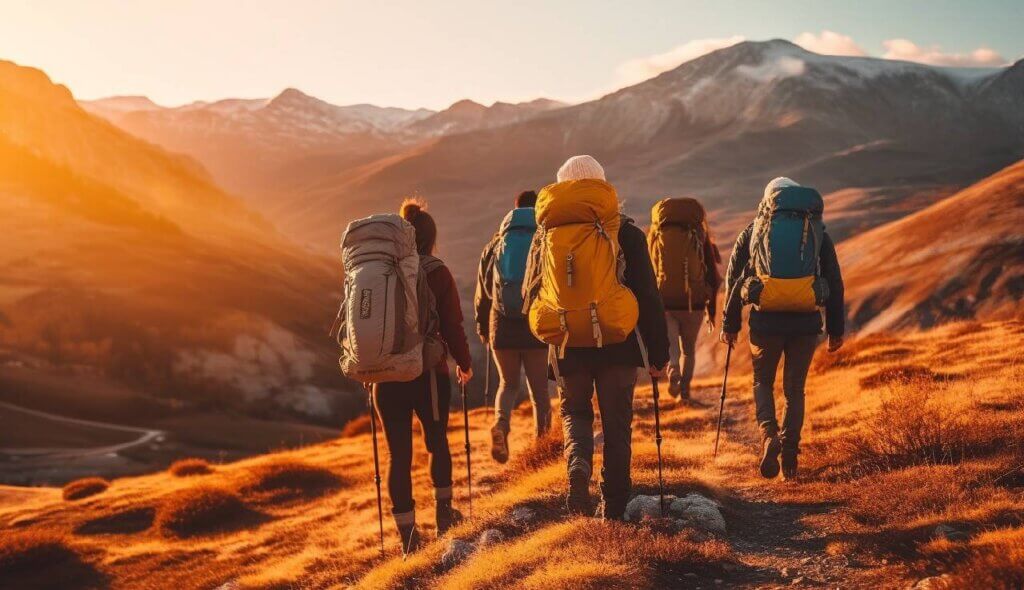 4. Community service 🌊
Consider a day of community service outdoors, such as a beach clean-up. Participating in such meaningful work brings teams closer together, fostering a sense of shared purpose and teamwork.
Moreover, this experience instills a sense of pride and satisfaction from giving back to the community.
5. City scavenger hunt 🗺️
Why not turn the diverse LA cityscape into your playground for a city-wide scavenger hunt? This fun and engaging activity can stimulate team collaboration and critical thinking as they navigate the city, discovering new places and learning about its culture and history.
Engaging indoor activities
6. Improv comedy workshop 🎭
An improv comedy workshop is a great way to encourage open communication, creativity, and problem-solving skills within your team. It offers a chance for your team to break out of their shells, express themselves freely, and learn to think on their feet — all while sharing laughter and creating lasting memories.
7. Escape rooms 😮
Escape rooms offer an immersive experience that challenges your team's critical thinking and collaborative skills. They must work together to solve puzzles and 'escape' within a set time frame.
This shared experience promotes teamwork and creates a thrilling, shared memory that can strengthen team cohesion.
8. Cooking classes 😋
Spice up your team-building event with a cooking class. Learning to create delicious dishes together can foster cooperation and bring out hidden talents within your team. Plus, the joy of sitting together to enjoy the fruits of their labor can create unforgettable, positive associations among your staff.
9. Art workshop 🖼️
An art workshop can unlock your team's creative potential while promoting relaxation and bonding. It provides a break from routine work tasks and encourages your team members to express themselves creatively and appreciate the diversity of talent within the team.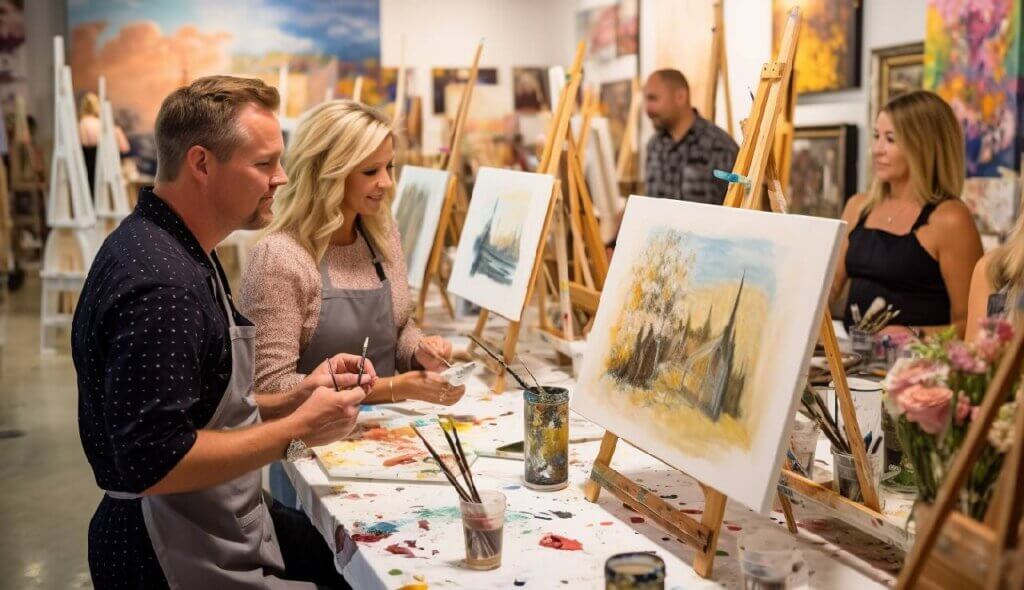 10. Virtual reality gaming 🤩
Take a break from the usual routine and immerse your team in the exciting world of virtual reality gaming. This unique, shared experience fosters teamwork and camaraderie and is a fun way to expose your team to cutting-edge technology.
Exciting virtual team-building activities
11. Virtual trivia 🃏
Host a virtual trivia night for your team. This fun, interactive activity promotes communication, strengthens relationships, and allows team members to showcase their knowledge and learn from each other.
12. Online art class 🎨
Offer an online art class to inspire creativity and relaxation. It can be a great way to de-stress, promote mindfulness, and facilitate team bonding in a relaxed environment.
13. Remote team building cooking class 🥘
Take your cooking class online to keep the team together, even if they're remote. It's a fun, engaging way to learn new recipes, interact with each other, and enjoy a shared culinary experience from the comfort of their homes.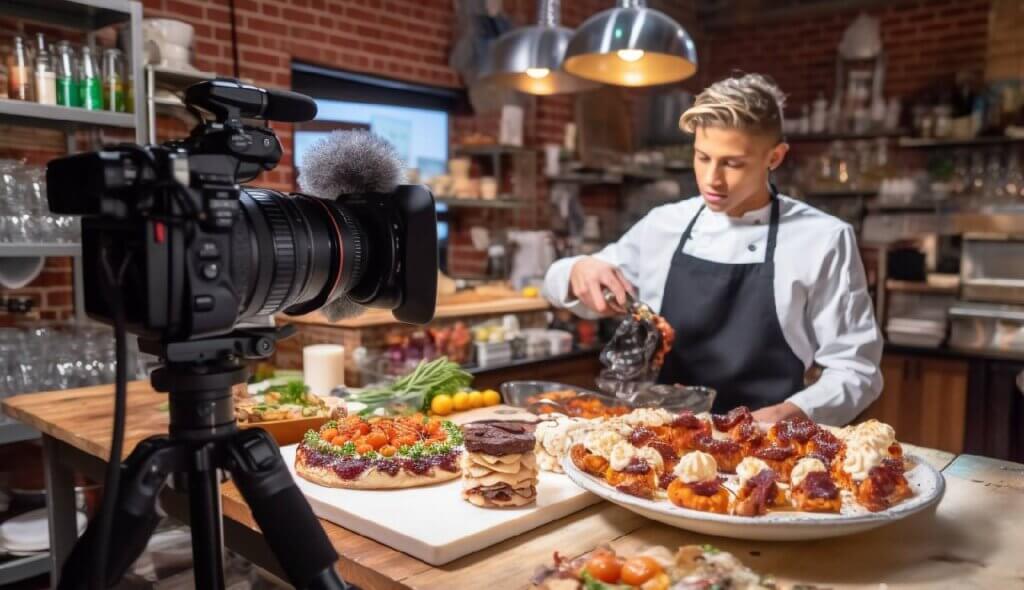 14. Virtual escape room 👻
Escape rooms aren't just for in-person events. A virtual escape room experience can be just as engaging and challenging. This unique activity promotes collaboration, problem-solving, and communication while allowing team members to participate from anywhere.
15. Online wellness workshop 🫶
Promote wellness and relaxation within your team with an online wellness workshop. This could include yoga, mindfulness, or meditation sessions, fostering personal and team well-being.
Thrilling activities in Orange County
16. Surfing lessons 🏄
Head south to Orange County and take your team out for surfing lessons. This exciting activity provides a thrilling adventure and fosters teamwork and trust as team members support and encourage each other.
17. Wine-tasting tour
🍷
A tour of Orange County's vineyards can be a relaxing and enjoyable bonding experience for teams that appreciate a good glass of wine. It's a great opportunity to learn more about wine, enjoy the beautiful vineyard landscapes, and engage in meaningful conversations with team members.
18. Kayaking adventure 🐬
Invite your team to a kayaking adventure in Orange County. This enjoyable outdoor activity strengthens teamwork and communication while offering a fun and refreshing break from the work environment.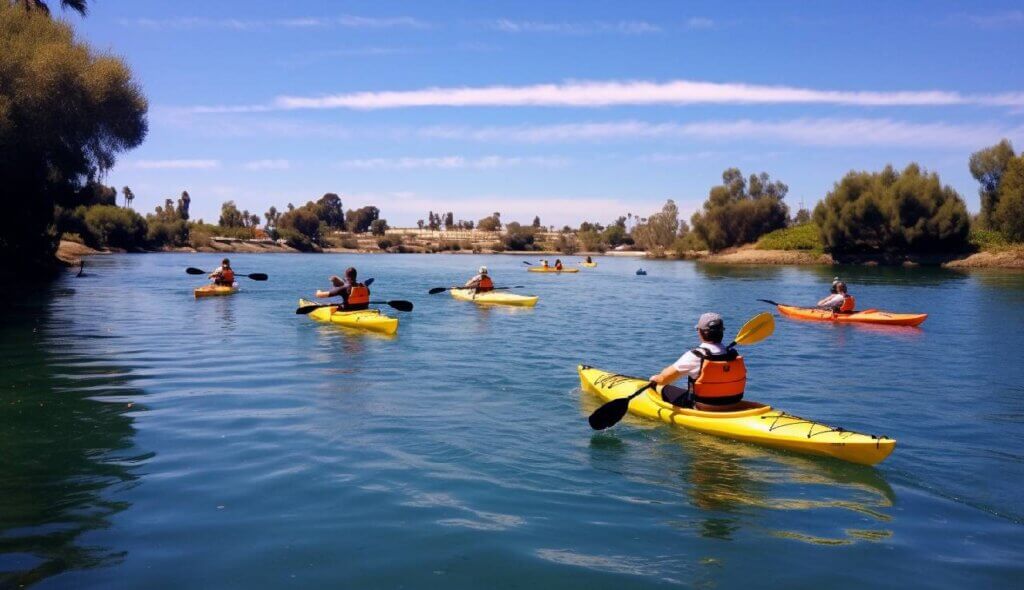 19. Anaheim Ducks game 🏒
Experience the thrill of a live hockey game together at an Anaheim Ducks game. The shared excitement and camaraderie of supporting a team can bring everyone closer and create lasting memories.
20. Team building workshop at Orange County Zoo 🦙
Consider a workshop at the Orange County Zoo for a truly unique team-building event. This immersive experience can include animal interactions, behind-the-scenes tours, and conservation education. It's an engaging way to learn and bond while appreciating nature.
Malibu activity ideas
21. Malibu wine hike 🍷
Organize a wine hike through the beautiful vineyards of Malibu. Your team can enjoy the scenic views, meet friendly animals, and sample delicious wines.
This activity combines physical exercise, relaxation, and bonding in one.
22. Beach yoga session 🪷
Start your day with a rejuvenating yoga session on Malibu's gorgeous beaches. The calm waves and fresh air provide a peaceful setting, perfect for mindfulness and a team connection.
23. Sunset cruise ⛵
Book a sunset cruise for your team along Malibu's breathtaking coastline. This can be a relaxing and awe-inspiring experience, fostering tranquility and team bonding.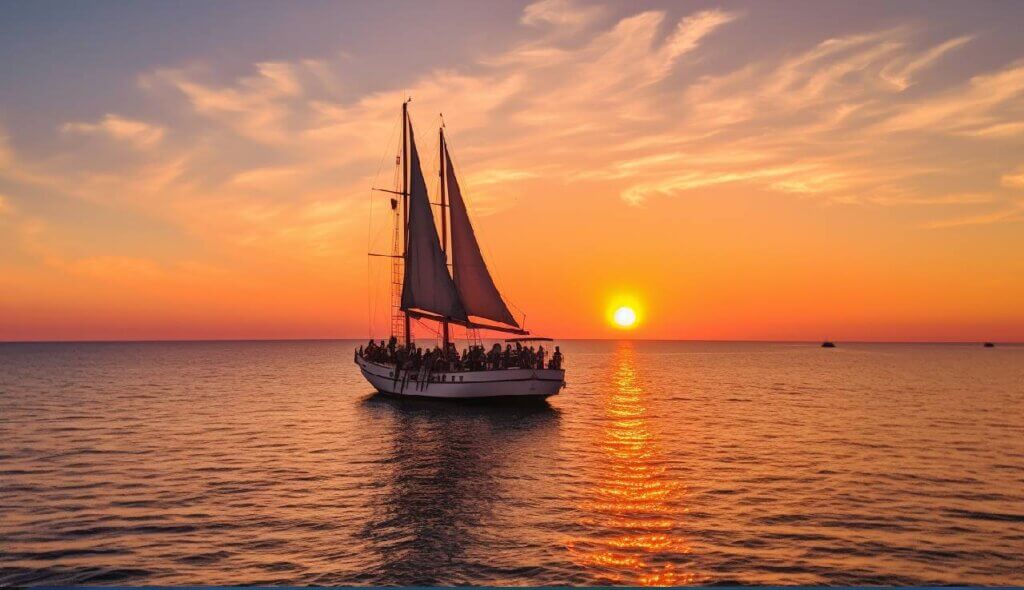 24. Hiking in Malibu Creek State Park 🏞️
Encourage team collaboration with a group hike in Malibu Creek State Park. This shared experience and stunning views can bring your team closer together.
25. Cooking class at Malibu farm 👩‍🍳
Enroll your team in a cooking class at Malibu Farm. Here they can learn to create delicious meals while fostering collaboration and creativity.
26. Malibu coastal kayak tour 🤾‍♀️
Take your team on a kayak tour of Malibu's beautiful coastline. This adventure promotes teamwork and communication in a fun and exciting setting.
Whether exploring the great outdoors, laughing together in an improv workshop, or relaxing with a luxury picnic, these team-building activities in Los Angeles are all about creating shared experiences.

These experiences foster better communication and partnership and inject fun into your work environment. Incorporating team building into your corporate events can significantly impact your business's success.
For an unforgettable, unique, and luxurious experience, book a corporate picnic with us at Picnic Makers. We will transform your team-building event into an extraordinary day of fun, beautiful settings, and excellent company. Let us make your team's day unforgettable.
Frequently Asked Questions
Why is team building important for companies in Los Angeles?
Team building is crucial for all companies, including Los Angeles, as it enhances communication, fosters collaboration, encourages creativity, and boosts morale among team members. These activities help build trust, resolve conflicts, and create a more engaging and productive work environment.
What types of team-building activities are available in LA?
Given its vibrant and diverse culture, Los Angeles offers many team-building initiatives. These range from outdoor adventures like hiking, beach Olympics, and city scavenger hunts to indoor activities such as cooking classes, art workshops, and escape rooms. Virtual meet-ups, like online wellness workshops and virtual trivia, are also available for remote teams.
How can team-building activities benefit remote teams?
For remote teams, engaging in virtual team-building experiences can significantly enhance communication, build stronger relationships, and promote a sense of community and belonging. These experiences can include virtual trivia, online art classes, remote cooking sessions, and virtual escape rooms.
How can team-building activities in Los Angeles help improve office culture?
Team building activities can significantly improve office culture by fostering open communication, mutual respect, and collaboration among team members. They also help build stronger relationships, reduce conflicts, and promote a positive, engaging, and productive work environment.
What is the ideal group size for team-building endeavors?
The ideal group size can vary depending on the type of activity. For instance, workshops, cooking classes, and virtual activities might be best for smaller groups, while outdoor adventures like beach Olympics or city scavenger hunts can accommodate larger groups. It's best to check with the activity provider for specific group size recommendations.