Los Angeles, the City of Angels, is a paradise for outdoor enthusiasts. With its sun-kissed beaches, scenic hiking trails, vibrant neighborhoods, and many recreational opportunities, LA offers a unique blend of nature, culture, and luxury. This guide presents 21 the best outdoor activities that reveal the true spirit of this dynamic city.
1. Luxury pop-up picnics
Indulge in luxury with a bespoke pop-up picnic in LA. More than just an outdoor setup, choose from picturesque settings—a sun-dappled beach, a tranquil park, or a panoramic rooftop.
Experience an exquisite outdoor living room with handmade low picnic tables, boho-style umbrellas, and plush pillows, creating a romantic ambiance. We provide all the essentials, from flatware to a Bluetooth speaker for your favorite tunes.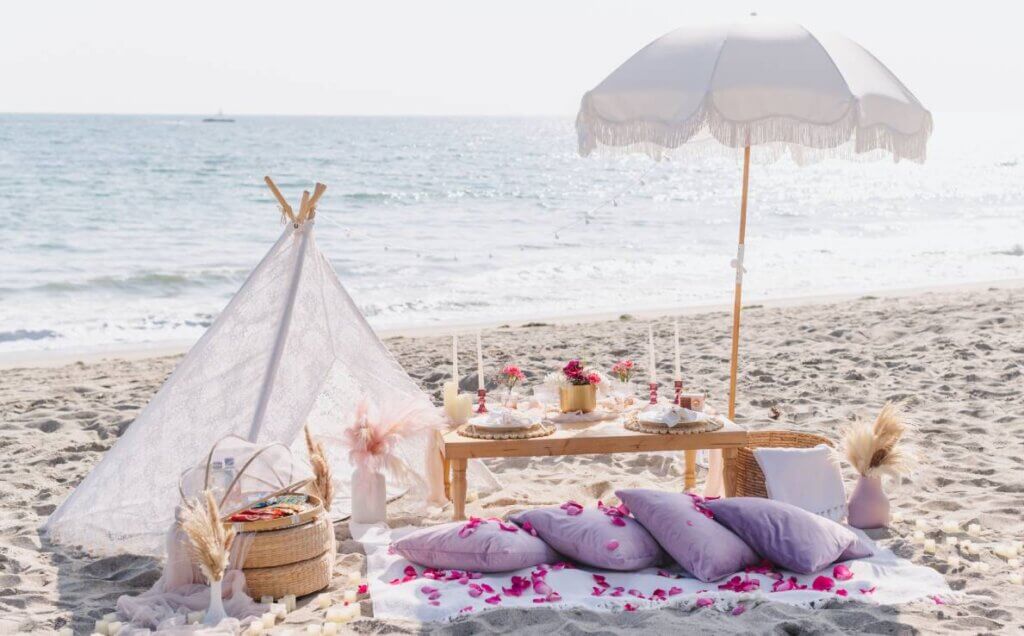 Perfect for a romantic date, a cherished family gathering, or a joyous celebration—our luxury pop-up picnics offer an unforgettable experience! Book online.
2. Scenic hikes and biking trails
Los Angeles, a haven for outdoor enthusiasts, offers many beautiful hiking and biking trails. These trails cater to all, whether you're an expert hiker, an occasional walker, a daring mountain biker, or a casual cyclist seeking a peaceful ride. The diversity of trails offers mesmerizing vistas of the cityscape and the vast ocean.
Griffith Observatory Trail

: A hike to Griffith Observatory is a must, offering unparalleled views of LA's skyline.

The Backbone Trail

: This extensive 67-mile trail traverses the Santa Monica Mountains for seasoned hikers and provides a thorough workout.

The Strand

: Also known as Marvin Braude Bike Trail, this flat 22-mile beachside path offers a relaxed ride with calming ocean views.

The Westridge Trail:

This trail is a paradise for mountain bikers, filled with challenging ups and downs amidst the picturesque landscape.

Runyon Canyon

: A popular urban hike that offers varied terrain and panoramic views of Hollywood and beyond.
3. Beach activities
Los Angeles' sprawling 70-mile coastline is a hub of exciting outdoor engagements, transforming the beaches into a vibrant playground. The wide array of beach activities caters to everyone, regardless of your activity preference.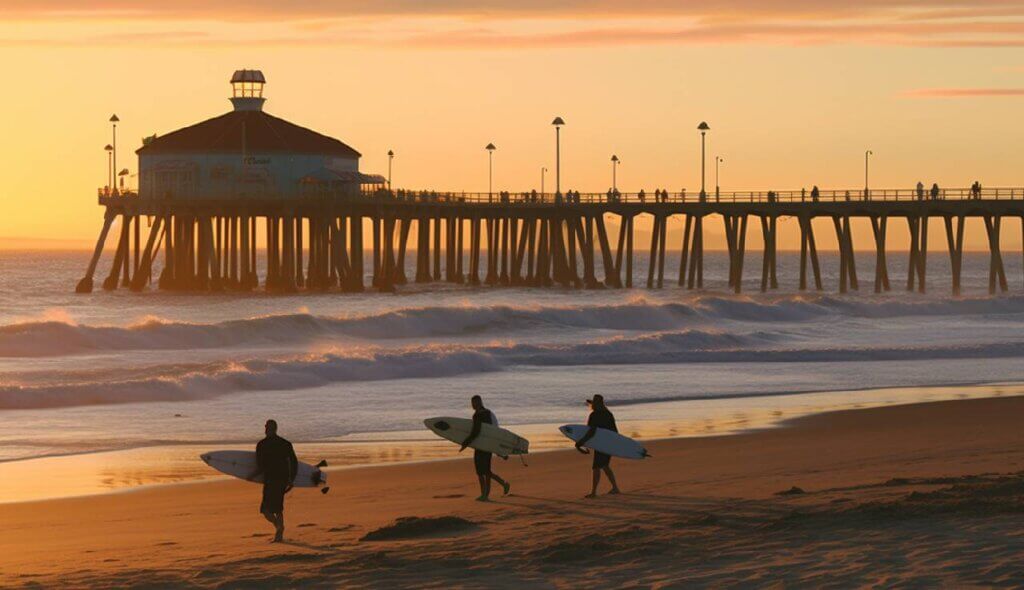 Surfing

: LA's waves are ideal for surfers, from beginners to professionals. Venice Beach is a popular spot with consistent waves.

Beach Volleyball

: The beaches are dotted with volleyball nets. Places like Manhattan Beach are renowned for energetic volleyball games.

Sunbathing

: If you're more inclined towards relaxation, lounging under the sun is a delightful option. Santa Monica Beach offers a great spot for sunbathers.

Walking and Jogging

: The sandy beaches and dedicated paths are perfect for leisure walks or an invigorating morning run. The Strand Path provides a picturesque running route.

Yoga

: Beach Yoga at Dockweiler State Beach is a popular way to connect with nature while practicing mindfulness and flexibility.

Picnicking

: Pack a picnic and head to Zuma Beach for a more laid-back day with scenic views and a tranquil atmosphere.
4. Kayaking and paddleboarding
Experience LA's coastline in a unique way by kayaking or paddleboarding. This is a great way to work out while enjoying the beautiful ocean views. You can paddle around the marina, navigate the peaceful waters of a bay, or even explore the kelp forests off the coast.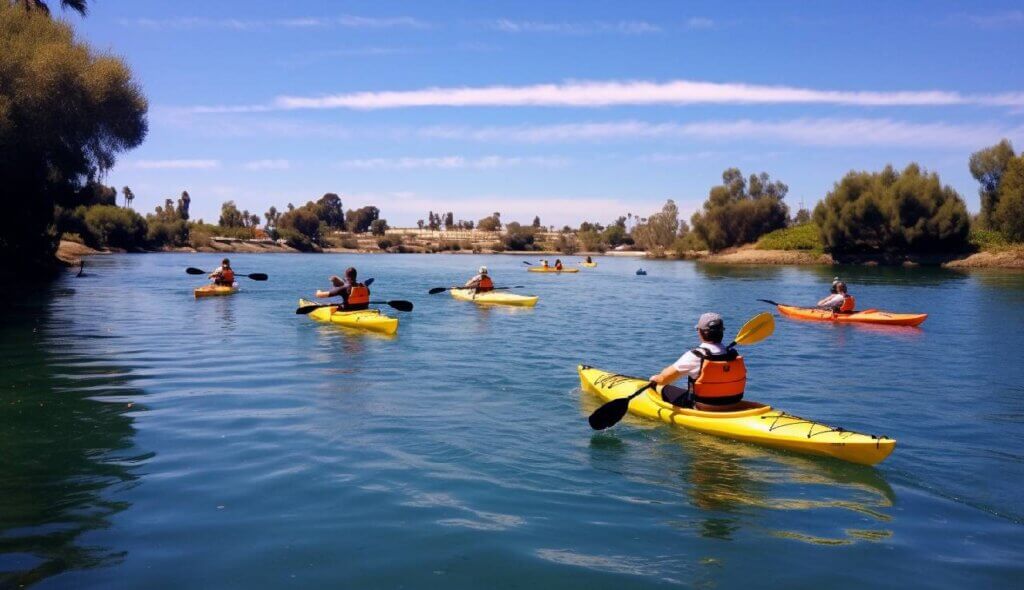 5. Urban exploration
Los Angeles is a city of diverse neighborhoods, each with its own unique charm. Take a walking tour to explore the Art Deco buildings, quaint canals, and historic homes. You can also discover the city's hidden staircases, which offer a great workout and stunning city views.
6. Outdoor yoga and fitness classes
Stay fit while enjoying the LA sunshine with outdoor yoga and fitness classes. These classes are held in various parks and beaches across the city, offering a fun and energizing workout with a view.
7. Sailing
Experience the thrill of sailing in the Pacific Ocean. You can rent a boat or take a sailing lesson to learn the ropes. This is a great way to enjoy the beautiful coastal views and spot marine life.
8. Farmers' markets
Los Angeles boasts an array of farmers' markets that are the epitome of freshness and locality. These markets offer an opportunity to savor the best produce, enjoy handcrafted goods, taste exquisite food, and support local farmers. The vibrant community ambiance is a bonus, lending an authentic touch to the shopping experience.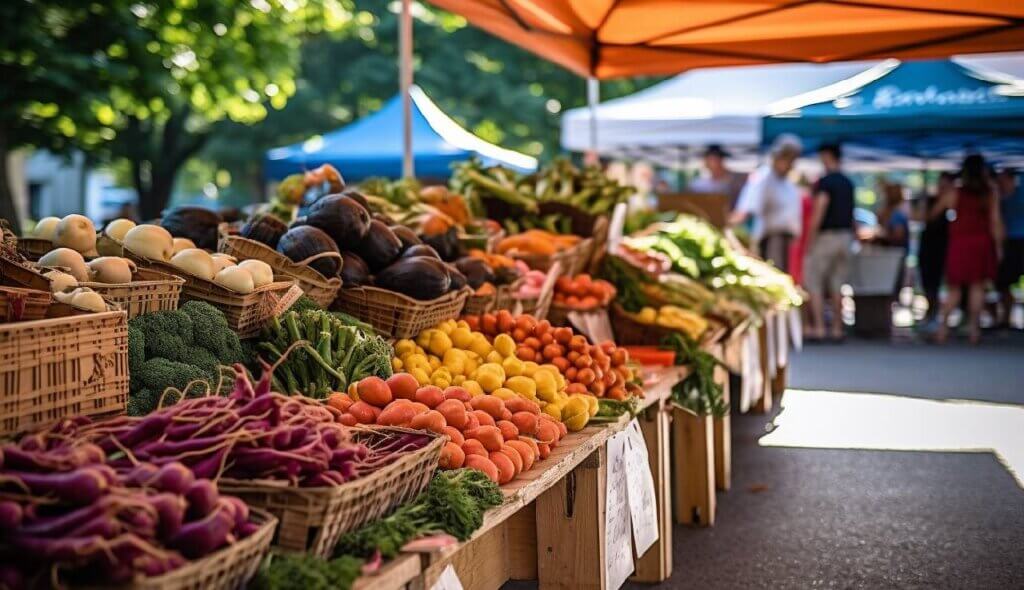 Santa Monica Farmers' Market

: One of the most renowned markets in the city, offering a variety of fresh produce and artisanal products every Wednesday and Saturday.

Hollywood Farmers' Market

: A favorite Sunday spot where you can find a wide range of organic fruits, vegetables, baked goods, and artisan cheeses.

Downtown LA Art Walk Night Market:

More than just a farmers' market, this venue combines art and food in a unique urban experience every second Thursday of the month.

Silver Lake Farmers' Market

: Perfect for a Saturday outing, it offers fresh local produce, street food, and vintage goods.

The Original Farmers' Market

: A historic landmark since 1934, located on 3rd and Fairfax, and offers a variety of food, specialty shops, and goods.

Studio City Farmers' Market

: A family-friendly option with a petting zoo, pony rides, fresh produce, and food stalls.
9. Horseback riding
Enjoy stunning views of Los Angeles on a guided trail ride. This unique way to explore the city's natural beauty offers a fantastic view of the iconic Hollywood sign.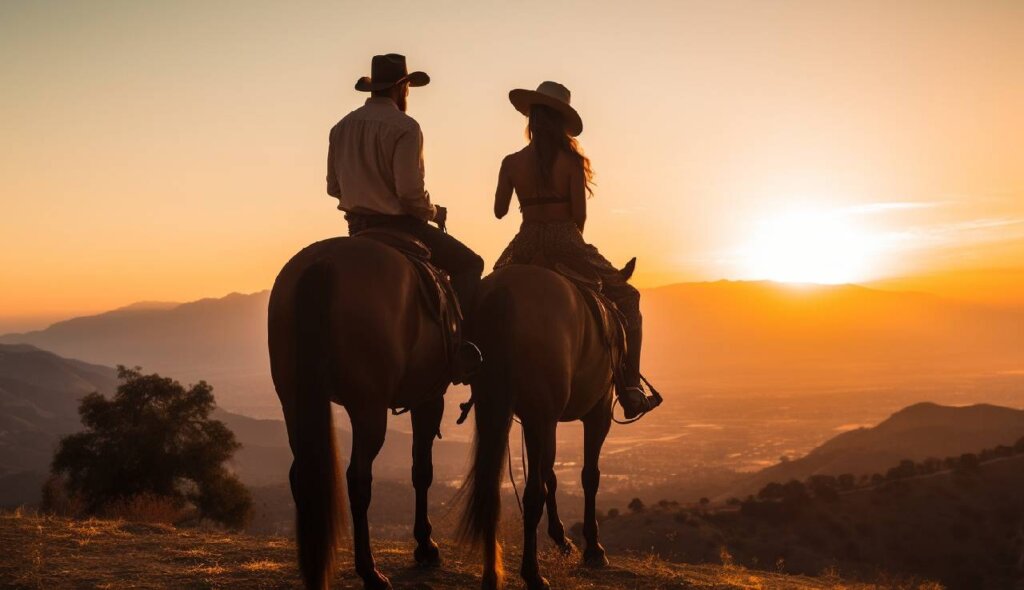 10. Botanical gardens
Los Angeles boasts several stunning botanical gardens, serving as serene sanctuaries amidst the urban buzz. These gardens captivate visitors with their lush landscapes, diverse and exotic flora, and peaceful water features.
11. Rollerblading
The beachfront boardwalks in areas like Venice Beach and Santa Monica are perfect for rollerblading. Enjoy the sea breeze and the lively atmosphere as you glide along the path.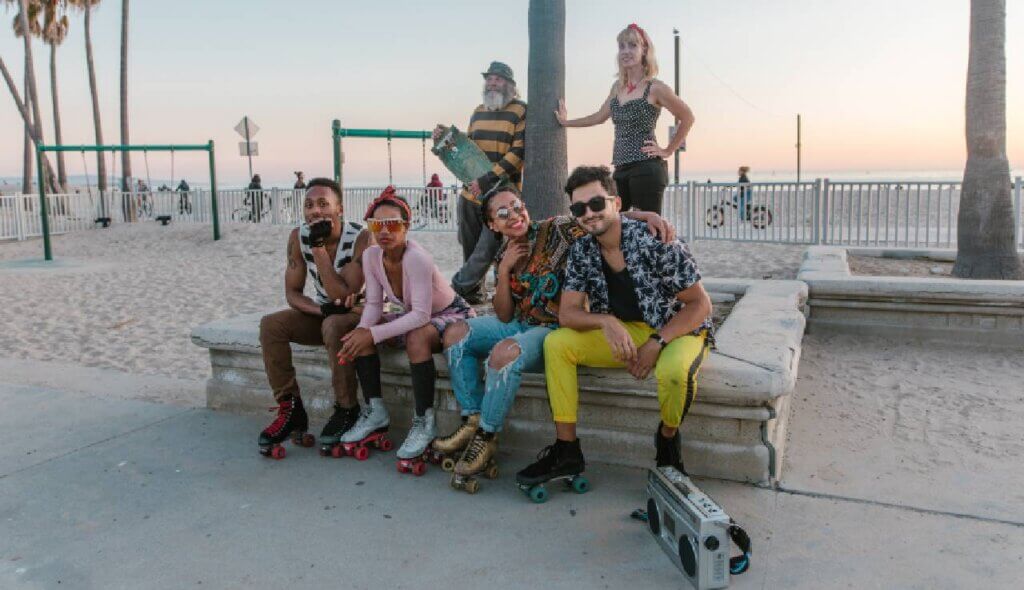 12. Outdoor movie nights
LA's pleasant weather makes it perfect for outdoor movie nights. Enjoy a classic film under the stars in various locations across the city. These events often feature food trucks and live music, adding to the festive atmosphere.
13. Exploring the LA River
The Los Angeles River presents an exceptional opportunity for outdoor enthusiasts to explore its surroundings.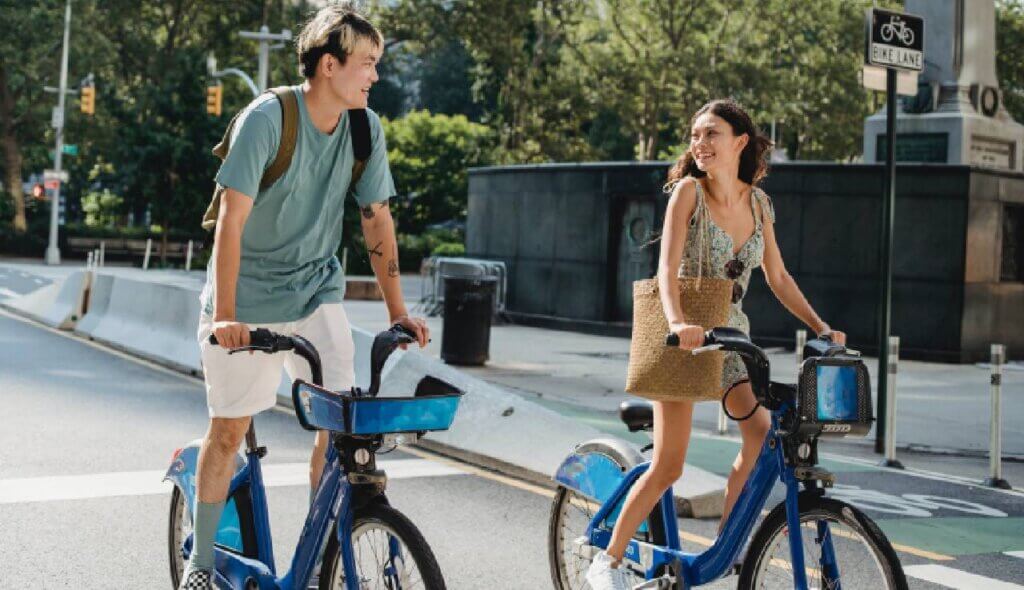 You can enjoy activities like biking along the LA River Bike Path or kayaking in specific sections during the summer months. Two notable sections available for kayaking are the Sepulveda Basin and Elysian Valley.
The Sepulveda Basin in the San Fernando Valley provides a milder and less urban kayaking experience along a two-mile stretch.
On the other hand, Elysian Valley, also known as Frogtown, offers an urban adventure through the central part of Los Angeles. Covering a 2½-mile passage, this section is characterized by a more urban atmosphere.
Before embarking on your kayaking excursion, review any regulations, obtain necessary permits, and follow safety guidelines to make the most of your adventure in the Los Angeles River.
14. Golfing
Los Angeles is home to numerous beautiful golf courses. Whether a seasoned pro or a beginner, you can enjoy golf while soaking up the California sun.
15. Fishing
Try fishing from one of LA's many piers, or take a deep-sea fishing trip from one of the city's marinas. It's a relaxing way to spend a day, and you might even catch dinner!
16. Hot air ballooning
For a truly unforgettable experience, take a hot air balloon ride over the Los Angeles area. You'll get a bird's eye view of the city, the coastline, and the surrounding countryside.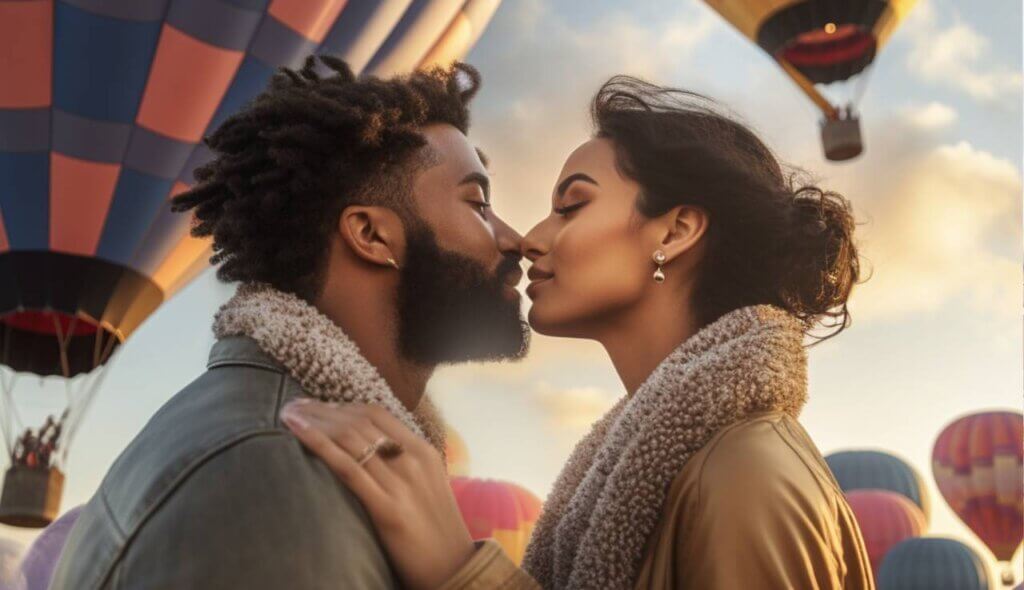 Los Angeles is a playground for outdoor enthusiasts with endless sunshine and exciting activities. Its blend of nature, culture, and luxury offers an irresistible appeal for anyone seeking fun outdoor activities. Moreover, it continually asks, "What can I do outside today?" The answer is simple – explore, experience, and enjoy everything LA offers!
Book online your luxury pop-up picnic today and soak in the authentic Los Angeles vibe!
FAQs
What are some popular outdoor activities in Los Angeles?
Popular outdoor activities in Los Angeles include luxury pop-up beach picnics, hiking and biking trails, beach activities, kayaking, paddleboarding, urban exploration, wildlife observation, outdoor yoga and fitness classes, rock climbing, sailing, farmers' markets, horseback riding, botanical garden visits, outdoor movie nights, paragliding, exploring the LA River, golfing, rollerblading, fishing, outdoor art tours, beach bonfires, and hot air ballooning.
What are the best free outdoor activities in Los Angeles?
Los Angeles offers a variety of top-notch free outdoor activities. Some of the best options include visiting Santa Monica and Venice Beach, exploring Griffith Observatory and its hiking trails, strolling along the Hollywood Walk of Fame, enjoying the scenic views from Baldwin Hills Scenic Overlook, attending free concerts and events at venues like Grand Park, and exploring the vibrant neighborhoods of Downtown LA and the Arts District for a taste of the city's culture and street art.
What hiking and biking trails are recommended in Los Angeles?
Some notable trails include the Griffith Observatory Trail, The Backbone Trail, The Strand or Marvin Braude Bike Trail, The Westridge Trail, and Runyon Canyon. They offer varied terrains and stunning vistas of the city and ocean.
Which beaches are suitable for activities such as surfing, beach volleyball, and yoga?
Venice Beach is famous for surfing, Manhattan Beach is known for energetic volleyball games, Dockweiler State Beach hosts beach yoga and Santa Monica Beach is great for sunbathing.
What farmers' markets are recommended in LA?
Notable markets include the Santa Monica Farmers' Market, Hollywood Farmers' Market, Downtown LA Art Walk Night Market, Silver Lake Farmers' Market, The Original Farmers' Market on 3rd and Fairfax, and the Studio City Farmers' Market.
What botanical gardens are worth visiting in Los Angeles?
Los Angeles boasts several stunning botanical gardens, such as Los Angeles County Arboretum and Botanic Garden, Huntington Library, Art Museum and Botanical Gardens, Descanso Gardens, South Coast Botanic Garden, The Mildred E. Mathias Botanical Garden, and The Japanese Garden in the San Fernando Valley.