The concept of a company picnic is far from obsolete. A corporate picnic is not just a day for hot dogs, potato salad, and frisbees. It's an opportunity to foster teamwork, camaraderie, and employee satisfaction.
In this blog, we are excited to present various innovative and exciting company picnic ideas, games, and activities that will make your event the highlight of your corporate calendar.
The best corporate picnic themes
Themed corporate picnics bring a fresh and exciting twist to conventional company gatherings. By incorporating a specific theme, these picnics infuse an element of anticipation and joy that elevates the overall experience. Let's explore some themed picnic ideas to inspire your next corporate outing:
1. Retro '80s 📻: Take a trip down memory lane with an '80s-themed picnic with neon decorations, classic arcade games, and a playlist of nostalgic hits.
2. Carnival Fun Fair 🎡: Bring the joy and excitement of a carnival to your picnic, featuring traditional fair games, popcorn, cotton candy, and a festive atmosphere.
3. Sports Extravaganza 🏅: Unleash your team's competitive spirit with a sports-themed picnic featuring various games, team jerseys, and sports-themed snacks.
4. Hawaiian Luau 🌈: Transport your team to a tropical paradise with vibrant decorations, flower leis, grass skirts, and delicious Hawaiian cuisine.
5. Outdoor Movie Night 🍿: Set up a large screen and cozy seating for an outdoor movie experience. Provide popcorn, snacks, and blankets for a relaxed evening under the stars.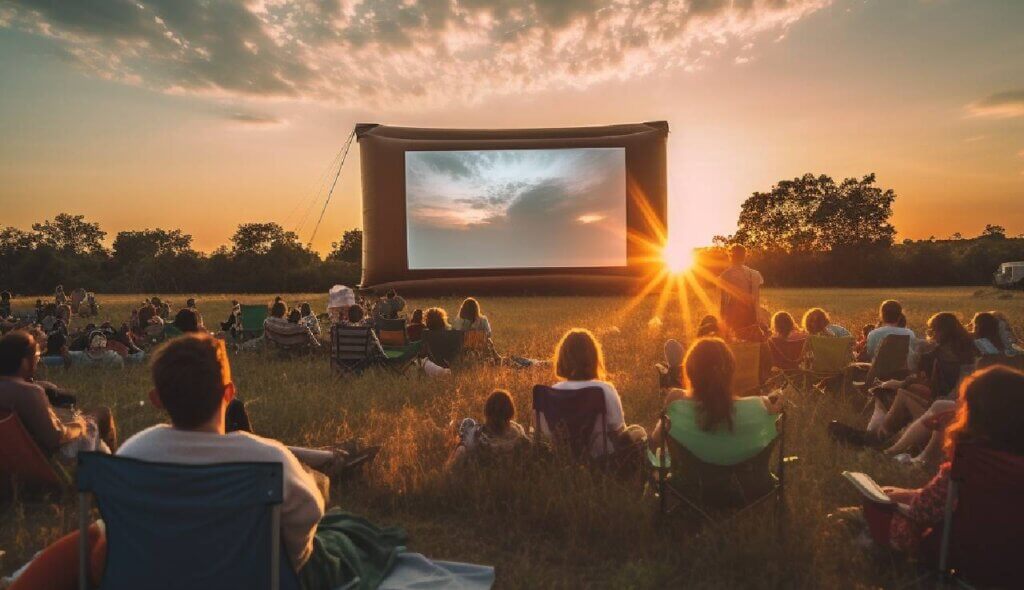 6. Beach Party 🏖️: Create a beach getaway ambiance with colorful beach towels, beach balls, sandcastles, and refreshing tropical beverages.
7. Garden Tea Party 🫖: Transform your picnic into an elegant garden affair with delicate tea sets, finger sandwiches, pastries, and floral decorations.
8. Around the World 🌎: Celebrate diversity and culture by incorporating different international cuisines, decorations, and music representing various countries.
9. Superhero Adventure 🦸‍♂️: Encourage your team to embrace their inner superheroes by hosting a picnic where everyone dresses up as their favorite characters and participates in superhero-themed activities.
10. Game of Thrones 👑: Create a medieval-themed picnic inspired by the popular TV series featuring medieval decorations, costumes, and a feast fit for kings and queens.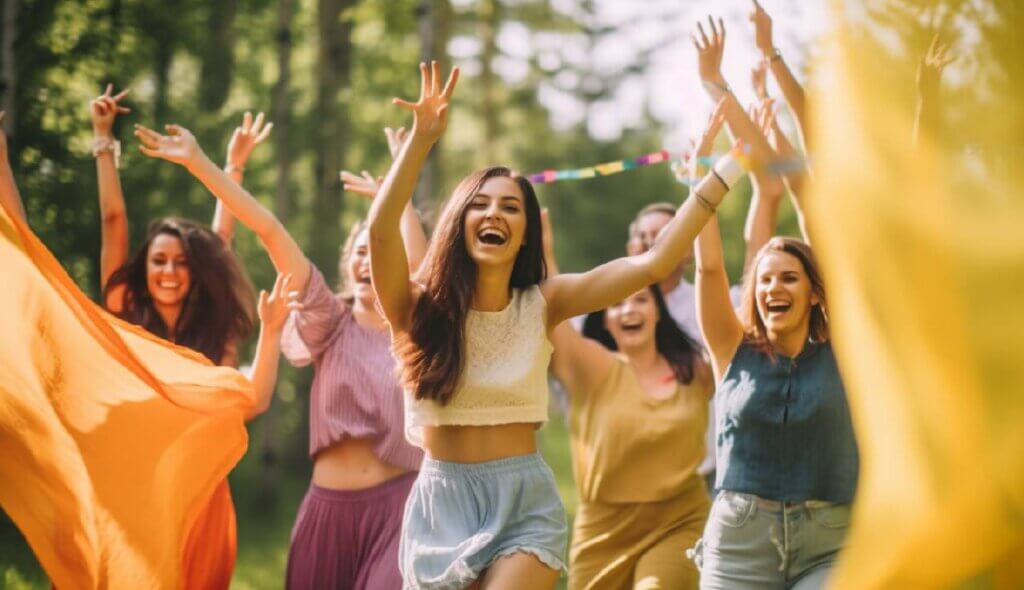 Games to play at a company picnic
Classic games
When considering company picnic games, it's hard to resist the classics. They are straightforward, require minimal equipment, and are universally enjoyed. Who can resist a spirited sack race, a three-legged competition, or a thrilling tug-of-war?
How about a water balloon toss on a hot afternoon or a pie-eating contest to generate laughter and memories? The key is not to overlook these old-school favorites, which often catalyze fun and team bonding.
More picnic games to explore
Tug-of-War: Let the teams battle it in an epic test of strength and teamwork.
Cornhole Tournament: Set up cornhole boards and challenge your coworkers to a friendly game of tossing bean bags.
Giant Connect Four: Engage in a supersized version of the classic game, where players strategically drop oversized discs to connect four in a row.
Water Balloon Volleyball: Replace traditional volleyball with water balloons for a refreshing and exciting twist.
Capture the Flag: Divide into teams and compete to capture the opposing team's flag while defending your own.
Outdoor Scavenger Hunt: Create a thrilling scavenger hunt with clues and riddles that lead to hidden treasures in the picnic area.
Giant Twister: Take the popular game to new heights by playing it on a large outdoor mat with oversized spinning arrows.
Sponge Relay Race: Cool off with a relay race where teams pass soaked sponges to fill up buckets at the finish line.
Giant Jenga: Test your team's balance and precision as you carefully remove blocks from a towering Jenga tower without causing it to collapse.
Human Foosball: Strap participants onto a large inflatable field and let them compete in a life-sized version of the classic table game.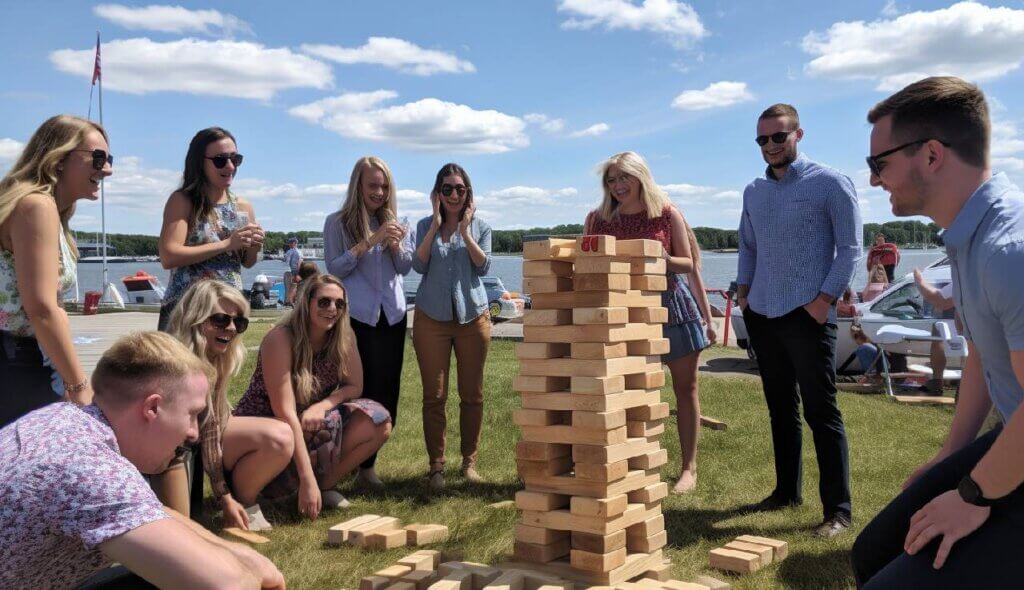 Innovative team-building picnic activities
When it comes to team-building at your picnic, countless innovative activities will keep your employees engaged and entertained. The options are endless, from outdoor escape room challenges to supersized versions of popular board games like Jenga or Chess.
If you have a tech-savvy team, why not try a thrilling tech-based scavenger hunt using GPS devices or drones for a unique bird's eye view of the event? These exciting activities will create memorable experiences and strengthen the bonds among your employees.
Workshops and demonstrations
Workshops and demonstrations can add a new dimension to your company picnic. This could include cooking demonstrations 👨‍🍳, yoga sessions 🧘, or even painting classes 🎨. Such activities are fun and relaxing and provide a unique opportunity for learning and personal development outside the typical work environment.
Competitive sports
For those with a competitive streak, hosting sports games at your company picnic can be a great way to encourage healthy competition and teamwork. Such activities can energize your staff and stimulate their team spirit, whether it's a friendly beach volleyball match in Malibu, a soccer tournament in Los Angeles, or a relay race in Orange County.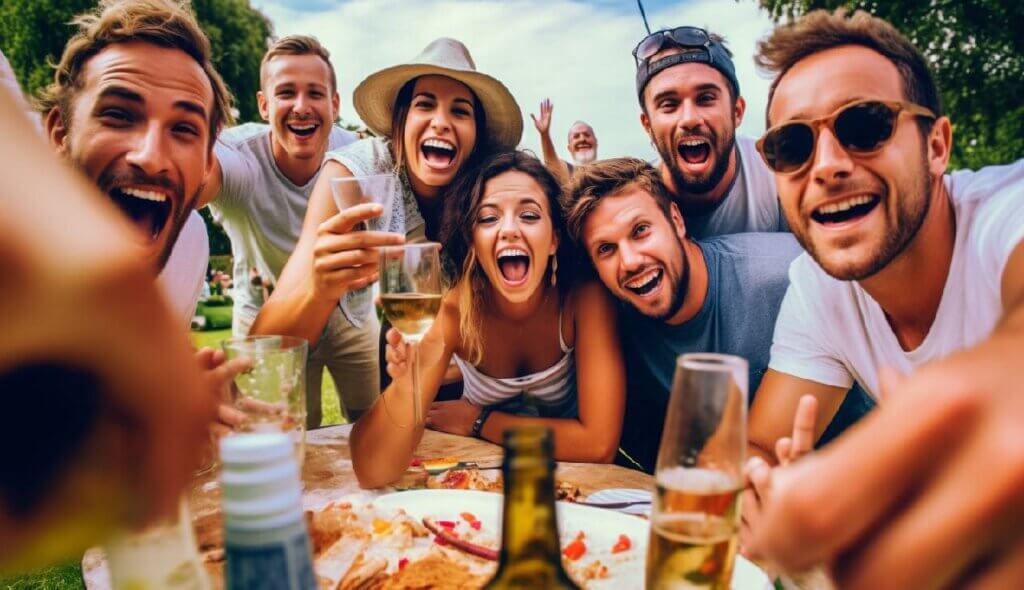 Сulinary delights for your event
A corporate picnic isn't complete without a feast. Consider a BBQ with gourmet burgers 🍔, a taco station🌮 with all the fixings, or even a seafood boil 🦐.
A salad bar 🥗 with locally sourced produce could be a hit if your company promotes healthy living. How about a s'mores station or an ice cream sundae bar 🍦 for dessert? Remember, a well-fed team is a happy team.
Conclusion
A company picnic is more than just a day off work. It's an opportunity to foster unity, camaraderie, and appreciation among your staff. By incorporating classic and innovative games, themed events, workshops, sports, culinary delights, and mental challenges, you'll create a memorable, fun-filled day that your team will talk about for years to come.
From the sun-soaked beaches of Malibu to the vibrant cityscapes of Los Angeles and the serene parks of Orange County, Picnic Makers is here to bring your luxury corporate picnic ideas to life. With our unique and innovative offerings, we are committed to exceeding your expectations and creating a spectacular corporate picnic that will strengthen the bonds between your employees.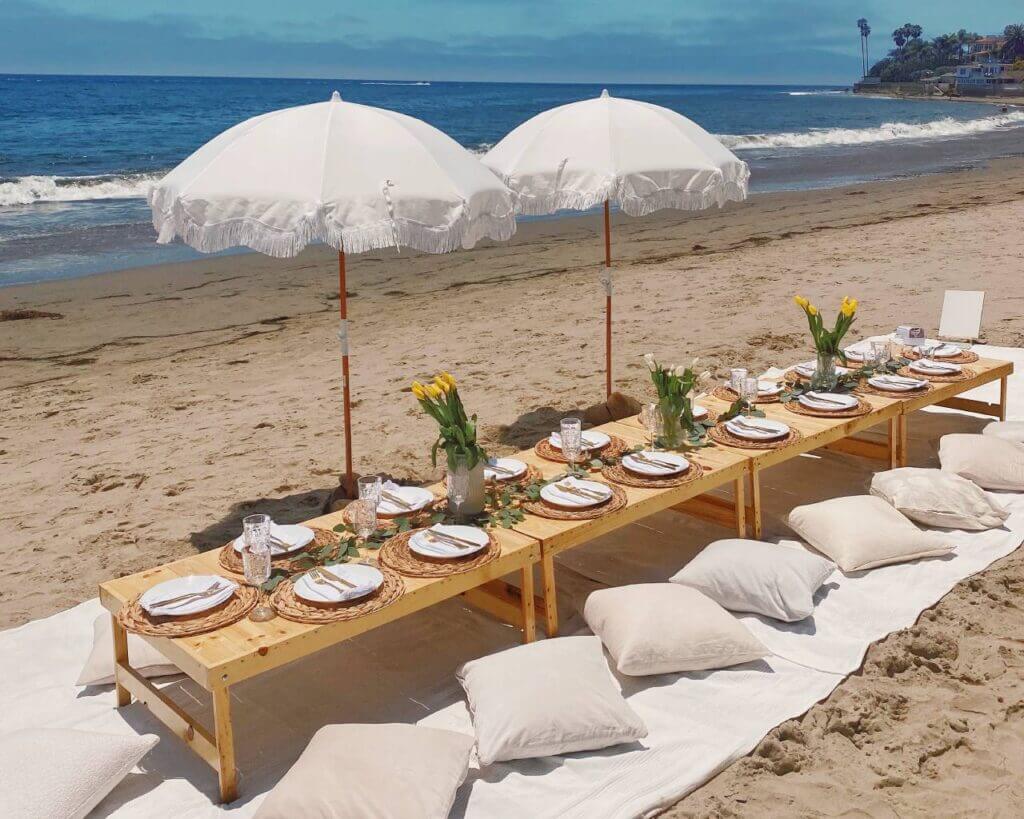 So, let's step out of the office, enjoy the fresh air, and prepare for a day of laughter, fun, and team bonding. Together, let's make it an event to remember! Click here to book your picnic online.
Corporate Picnic FAQs
What is a company picnic, and why is it important?
A company picnic is a social event sponsored by a business for its employees and often their families. It allows one to break from the regular work environment, foster team spirit, and build stronger relationships. Such events can boost morale, facilitate communication, and improve job satisfaction.
What are some exciting company picnic theme ideas?
Themes can add an extra layer of fun to the picnic. Some ideas could include a Beach Party, Hawaiian Luau, Carnival, Sports Day, Retro 80s, Country Western, Superheroes, or International Cuisine Day, where everyone brings a dish from a different culture.
What types of activities can be arranged during a picnic?
You can plan various activities, from team-building games and competitive sports to arts and crafts. Some popular options include sack races, tug-of-war, scavenger hunts, picnic blanket bingo, and face painting.
How can we ensure the event is inclusive for all employees?
Ensure your picnic is accessible, consider dietary restrictions for catered food, and arrange activities that suit different physical abilities. You can also survey employees about their preferences beforehand to ensure everyone can enjoy a variety of options.
What are some good locations for a company picnic?
Ideal locations can vary depending on your company's size and budget. Some options could include local parks, the beachfront, a rented event space, or even at your office grounds if suitable. Wherever you choose, ensure sufficient space, restroom facilities, and shade if it's an outdoor event in the summer.