Picture this: a warm, sunlit day, a gentle breeze rustling through the trees, and a patchwork of vibrant colors spread across a cozy blanket. Nature's beauty surrounds you, birds chirping in the background and the anticipation of a delightful outdoor feast. What's missing?
The centerpiece of any great picnic is sandwiches. These handheld creations are not just a meal; they embody convenience, flavor, and the joy of sharing. In this journey, we'll explore the art of crafting these delectable treats that elevate your outdoor dining experience to new heights.
Click here to learn more about making your picnic sandwiches
26 delectable picnic sandwich recipes
1. Classic turkey and swiss 🦃🧀
A timeless favorite, this sandwich features tender slices of roasted turkey layered with Swiss cheese, crisp lettuce, juicy tomato slices, and a smear of Dijon mustard between two slices of whole-grain bread. It's a balanced medley of flavors and textures.
2. Caprese panini
A twist on the Italian classic, this panini showcases slices of fresh mozzarella, ripe tomatoes, and fragrant basil leaves. Drizzle with balsamic glaze and press between slices of ciabatta bread for a warm and melty delight.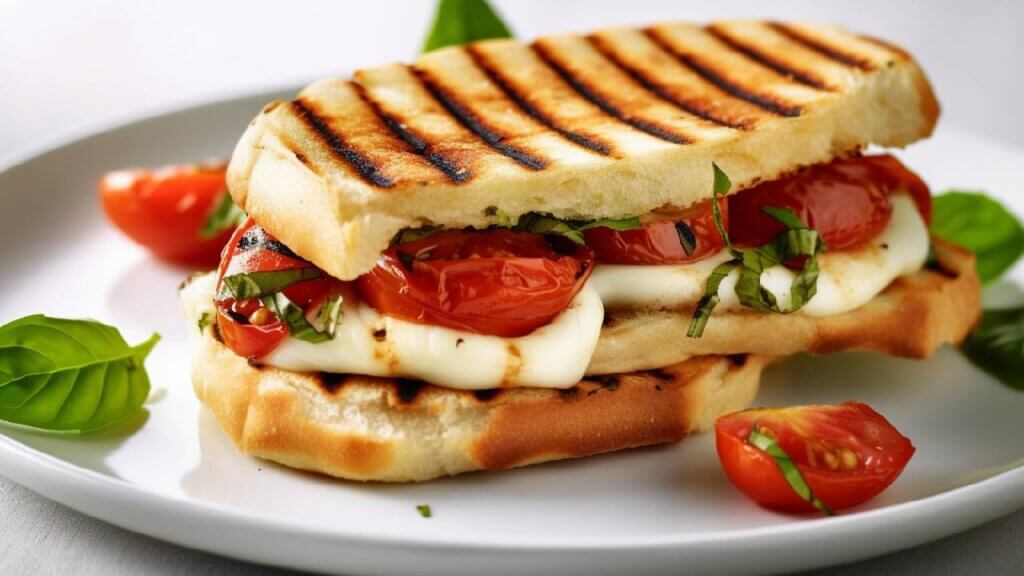 3. Grilled veggie wrap
Packed with goodness, this wrap features grilled zucchini, eggplant, bell peppers, and red onion. Tuck them into a tortilla along with hummus and fresh spinach for a nutritious and flavorful option.
4. BLTA wrap 🥓🥑🍅
Elevate the classic BLT by adding creamy avocado slices. Crispy bacon, fresh lettuce, ripe tomatoes, and avocado combine in a flour tortilla for a satisfying wrap.
5. Pesto chicken ciabatta
Spread basil pesto on ciabatta rolls and fill them with grilled chicken, roasted red peppers, baby spinach, and a sprinkle of Parmesan cheese. The pesto infuses the sandwich with a burst of herbal goodness.
6. Smoked salmon bagel
This bagel sandwich is perfect for a brunch picnic and features cream cheese, smoked salmon, red onion slices, capers, and fresh dill. It's a luxurious option that's both elegant and satisfying.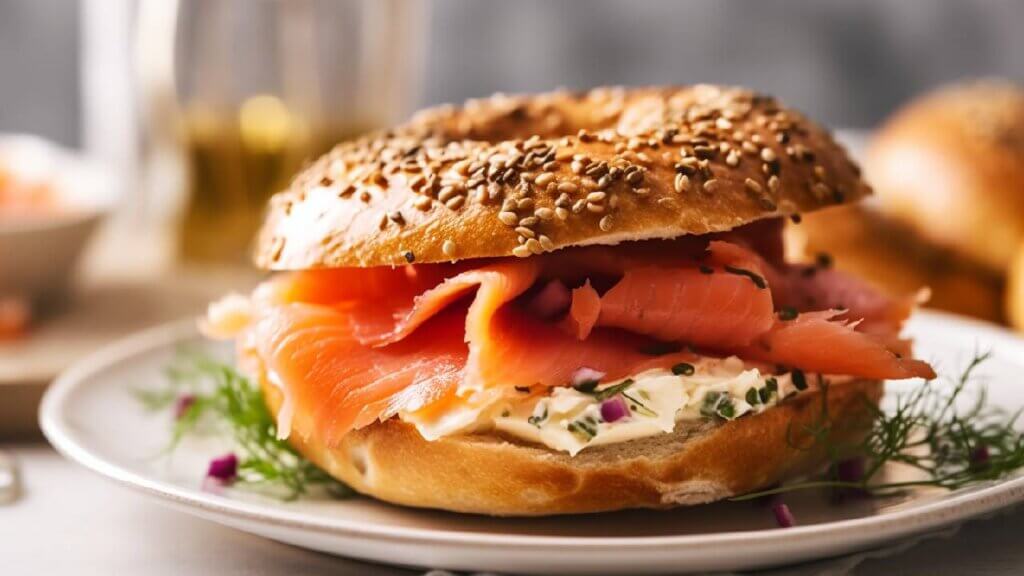 7. Egg salad croissant
Creamy egg salad is home in a buttery croissant, creating a delicate and satisfying combination. Add a few leaves of watercress for a peppery contrast.
8. BBQ pulled pork
Indulge in smoky flavors with shredded BBQ pulled pork sandwiched between soft buns. Top it with coleslaw for a refreshing crunch that balances the richness.
9. Greek gyro 🥙🇬🇷
Transport your taste buds to Greece with thinly sliced gyro meat or grilled chicken, crisp lettuce, tomato, red onion, and tangy tzatziki sauce, all wrapped in warm pita bread.
10. Cranberry and brie baguette
For elegance, layer slices of creamy Brie cheese with tart cranberry sauce and fresh baby arugula on a crusty baguette. It's a sophisticated blend of flavors.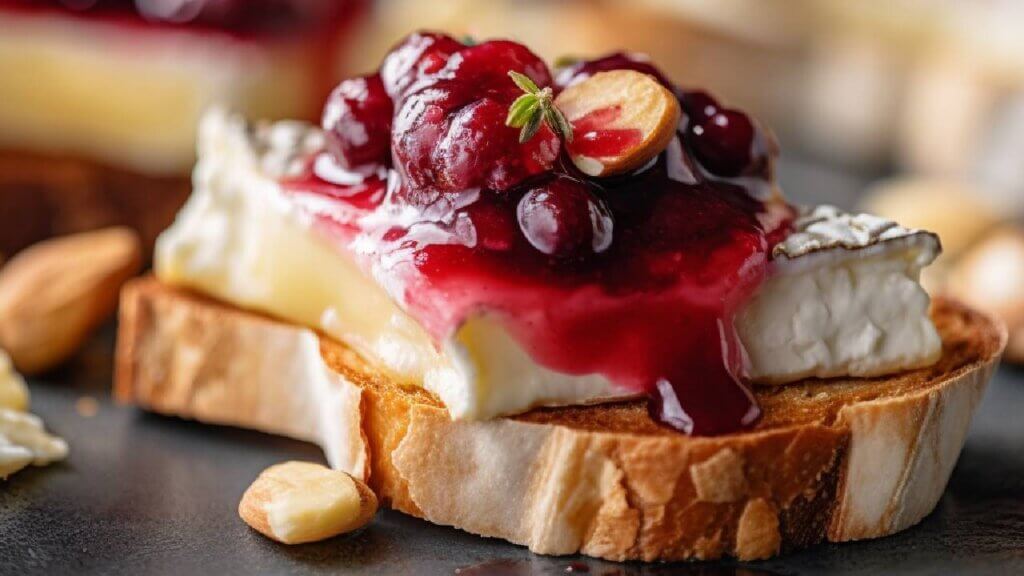 11. Avocado toast sandwich
Take the trendy avocado toast to the next level by adding slices of turkey, crispy bacon, and a drizzle of honey mustard dressing. Stack it all between whole-grain bread for a satisfying creation.
12. Ham and pineapple panini 🍖🍍🧀
Embrace tropical flavors with this panini that combines slices of ham, juicy pineapple rings, Swiss cheese, and a touch of Dijon mustard. Toasted to perfection, it's a balance of savory and sweet.
13. Mexican-inspired black bean wrap
Load up a tortilla with black beans, corn, diced tomatoes, avocado slices, and a squeeze of lime juice. This wrap offers a burst of colors and a fiesta of flavors.
14. Asian sesame chicken wrap 🍗🌯
Marinated grilled chicken, crunchy Napa cabbage, shredded carrots, and sliced bell peppers come together in a tortilla drizzled with sesame ginger dressing. It's a fusion of Asian flavors, perfect for a picnic.
15. Mediterranean hummus and veggie wrap
Spread hummus on a tortilla and layer it with roasted red peppers, marinated artichokes, Kalamata olives, cucumber slices, and feta cheese. This wrap bursts with Mediterranean goodness.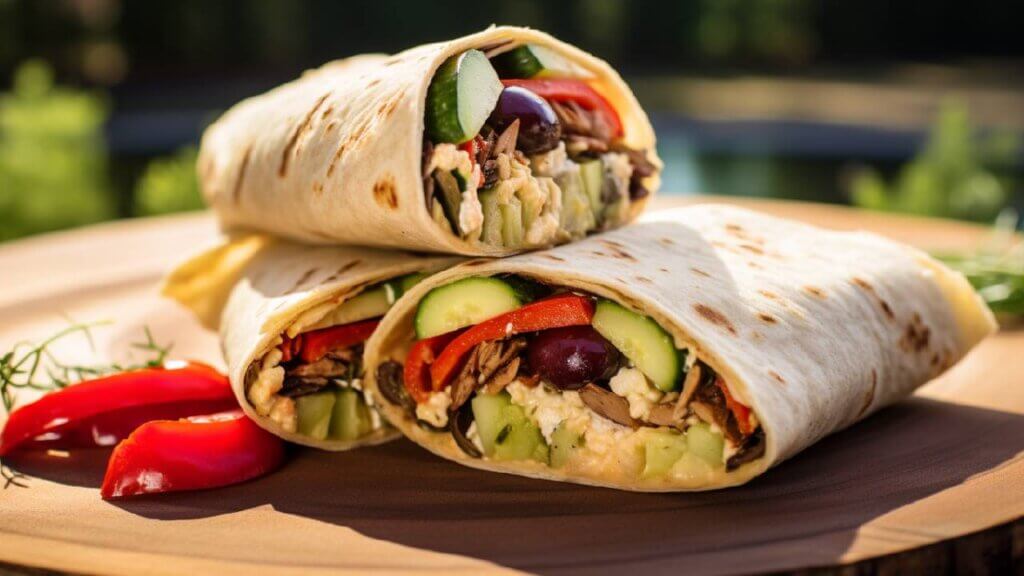 17. Bacon and egg breakfast sandwich 🥓🍳
Enjoy breakfast outdoors with this sandwich featuring crispy bacon, a perfectly fried egg, melted cheddar cheese, and a hot sauce between an English muffin.
18. Curry chicken salad croissant
Elevate the classic chicken salad with a curry twist. Combine cooked chicken with curry spices, chopped almonds, and diced apples, then tuck it into a buttery croissant.
19. Italian meatball sub 🥖🍝
Hearty and satisfying, this sub is filled with meatballs coated in marinara sauce, melted mozzarella cheese, and a sprinkle of fresh basil, all nestled within a toasted sub roll.
20. Tuna nicoise wrap
Inspired by the French salad, this wrap combines flaked tuna, hard-boiled egg slices, steamed green beans, Kalamata olives, and capers, drizzled with a Dijon vinaigrette.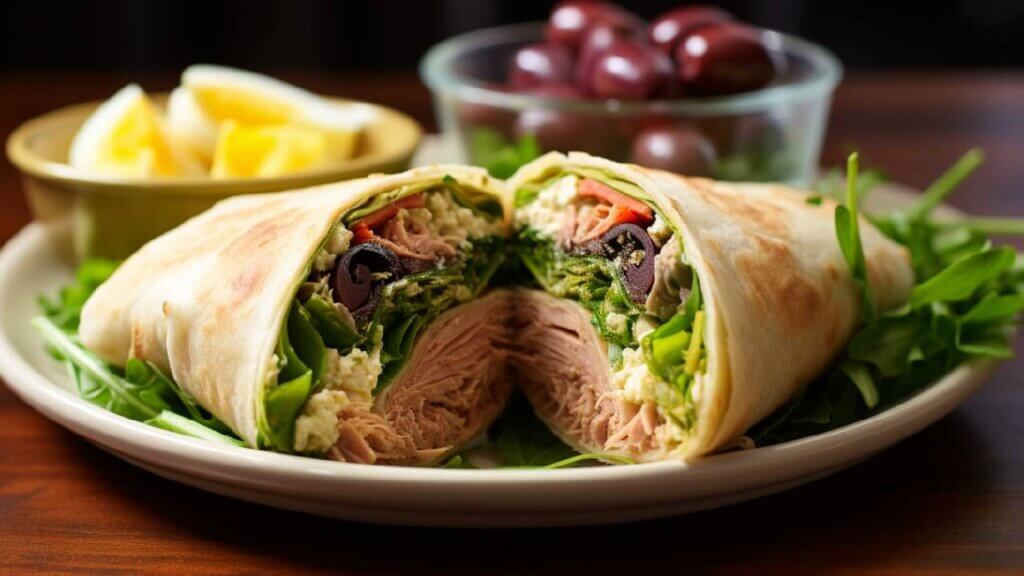 21. Peanut butter and banana sandwich
For a sweet treat, spread peanut butter on whole-grain bread and layer it with slices of ripe banana. Optionally, add a drizzle of honey for an extra touch of sweetness.
22. Vietnamese banh mi 🇻🇳🥖
Embrace bold flavors with this Vietnamese sandwich featuring marinated grilled pork, pickled daikon and carrot, cucumber slices, cilantro, jalapeno slices, and a smear of mayo, all on a baguette.
23. California turkey club
Elevate the classic club sandwich by adding creamy avocado, crisp bacon, and slices of roast turkey. Layer them between slices of toasted bread with lettuce and tomato.
24. Roast beef and horseradish wrap 🥩🌯
Roast beef meets tangy horseradish sauce in this wrap, complemented by arugula and thin slices of red onion. Roll it all up in a tortilla for a zesty option.
25. Curried lentil wrap
Plant-based and flavorful, this wrap stars curried lentils, shredded cabbage, grated carrots, and a dollop of coconut yogurt, all rolled up in a tortilla.
Find 20+1 vegetarian picnic food ideas.
26. Hawaiian BBQ chicken
Combine grilled chicken, tangy BBQ sauce, slices of pineapple, red onion, and melted cheddar cheese for a sandwich that brings a taste of Hawaii to your picnic.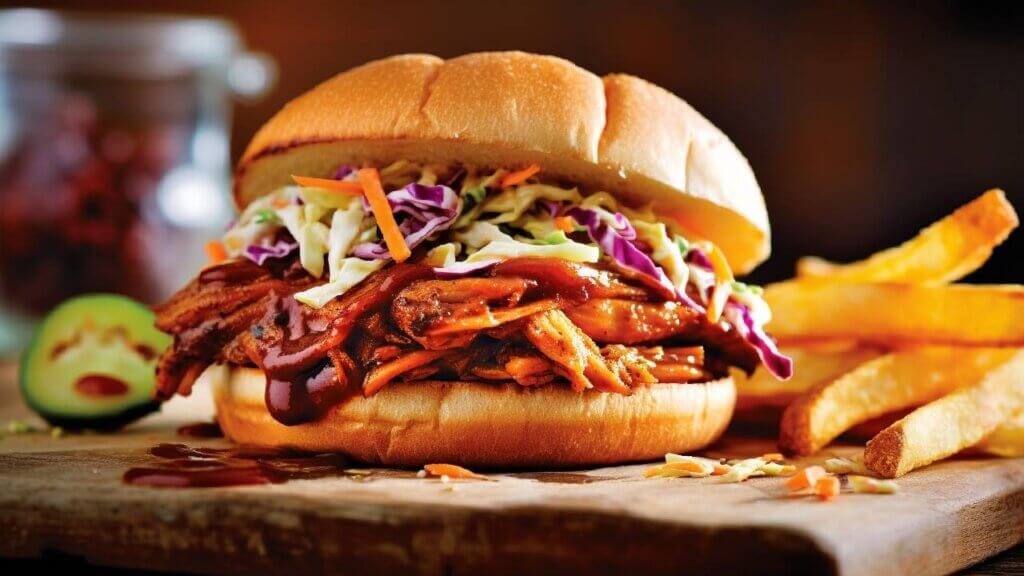 Making your picnic sandwiches 🥪
Creating the perfect picnic sandwich doesn't require culinary expertise; all it takes is creativity, patience, and the desire to craft something extraordinary. As you set out to make your picnic sandwiches, consider these simple steps that transform ordinary ingredients into culinary art.
Selecting the bread 🍞
The foundation of any sandwich is its bread. Opt for sturdy bread to hold the fillings without becoming soggy but soft enough to bite into comfortably. Choices like ciabatta, baguette, or even a hearty whole-grain bread can provide the perfect canvas for your creation.
Choosing the fillings
This is where your imagination takes center stage. Whether you're a carnivore, a vegetarian, or an adventurer willing to try something new, a world of fillings awaits exploration. Delve into thinly sliced meats, assorted cheeses, vibrant veggies, and spreads like hummus or aioli to add flavor.
Layering with precision 🍽️
The order of your sandwich layers matters. Start with a base of lettuce or other greens to provide a protective barrier between the bread and moist ingredients. Place your main fillings on top and add additional condiments or sauces. This layering ensures that your sandwich stays intact and retains its flavors.
Balancing flavors
Achieving a harmonious balance of flavors is critical. Consider the interplay of sweet, salty, savory, and tangy elements. If your fillings are rich and bold, balance them with freshness from herbs, greens, or pickled ingredients.
Adding a touch of dressing
Depending on your preference, consider adding a dressing or spread that complements the flavors of your fillings. A drizzle of balsamic glaze, a dollop of pesto, or a spread of Dijon mustard can elevate your sandwich.
Wrapping and packing 🎁
To ensure your sandwiches stay fresh and delicious, wrap them tightly in parchment paper or plastic wrap. This prevents the ingredients from falling out and helps preserve their flavors. Pack them snugly in an airtight container or a picnic basket, ensuring they remain cool and ready to enjoy.
Styling your sandwiches: a visual treat
Much like an artist selecting colors for their canvas, you can play with textures, colors, and arrangements that not only please the eyes but also heighten the anticipation of every bite. Consider the art of sandwich styling as your secret ingredient to elevate your outdoor dining.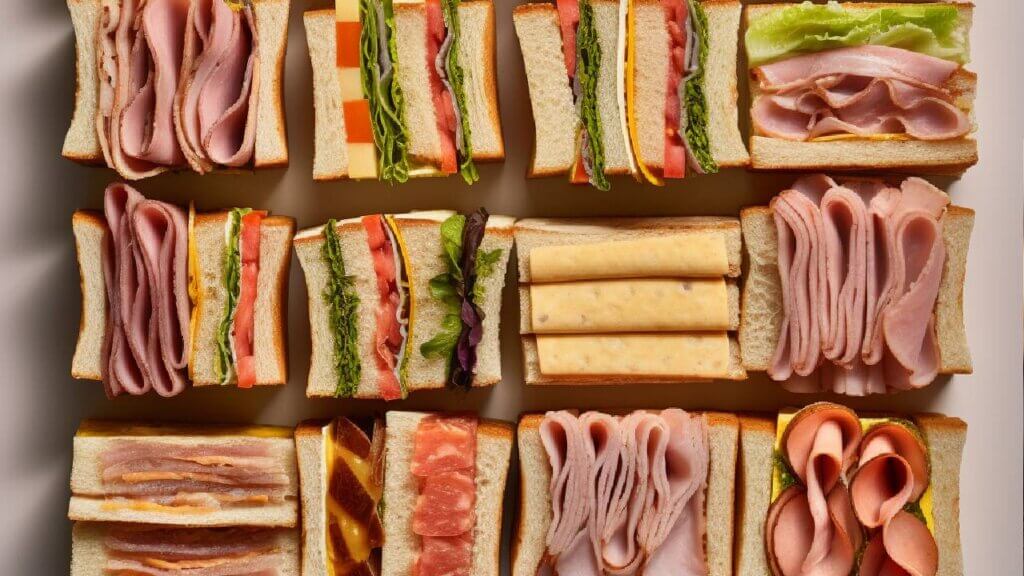 Here's how to turn your sandwiches into a visual treat:
Color play: Incorporate colorful ingredients – from vibrant greens to juicy reds and deep purples. These natural hues add beauty and indicate freshness and nutritional value.
Garnish gracefully: A touch of garnish can transform a simple sandwich into a gourmet delight. Sprinkle freshly chopped herbs, microgreens, or edible flowers on top for a burst of color and flavor.
Play with patterns: Arrange ingredients in appealing patterns – alternate colors, create stripes, or even arrange ingredients in a radial design for a visually striking effect.
Cut with care: How you cut your sandwiches can add an artistic touch. Try diagonal cuts for an elegant look, or even use cookie cutters to create fun shapes.
Picnics are more than just meals; they're an opportunity to connect with loved ones, bask in nature's beauty, and create cherished memories. As the sun begins to dip below the horizon, casting a warm, golden glow over the landscape, your picnic adventure draws to a close.
The laughter shared, the bites savored, and the moments lived all come together to form a chapter in your personal story, a tale of picnicking and sandwich delights that will be retold with a fondness for years to come.
Click here to find best picnic food ideas
FAQs
Can I make my sandwiches the night before a picnic?
While some sandwiches can be prepared in advance, assembling delicate ingredients like lettuce and tomatoes on-site is best to maintain their freshness.
What's an excellent vegetarian option for picnic sandwiches?
Try a Mediterranean-inspired wrap with hummus, roasted veggies, olives, and feta. It's a burst of flavors that pleases both vegetarians and omnivores.
Are there any gluten-free options for picnic sandwiches?
You can use gluten-free bread or opt for lettuce wraps. Fill them with your favorite ingredients for a gluten-free and delicious alternative.
How can I be environmentally conscious during picnics?
Choose reusable containers, utensils, and cloth napkins. Minimize waste, recycle, and dispose of trash responsibly to leave no trace behind.
How do I prevent my sandwiches from getting squished during transport?
Stack sandwiches between sturdy ingredients like lettuce or cheese, and use dividers or napkins to create gentle separation within your picnic basket.
What creative condiment can I use to elevate my sandwiches?
Try a flavored aioli, a tangy fruit chutney, or a spicy pepper jelly to add complementary flavors to your picnic creations.
What's a clever way to accommodate different taste preferences during a group picnic?
Consider creating a "build-your-own" sandwich station with an assortment of bread, proteins, veggies, spreads, and condiments, allowing everyone to customize their masterpiece.