A bridal shower is not just another party. It is a celebration of love, unity, and the upcoming transition into a new phase of life. It is an opportunity for the bride and her closest friends and family to gather and share heartfelt moments, laughter, and maybe even a few happy tears.
While traditional bridal showers have their charm, the modern bride craves unique, exciting, and memorable experiences. That's where our 20 unique bridal shower ideas come into play, infusing tradition with a twist of modern and lavish excitement.
The rise of unique ideas
Over the past few years, there has been a surge in creative and unique bridal shower ideas. Gone are the days of clichéd themes and traditional settings. Today, brides and their planners are stepping up, seeking out unusual concepts that reflect the bride's personality and interests.
1. Luxury pop-up picnic
Consider a luxury pop-up picnic for a unique, fun, romantic bridal shower idea. These picnics are not your ordinary sandwiches-and-blankets affair. Instead, we take picnicking to a whole new level with plush cushions, elegant table settings, boho-style umbrellas, and stunning décor, all set up at a location of your choice in Los Angeles, Orange County, or Malibu.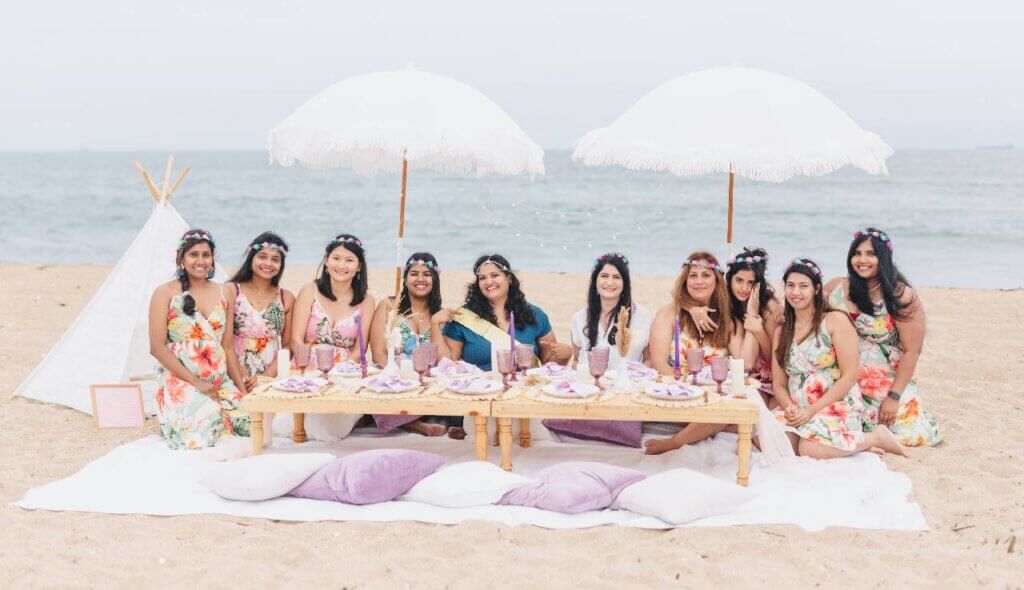 Imagine the bride and her friends enjoying a beautifully set the table under a string of fairy lights, sharing laughter and stories amidst a breathtaking setting. The bridal or bachelorette luxury pop-up picnic offers an intimate, comfortable space for the bridal party to connect, share, and create unforgettable memories.
2. Destination bridal shower
With the concept of destination weddings becoming increasingly popular, why not consider a destination bridal shower? Choose a location that holds significance for the bride – her favorite vacation spot, city, or even a dream destination. Check with all the guests beforehand, as this bridal shower party idea will involve travel and more planning.
3. Brunch and bubbly
Turn the bridal shower into a chic daytime event with a brunch and bubbly theme. Think of mimosas, champagne, and a menu of delicious brunch favorites. Enhance the setting with pastel-colored decorations, fresh flowers, and a waffle or pancake bar where guests can make their own.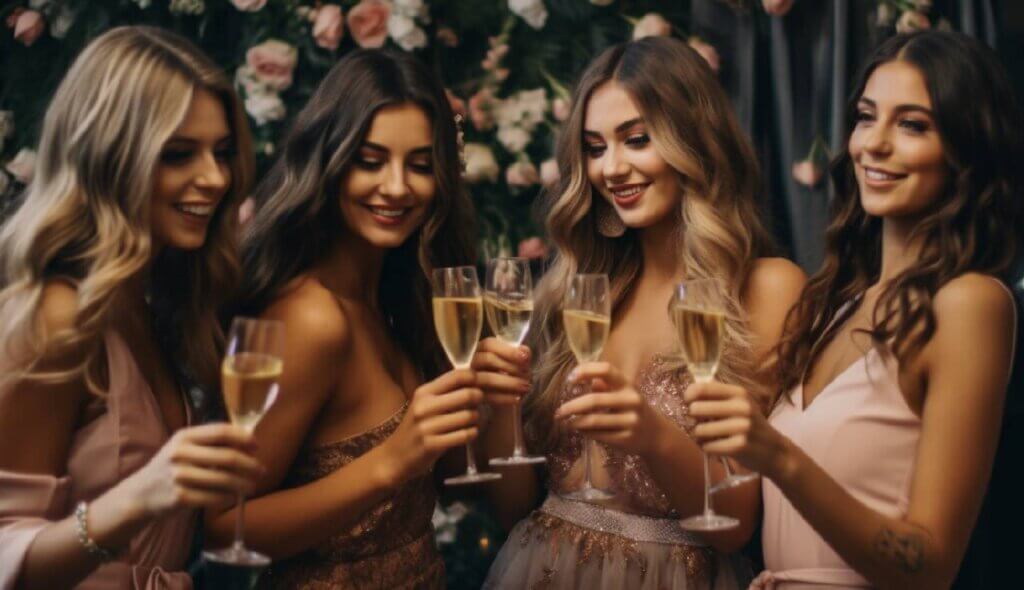 4. Spa day bridal shower
One of the best wedding shower ideas is a spa day. It is perfect for the bride who loves relaxation and self-care. Book a day at a local spa, or create a DIY spa at home if that's too expensive. Provide face masks, manicure and pedicure sets, essential oils, and anything else that screams pampering. It's a great way for the bride and her friends to unwind before the big day.
5. Cooking class 
Does the bride-to-be love cooking or has shown interest in learning? Arrange for a cooking class where the bride and her guests can learn to prepare a dish or two. It doesn't just offer a fun activity; the skills learned could be useful in the bride's married life.
6. Outdoor adventure 
An outdoor adventure bridal shower might be the perfect choice for the adventurous bride-to-be. Plan a day of hiking, white water rafting, horseback riding, or a beach day. Ensure you pack a picnic to enjoy amidst the activities.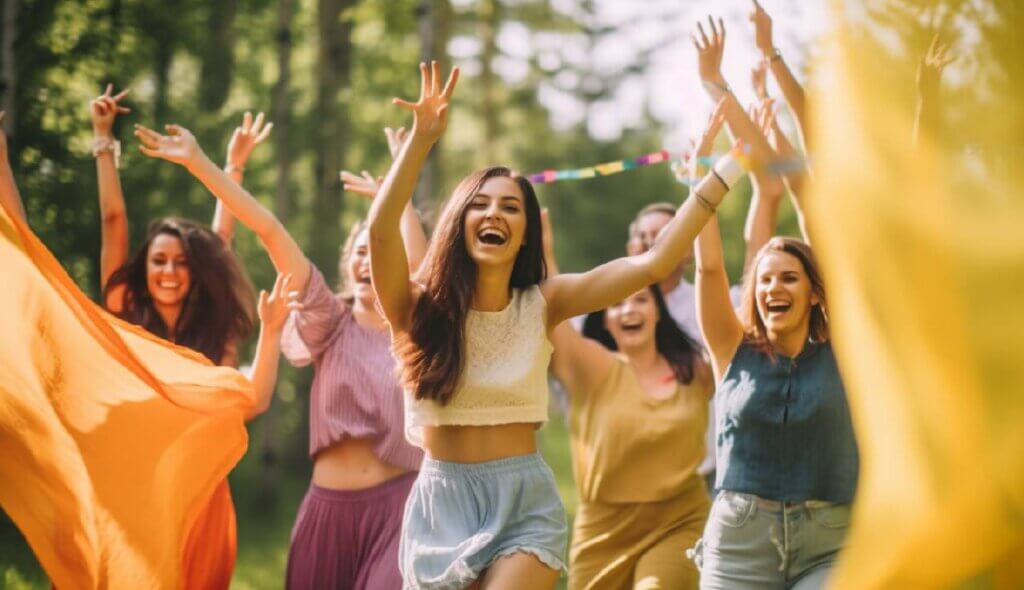 7. Tea party 
A classic and timeless bridal shower party idea is a tea party. Set up a beautiful spread of finger sandwiches, scones, pastries, and teas. Decorate with fresh flowers, beautiful china, and delicate lace for an elegant and feminine atmosphere.
8. Wine tasting 
A wine-tasting bridal shower is a fantastic idea if the bride is a wine enthusiast. Organize a visit to a local winery, or set up a tasting at home with various wines and cheese pairings. It's a sophisticated way to celebrate the bride and can be a fun learning experience for the guests.
9. Crafty bridal shower
Does the bride love DIY? Why not have a crafty bridal shower? Choose a craft the bride enjoys – painting, jewelry making, flower arranging, or even pottery. Make sure to provide all the necessary materials. This way, guests will have fun and go home with a memento they made themselves.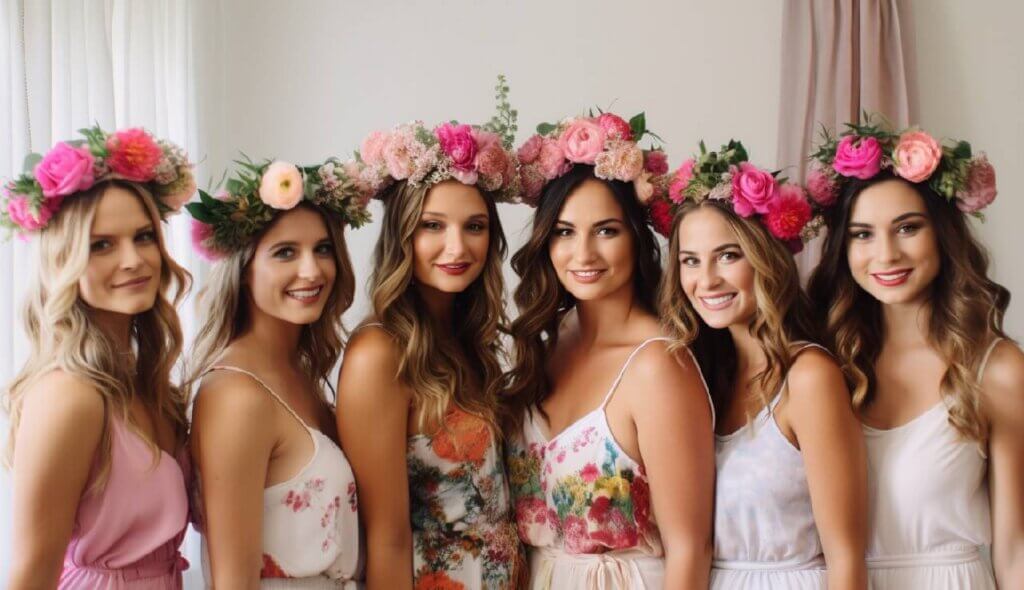 10. Charitable bridal shower
For a bride who has a big heart, consider a charitable bridal shower. Instead of gifts, ask guests to donate to the bride's favorite charity. The activities for the day could be centered around a cause close to the bride's heart, such as preparing care packages for a local shelter or planting trees.
11. Garden party 
Celebrate the bride with a beautiful garden party. This idea is perfect for bridal showers held in spring or summer. Set up tables outdoors, serve light and fresh food, and use fresh flowers for decorations. You can also incorporate outdoor games to keep the guests entertained.
12. Retro bridal shower
Choose an era the bride-to-be loves and build the theme around it. Think of the 50s, 60s, 70s, 80s, or even 90s. Encourage guests to dress in the time's fashion and include era-appropriate music and decorations.
13. Coffee shop bridal shower
Organize a bridal shower in a local coffee shop if the bride is a coffee lover. Enjoy an assortment of coffees, pastries, and sandwiches. You can even arrange a mini barista class or coffee tasting.
14. Beach bridal shower
A beach-themed bridal shower is perfect if the bride-to-be is a beach lover. Organize beach games, enjoy a picnic on the sand, and decorate with beach-inspired elements such as shells, starfish, and tropical flowers.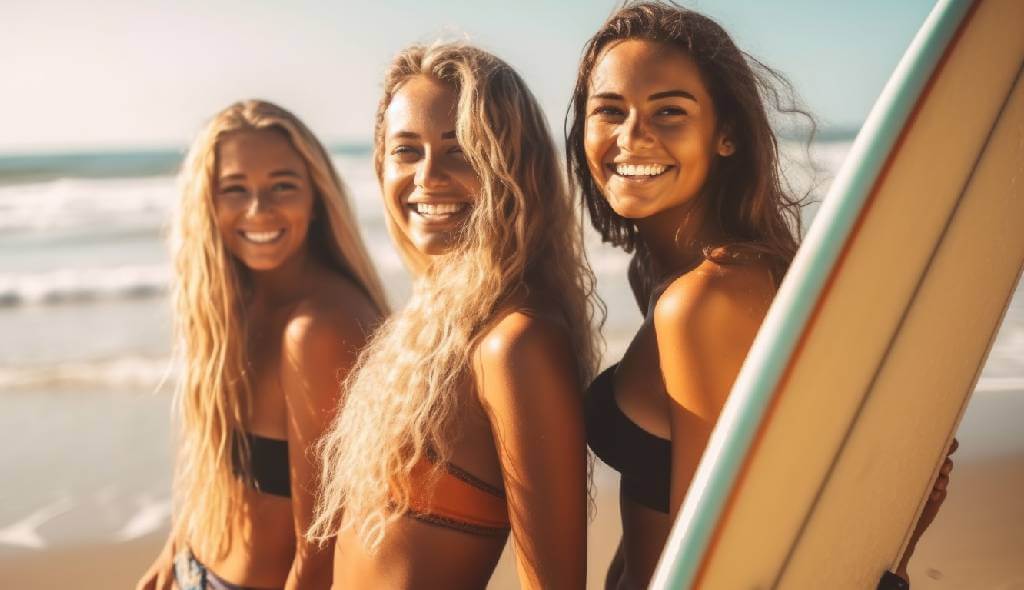 15. Movie night 
A movie night bridal shower could be an excellent idea for a laid-back bride. Choose the bride's favorite movies, prepare popcorn, and create a cozy atmosphere with blankets and cushions.
16. Yoga and wellness 
A yoga-themed bridal shower would be fantastic if the bride is into fitness and wellness. Organize a yoga session for the guests, followed by healthy snacks and drinks.
17. Farm-to-table 
This unique bridal shower idea is perfect for a bride who values fresh, locally-sourced food. Organize the party at a local farm or farmer's market. Enjoy a meal made from fresh ingredients, and consider arranging activities like a farm tour or a cooking class using fresh produce.
18. Book club bridal shower
Is the bride an avid reader? Then a book club bridal shower might be the perfect theme. Have everyone read a favorite book of the bride and discuss it at the party. Alternatively, guests can bring a copy of their favorite book as a gift for the bride's new library.
19. Karaoke
A karaoke bridal shower will be a fun and unique idea if the bride loves to sing. Rent a karaoke machine, set up a stage, and let everyone show off their singing talents.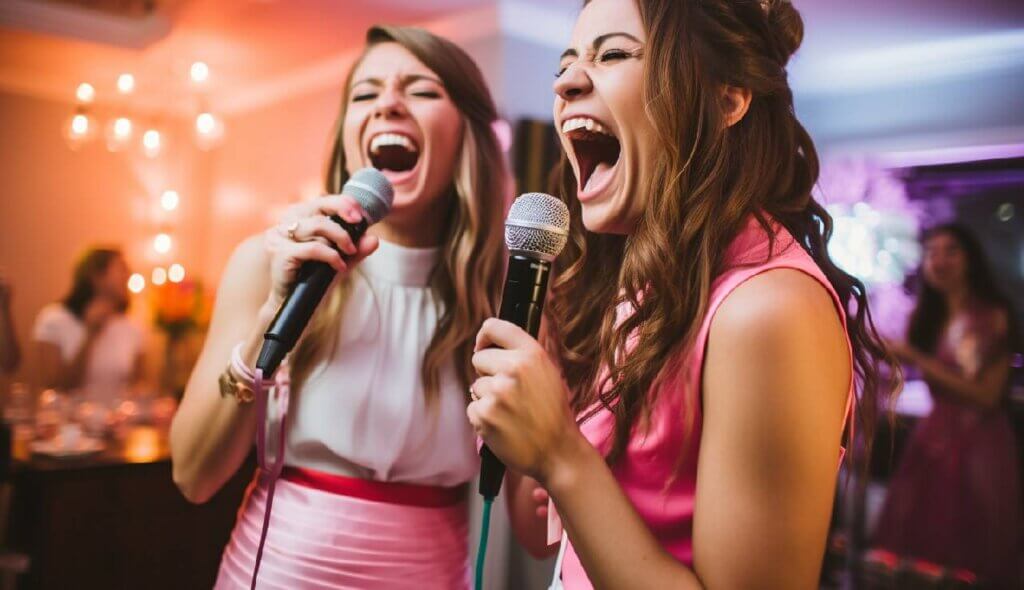 20. Glamour and glitter 
A glamour and glitter-themed bridal shower is perfect for a bride who loves all things glamorous. Decorate with glittery decorations, sequin table runners, and sparkly centerpieces. You could also have a makeup artist present to glam up the guests.
Remember, the best bridal shower ideas truly reflect the bride's personality and tastes. Whatever theme you choose, ensure it's something the bride will love and enjoy.
When hosting an extraordinary bridal shower or wedding shower, a luxury pop-up picnic with Picnic Makers is an unparalleled choice. The combination of stunning locations, elegant decor, and personalized experiences ensures a celebration that will be cherished forever.
FAQs
What is a theme bridal shower? 
A themed bridal shower is a celebration where the entire event is based on a specific theme or concept. The decorations, activities, and guests' attire are centered around the chosen theme.
Why should I consider having a themed bridal shower? 
A themed bridal shower adds a unique and fun element to the event. It helps create a cohesive atmosphere and provides an opportunity to showcase the bride's interests, hobbies, or favorite things.
How do I choose a theme for a bridal shower? 
To choose a theme for a bridal shower, consider the bride's personality, preferences, and interests. It could relate to her favorite movie, a specific era, a hobby, or a color scheme. The theme should reflect her style and make her feel special.
How can I incorporate the chosen theme into the bridal shower? 
Incorporate the chosen theme into the bridal shower through decorations, invitations, food, drinks, and activities. Use props, colors, and symbols associated with the theme to create a cohesive and immersive experience for the guests.
Can guests dress according to the theme? 
Yes, guests can dress according to the theme if they wish. Including a dress code suggestion on the invitations can encourage guests to participate and add to the overall ambiance of the event.
Are there any theme-specific games or activities that can be included? 
Absolutely! Theme-specific games and activities can enhance the bridal shower experience. For example, for a vintage-themed shower, you could have a "Guess the Decade" game or a DIY flower crown station for a boho-inspired shower.