Planning a bridal shower is an exciting journey to the wedding day. At its core, a bridal shower is a pre-wedding event traditionally organized by a maid of honor or a close friend. It involves showering the bride with gifts, love, and well wishes.
This step-by-step guide provides practical tips and ideas to help you create a memorable and enjoyable bridal shower that especially celebrates the bride-to-be. From selecting a theme and creating invitations to organizing fun games and choosing delectable food, you'll find everything you need to plan an unforgettable bridal shower experience.
Download Bridal Shower Checklist FREE TEMPLATE.
Bridal shower vs. wedding shower: what's the difference?
When it comes to pre-wedding celebrations, understanding the difference between a bridal and a wedding shower is key. Let's break it down:
Bridal shower
Typically includes the bride and her female friends and relatives.
A celebration focused on showering the bride-to-be with gifts and well wishes.
Creates an intimate and special gathering for the bride and her closest female loved ones.
Wedding shower
Involves both the bride and groom, with guests of all genders.
A joint celebration that encompasses the couple's social circles.
It allows guests to come together and celebrate the upcoming wedding.
Choosing between a bridal shower and a wedding shower depends on the couple's preferences and the nature of their social circles. Understanding this difference will help you plan an event that aligns perfectly with the couple's desires, creating a memorable and inclusive celebration for all.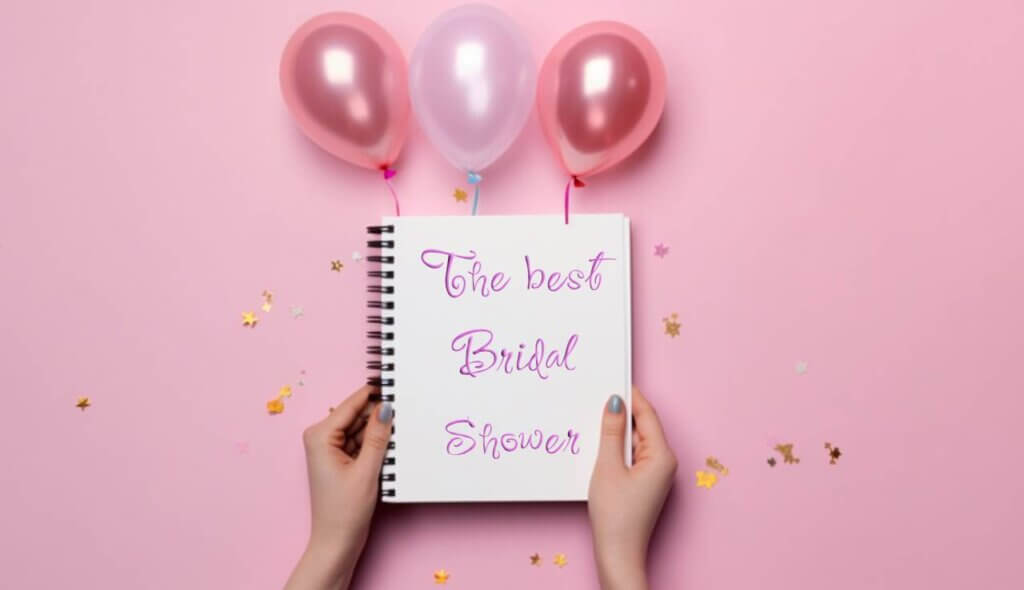 Bridal shower planning tips + FREE checklist
Deciding on the organizer: who will plan the bridal shower?
The responsibility of planning the bridal shower often rests with the maid of honor, usually with assistance from the bridesmaids. But this isn't a hard and fast rule. If the maid of honor lives far away or can't commit for other reasons, close friends or family members can assume this role.
Maintaining open and consistent communication with the bride is key in this planning phase. This approach will ensure her preferences are factored in and her wishes for the event are respected and realized.
Step 1: Setting the budget and sorting out finances
An essential part of the planning process is establishing a budget for the bridal shower. Before diving into the details, it's crucial to determine how much you're willing to spend on the event. The budget will help guide decisions about the venue, food, decorations, and other aspects.
Traditionally, the host or hosts of the bridal shower cover the costs. The maid of honor, bridesmaids, or individuals organizing the event often take on this responsibility. Expenses can be divided among the organizers, or contributions can be sought from the attendees, but it's important to handle this tactfully to avoid any discomfort.
In modern times, it's also becoming increasingly common for the couple themselves to contribute, particularly for more elaborate and grandiose showers.
Step 2: Compiling the guest list and considering the event size
Creating the guest list for a bridal shower is an important task that requires careful consideration of the event size. While including the bride's closest friends and family members is customary, assessing whether you envision a small, intimate gathering or a larger, livelier celebration is crucial.
The size of the event will have an impact on the venue and budget, and vice versa. Additionally, extending invitations to male friends and family for a wedding shower is important. Throughout this process, it's essential to consult with the bride to ensure her wishes are respected and remember that everyone invited to the bridal shower should also be invited to the wedding.
Download Bridal Shower Guest List Invitation Tracker.
Step 3: Choosing the date
Bridal showers typically occur a few weeks to a few months before the wedding. This timing provides the bride some breathing room between the excitement of the bridal shower and the wedding. Therefore, when setting the date, check with important guests like bridesmaids and close family members to ensure they can attend on the proposed date.
Step 4: Selecting the venue
The location for the bridal shower can be anywhere from someone's home to a restaurant, a park, or even unique venues like spas or cooking classes, depending on the event's theme. Consider the number of guests, budget, convenience, and the bride's personal preferences when choosing the location.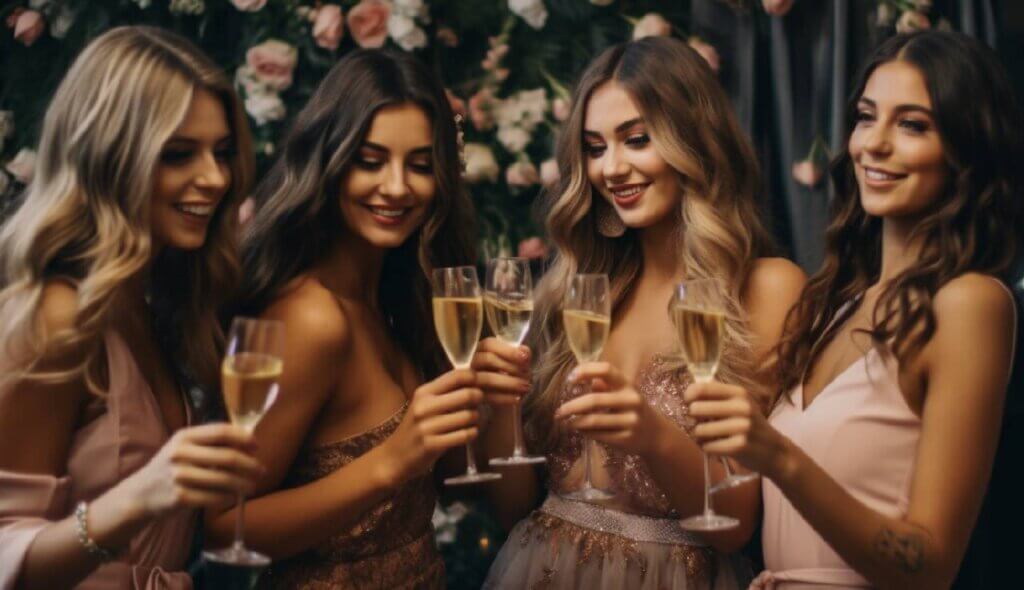 Step 5: Sending out the invitations
Invitations for a bridal shower should ideally be sent out four to six weeks before the event. This gives guests ample time to RSVP, shop for gifts, and make travel arrangements. Ensure the invite mentions the event's date, time, and location, and don't forget to include the bride's gift registry information.
Step 6: Selecting the bridal shower theme
Selecting the right decorations and theme is essential when planning a memorable bridal shower. Here are ten bridal shower theme ideas to inspire your creativity:
Luxury Pop-Up Picnic: Create an elegant and sophisticated outdoor experience with a luxurious pop-up picnic. Set up plush seating, stylish picnic blankets, and gourmet picnic baskets filled with delectable treats. Or simply make a reservation for your bridal shower luxury picnic with Picnic Makers.
Vintage Tea Party: Step back in time and embrace the charm of a vintage tea party. Delight guests with delicate teacups, lace tablecloths, and enchanting floral arrangements that evoke a sense of nostalgia and elegance.
Tropical Paradise: Infuse your bridal shower with tropical vibes and transport everyone to a captivating paradise. Embrace vibrant and exotic decorations featuring palm leaves, pineapples, and vivid floral arrangements, to create a festive and lively atmosphere.
Parisian Chic: Add a touch of sophistication to your celebration with a chic Parisian theme. Elevate the ambiance with Eiffel Tower centerpieces, delectable French pastries, and elegant black and white decor, capturing the essence of French elegance.
… click here to find more 20 best bridal shower ideas.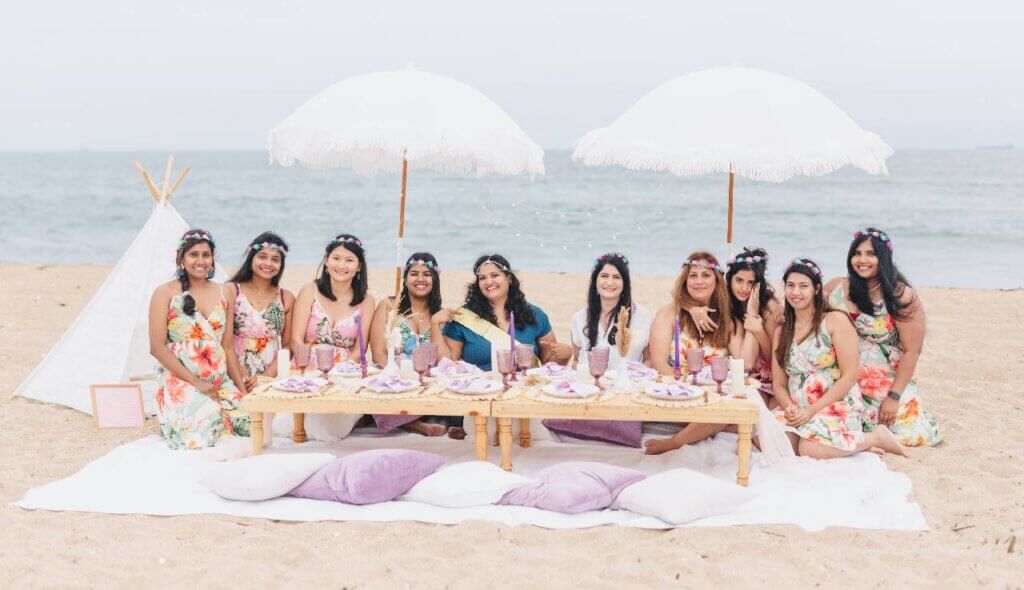 Step 7: Deciding on the menu
Your menu will depend on the time of day, theme, and the bride's preferences. For a morning event, a brunch menu would be ideal. Consider a lunch or dinner menu or a selection of appetizers and desserts for an afternoon or evening bridal shower. You could opt for a sit-down meal, a buffet, or a picnic-style spread. Remember to take into account any dietary restrictions of the guests.
Step 8: Organizing the activities & entertainment
To make the bridal shower a memorable and engaging experience, it's important to plan various activities and entertainment. Bridal showers typically involve fun games, gift exchanges, and lighthearted merriment around the couple's relationship or marriage.
The bride opening her gifts is often a highlight of the event, creating excitement and anticipation among the guests. Additionally, a wishing well where guests can deposit sentimental items or share words of wisdom for the couple adds a meaningful touch. The activities can vary based on cultural traditions and personal preferences, ensuring a unique and personalized experience for the bride and guests.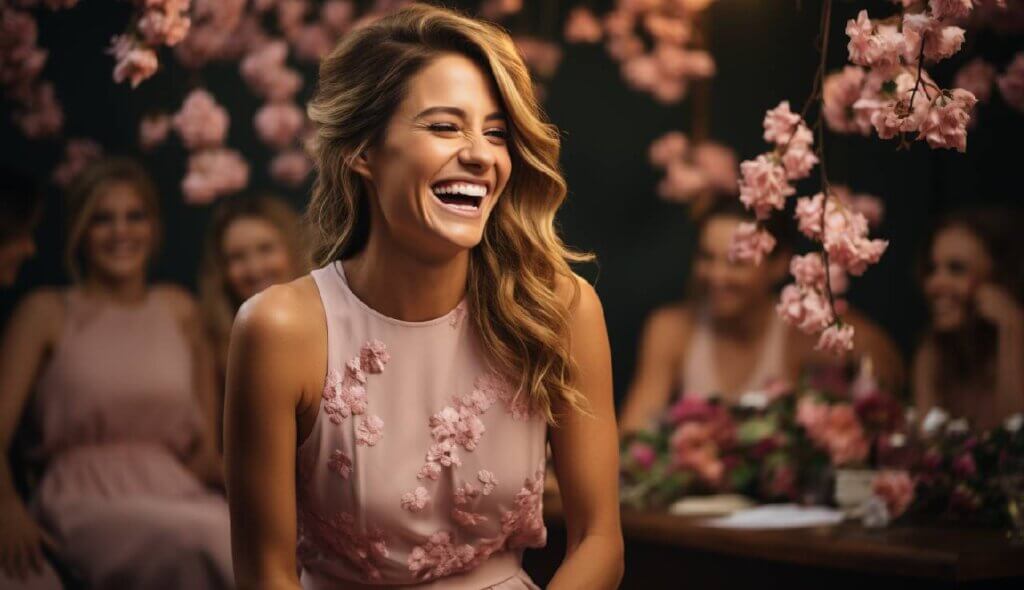 In addition to the activities, incorporating entertainment options can add extra fun and enjoyment to the bridal shower. Consider hiring a professional entertainer, such as a fortune teller, comedian, or musician, to provide a unique and memorable experience.
A DIY photo booth or craft station can also be a hit, allowing guests to enjoy and capture special moments. Creating a slideshow of photos showcasing the couple's journey is another fantastic idea that evokes nostalgic and heartwarming sentiments.
Step 9: Arranging for transport
If the venue is far from most guests' residences, or if there will be alcohol served, it's a good idea to arrange transportation for the guests. This could be as simple as sharing local taxi services' contact information or as coordinated as hiring a shuttle bus. This thoughtfulness ensures guests can enjoy the party without worrying about driving home.
Step 10: Sending thank you notes
After the shower, it's customary for the bride-to-be to send thank-you notes to the attendees. This small gesture shows appreciation for their gifts and presence at the event. It leaves a lasting impression and ends the event on a high note.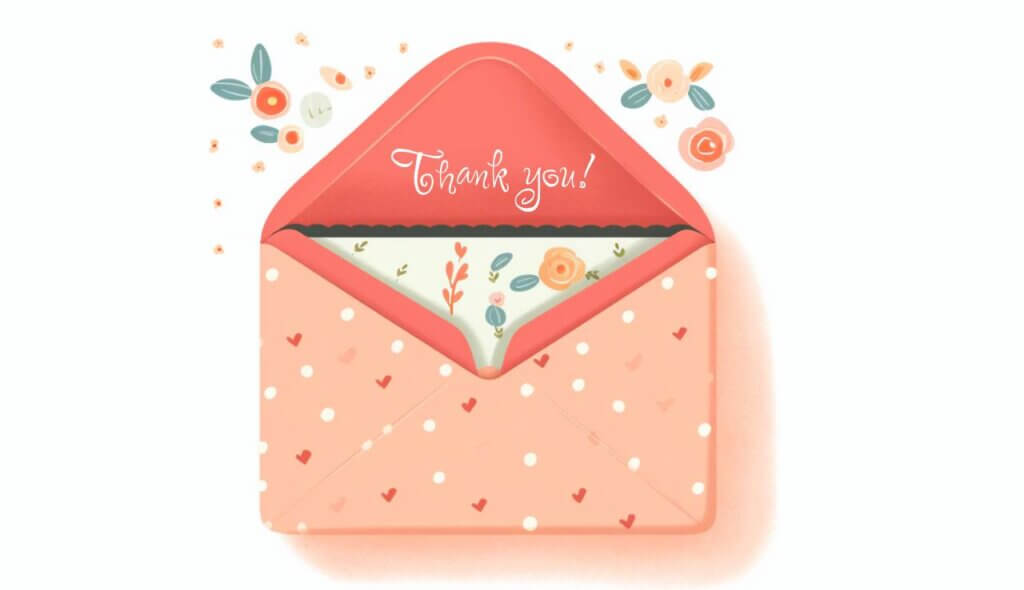 Planning a bridal shower is more than just preparing for a party; it's about creating an event filled with love, support, and camaraderie. It's a treasured occasion that the bride-to-be will remember fondly for years. Whether planning a traditional event or an extraordinary experience, following this step-by-step guide will help ensure the journey to creating the perfect bridal shower is smooth and enjoyable.
We at Picnic Makers can help transform your vision into reality. As a leading LA luxury picnic company, we provide tailor-made experiences for your needs and preferences. Serving Los Angeles, Orange County, and Malibu, we strive to make your bridal shower unforgettable.
FAQs
Who traditionally organizes the bridal shower? 
The maid of honor usually spearheads the bridal shower organization with the bridesmaids' assistance. However, other close friends or family members can take on this role if needed.
What's the difference between a bridal and a wedding shower? 
A bridal shower typically focuses on the bride and involves primarily female attendees. A wedding shower includes the bride and groom, with guests of all genders invited.
How can I decide on the best date for the bridal shower? 
Bridal showers usually occur a few weeks to a few months before the wedding. Before finalizing the date, consult with key attendees like the bridesmaids and close family members.
How should I set the budget for the bridal shower? 
Before starting the planning process, it's important to establish a budget. This budget will guide the venue, food, decorations, and more decisions. The host or hosts typically cover the costs, but expenses can be divided among the organizers or even covered in part by the couple.
Who should be invited to the bridal shower? 
The guest list for a bridal shower typically includes the bride's closest friends and family members. If the event is a wedding shower, male friends and family are invited. Consult with the bride when making the guest list.
What activities should I plan for a bridal shower? 
Bridal showers usually include fun games related to the couple's relationship or marriage. The highlight of the event is the bride opening her gifts. You may also have a wishing well where guests can deposit sentimental items or advice for the couple.
What are some unique themes or entertainment ideas for a bridal shower?
You could choose a specific color scheme or a more detailed theme, like a luxury beach picnic party or high tea. For entertainment, consider hiring a professional (like a musician or comedian), setting up a DIY photo booth, or creating a slideshow of photos of the couple.