Picnic appetizers, a harmonious blend of taste, aesthetics, and convenience, invite you to explore a world of flavor combinations and creative presentation. This article will delve into various sweet and savory recipes that offer diverse tastes without committing to a full meal.
Delicious picnic finger foods to savor
As the sun bathes the surroundings in warm hues and outdoor dining becomes irresistible, indulge in the season's joy with a delectable spread of picnic finger foods. These bite-sized delights are bursting with flavor, adding an elegant touch to your al fresco feasting, whether planning a romantic outing for two or hosting a gathering with friends and family.
1. Caprese salad skewers
Classic meets convenience with these Caprese salad skewers. Thread fresh mozzarella, cherry tomatoes, and basil leaves onto toothpicks, drizzle with balsamic glaze, and enjoy the quintessential flavors of summer.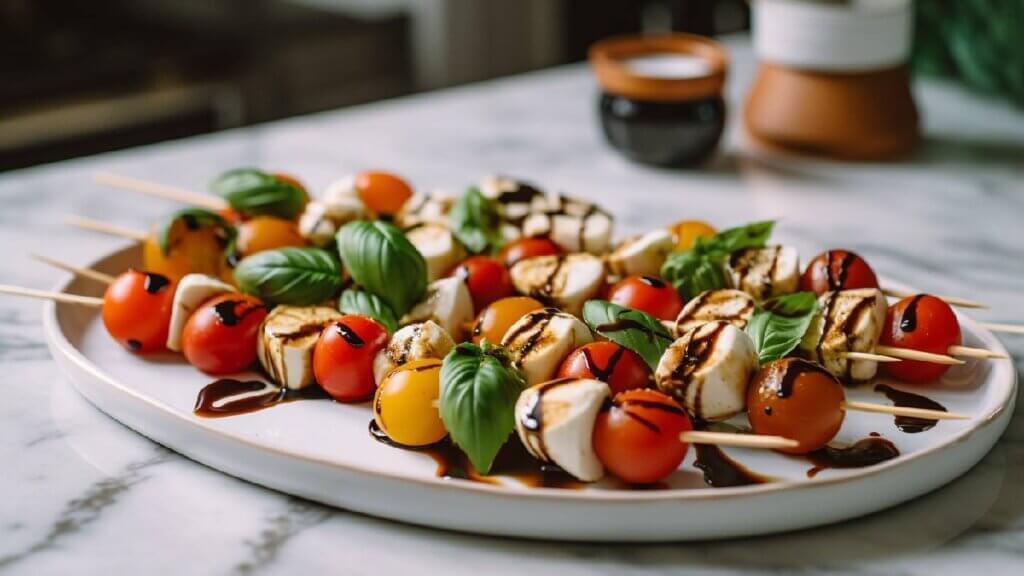 2. Mediterranean chickpea skewers 🍡
With a burst of Mediterranean flavors on a stick, these chickpea skewers are a mixture of textures and tastes. Marinated chickpeas, cherry tomatoes, cucumber, and feta cheese create a refreshing combination that's both nutritious and delicious.
3. Baked spinach and artichoke cups
Warm and irresistible, these baked spinach and artichoke cups are a crowd-pleasing favorite. A delicate balance of creamy spinach and tangy artichokes in flaky pastry cups makes for a bite-sized indulgence.
4. Quinoa stuffed mini peppers
Quinoa stuffed mini peppers are a delightful choice for those seeking gluten-free options. These colorful peppers are filled with quinoa, vegetables, and spices, creating a wholesome and flavorful bite.
5. Sweet potato bites with avocado 🍠🥑
Creamy avocado atop roasted sweet potato rounds makes for a nutrient-packed picnic treat. These sweet potato bites with avocado are visually appealing and have a harmonious marriage of flavors and textures.
6. Fruit Kabobs with honey-lime drizzle
Nature's candy gets a zesty twist with these fruit kabobs. Thread a colorful assortment of fresh fruits onto skewers and drizzle with a honey-lime mixture for a refreshing and naturally sweet picnic indulgence.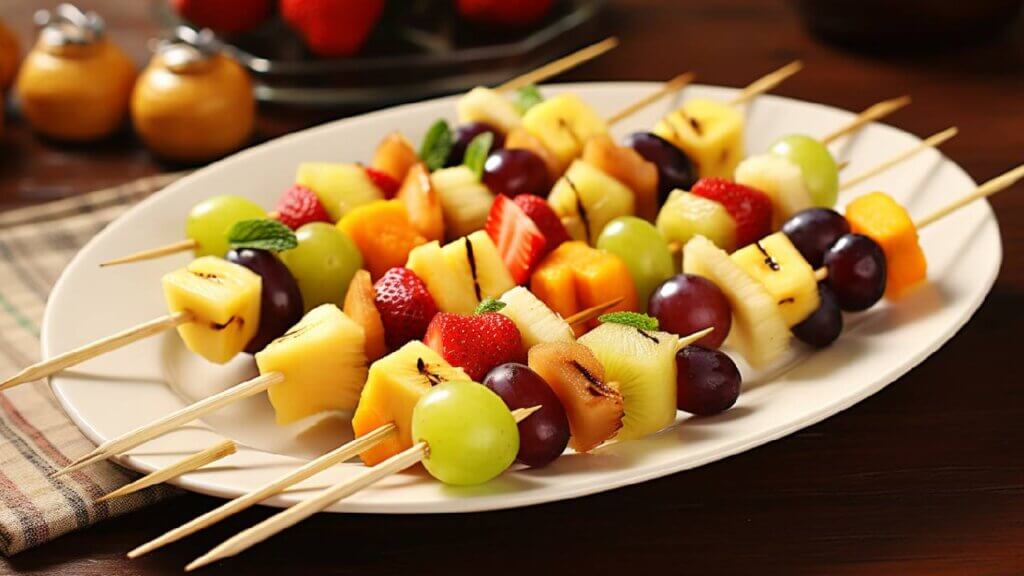 7. Pesto chicken pinwheels
Roll up the flavors of pesto, tender chicken, and creamy cheese in these delightful pinwheels. The visual appeal and vibrant taste make these a must-have on your picnic spread.
8. Cucumber tea sandwiches
Elegance meets simplicity with cucumber tea sandwiches. Delicate cucumber slices and herbed cream cheese sandwiched between soft bread create a light and refreshing option for picnics.
9. Mini quiches
These mini quiches are a versatile addition to your picnic basket. Filled with various ingredients such as ham, cheese, spinach, and more, they offer a savory and satisfying finger food option.
10. Deviled eggs 🥚
A classic that never goes out of style, deviled eggs are a staple at picnics. The creamy yolk filling and a sprinkle of paprika create a comforting and timeless treat.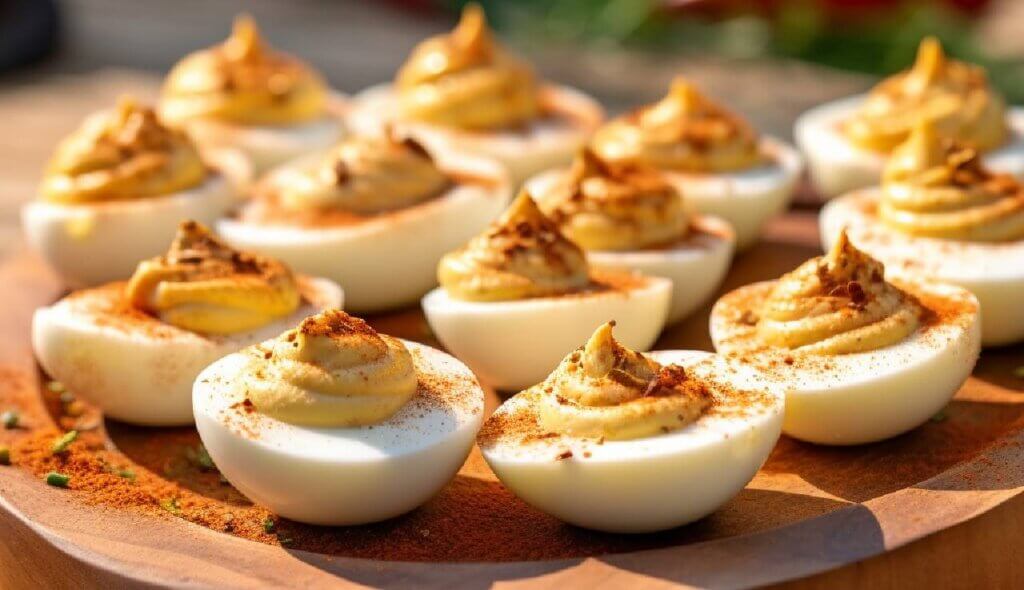 11. Smoked salmon cucumber bites 🍣🥒
Elevate your picnic with the elegance of smoked salmon cucumber bites. These delicate bites feature layers of smoked salmon, cream cheese, and fresh dill, all atop crisp cucumber slices.
12. Mini caprese tarts
A twist on the traditional Caprese salad, these mini Caprese tarts feature flaky pastry cups filled with mozzarella, tomatoes, and basil. They offer a delightful combination of textures and flavors.
13. Spinach and feta stuffed mushrooms
These savory stuffed mushrooms are a testament to the beauty of simplicity. Filled with a mixture of spinach, feta cheese, and breadcrumbs, they offer a burst of earthy flavors.
Find best picnic food ideas for your outdoor adventure.
14. Bacon-wrapped dates
Indulgence takes center stage with bacon-wrapped dates. The sweet and salty combination creates a delectable contrast that will tantalize your taste buds.
15. Mini Meatball skewers 🍢🍅
Satisfy meat lovers with mini meatball skewers. These savory bites feature seasoned meatballs, cherry tomatoes, and basil, all threaded onto skewers for straightforward enjoyment.
16. Roasted red pepper hummus cups
Hummus takes a stylish twist with roasted red pepper hummus cups. Fill phyllo cups with creamy hummus and top with roasted red pepper for a burst of color and flavor.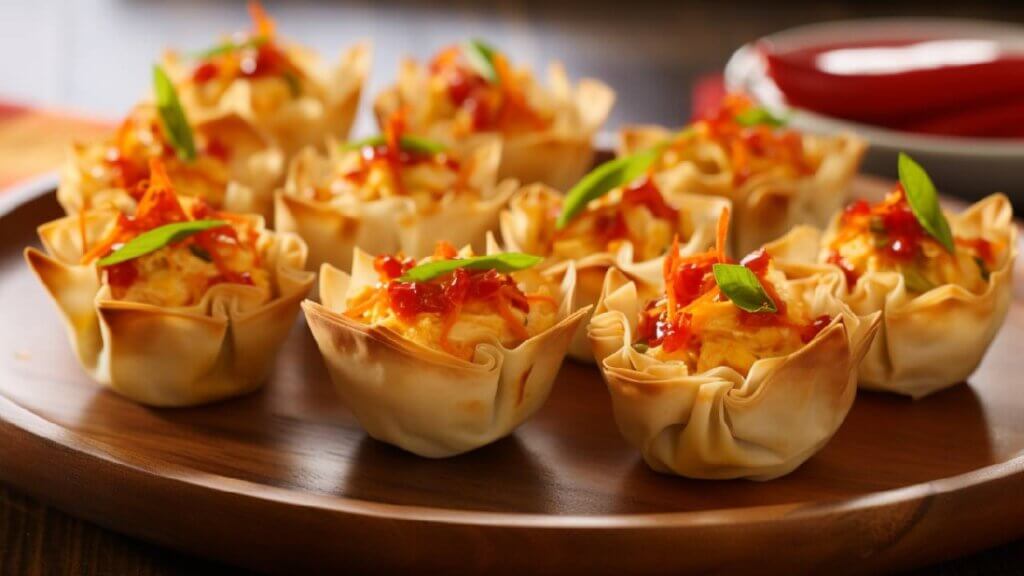 17. Mini bruschettas
Transport the flavors of Italy to your picnic with mini bruschettas. Toasted baguette slices are topped with fresh tomatoes, basil, and balsamic glaze.
18. Mini bacon and egg cups
These mini bacon and egg cups offer a savory and satisfying option for morning picnics. A nest of bacon holds a baked egg, creating a convenient and flavorful breakfast bite.
19. Sushi roll bites 🍣🍱
Satisfy sushi cravings with sushi roll bites. These bite-sized versions of classic sushi rolls offer a fusion of flavors and a touch of elegance to your picnic spread.
20. Mini avocado and tomato tartlets
Avocado and tomato tartlets offer a burst of freshness in every bite. The creamy avocado pairs perfectly with juicy tomatoes and a drizzle of balsamic glaze.
21. Watermelon feta skewers 🍉🧀
Refreshment meets sophistication with watermelon feta skewers. These colorful skewers feature watermelon, feta cheese, and fresh mint leaves for a delightful balance of flavors.
22. Caramelized onion and brie crostini
Indulge in the rich flavors of caramelized onion and brie crostini. The sweet and savory combination atop toasted baguette slices creates an irresistible appetizer.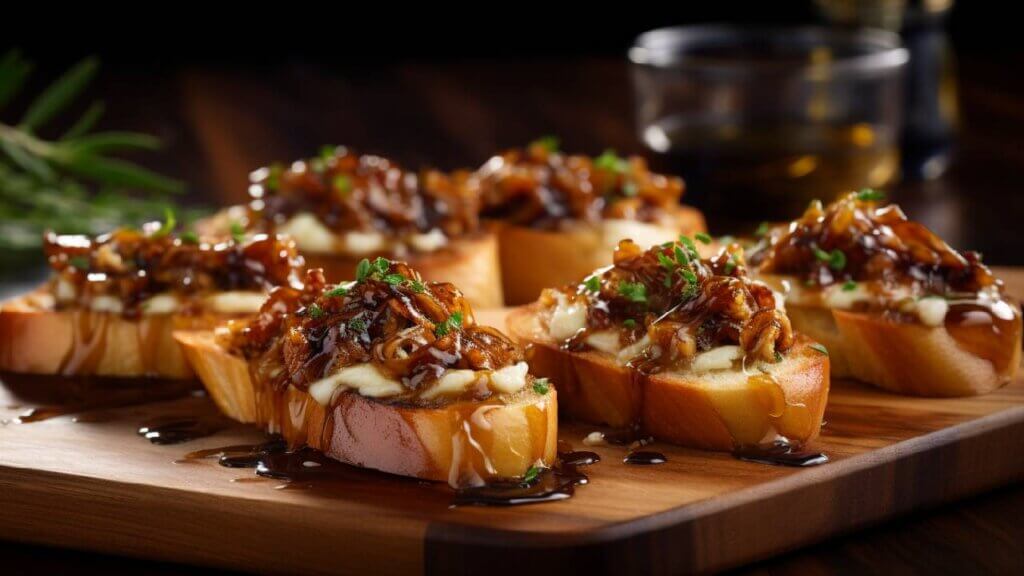 23. Mini tuna salad cups 🐟🥗
For seafood enthusiasts, mini tuna salad cups are a delightful choice. These bite-sized cups feature a mixture of tuna, crunchy vegetables, and a tangy dressing.
24. Cheese and charcuterie skewers
Create a charcuterie board on a stick with cheese and charcuterie skewers. These skewers offer a variety of flavors and textures, from creamy cheese to savory meats.
25. Greek salad cups 🥗🍅
Transport the flavors of Greece with Greek salad cups. These cups feature crisp lettuce, juicy tomatoes, cucumbers, olives, and feta cheese, all dressed in a tangy vinaigrette.
26. Mini bagel sandwiches
A twist on the classic sandwich, mini bagel sandwiches offer a convenient and flavorful option for picnics. Fill mini bagels with your favorite deli meats, cheeses, and spreads.
27. Fruit salsa with cinnamon chips
Add a touch of sweetness to your picnic with fruit salsa and cinnamon chips. The vibrant fruit salsa pairs perfectly with crispy cinnamon-dusted chips.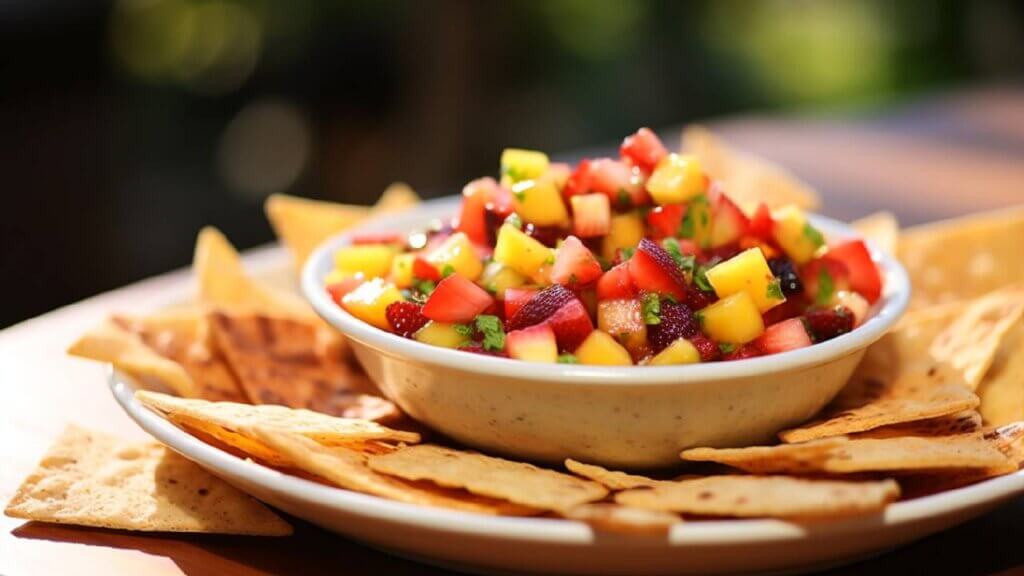 28. Roasted vegetable pita pockets
For a satisfying vegetarian option, try roasted vegetable pita pockets. Fill whole wheat pita pockets with roasted vegetables and a dollop of creamy hummus.
29. Stuffed cherry tomatoes
Stuffed cherry tomatoes are a burst of flavor in every bite. These bite-sized beauties are filled with creamy cheese and fresh herbs.
30. Mini slider burgers 🍔🍔🍔
Bite-sized sliders offer a taste of indulgence at your picnic. Choose from various slider fillings, from classic beef to vegetarian options.
31. Crab cakes with lemon aioli
Elevate your picnic with crab cakes and lemon aioli. These flavorful crab cakes are paired with a zesty aioli that adds citrusy freshness.
32. Pineapple teriyaki chicken skewers
Experience the harmony of sweet and savory with pineapple teriyaki chicken skewers. These skewers feature tender chicken and juicy pineapple, all coated in a flavorful teriyaki glaze.
33. Mini shrimp cocktail cups 🍤
Add a touch of elegance to your picnic with mini shrimp cocktail cups. These cups feature plump shrimp, tangy cocktail sauce, and a hint of fresh herbs.
Learn the origin of a picnic and what does it mean.
34. Apple and brie crostini
Try apple and brie crostini for a blend of sweet and savory flavors. These crostini feature crisp apple slices, creamy brie, and a drizzle of honey.
35. Spinach and ricotta stuffed mushrooms
Add a touch of elegance to your picnic with spinach and ricotta-stuffed mushrooms. These savory bites feature a creamy filling nestled within tender mushroom caps.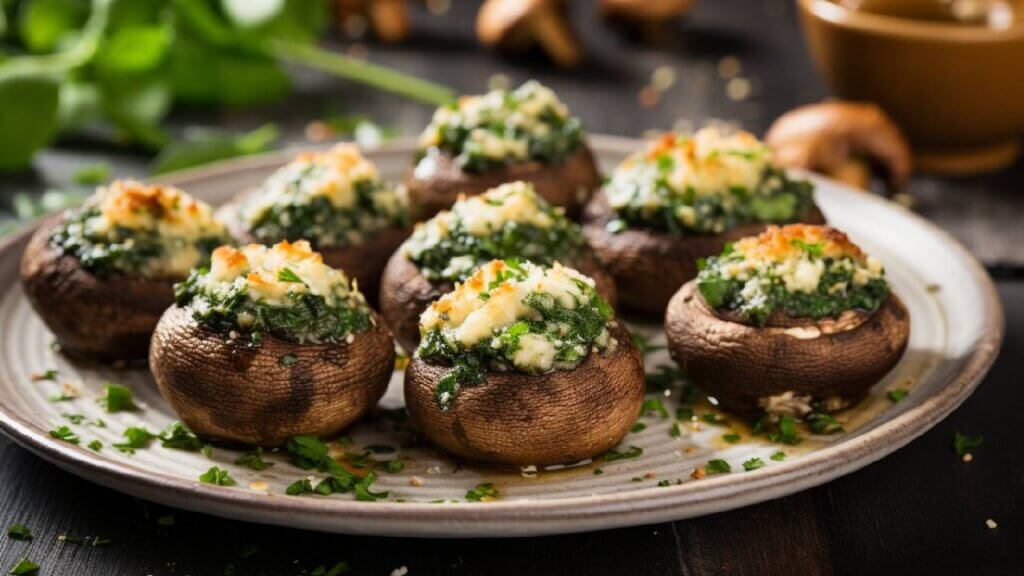 36. Pita pocket pesto sandwiches
Pita pocket pesto sandwiches offer a burst of Mediterranean flavors. Fill pita pockets with pesto, fresh vegetables, and your choice of protein.
37. Mini chocolate-dipped strawberries 🍓🍫
Indulge your sweet tooth with mini chocolate-dipped strawberries. These bites offer the perfect balance of juicy strawberries and rich chocolate.
38. Mini chocolate brownie bites
For a decadent dessert option, try mini chocolate brownie bites. These bite-sized treats offer the rich and chocolatey goodness of traditional brownies.
39. Asian spring rolls
Experience the flavors of Asia with fresh and vibrant Asian spring rolls. These rolls are filled with crisp vegetables, rice noodles, and your choice of protein, all wrapped in delicate rice paper.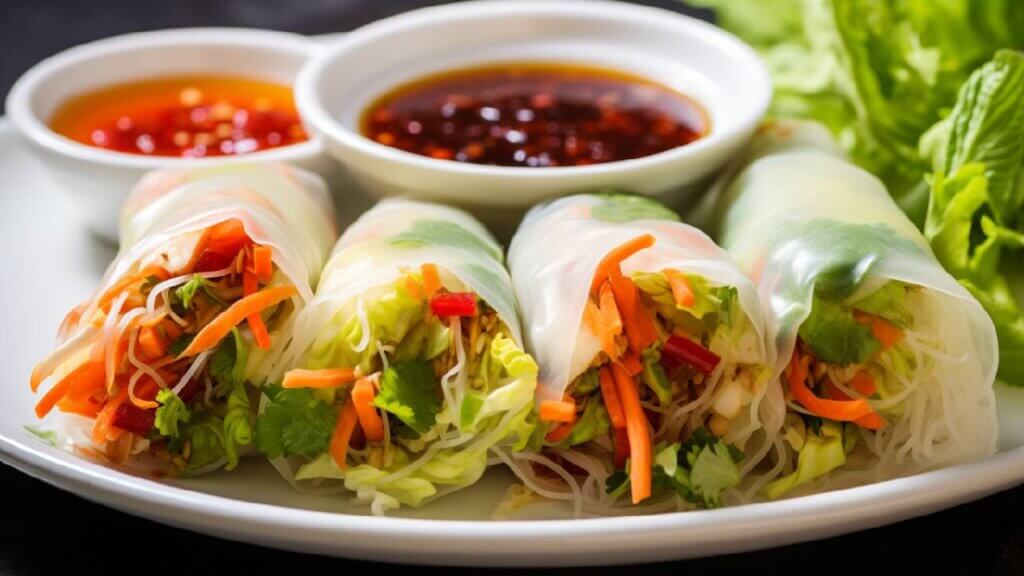 40. Mini fruit pies 🥧🍎🍒
End your picnic on a sweet note with mini fruit pies. These individual-sized pies are filled with seasonal fruits and offer a delightful blend of flaky crust and juicy filling.
So, as you roll up your picnic blanket, take a moment to savor the day's beauty. The flavors, the smiles, the stories shared they're all part of the tapestry of this perfect picnic.
Every picnic to come is an opportunity to embrace the art of crafting picnic finger food, create new memories, and continue the delightful tradition of sharing joy through food, flavors, and fellowship.
Find best picnic desserts.
FAQs
Can I make these picnic finger food recipes in advance?
Many of these recipes can be prepared beforehand, making them ideal for picnics. You can assemble skewers, bake pastry cups, and prep ingredients a day before your outing. Just ensure you store them properly to maintain freshness.
How do I ensure my no-mayo picnic dishes stay flavorful and creamy?
Without mayo, you can achieve creamy textures with alternative dressings. Consider using Greek yogurt, tahini, or avocado-based sauces. These ingredients add richness and provide a tangy kick that enhances your dishes.
What's the secret to a visually appealing picnic spread?
The key lies in mixing colors, textures, and edible garnishes. Use a variety of colorful fruits, veggies, and cheeses to create an eye-catching display. Fresh herbs, edible flowers, and citrus zest add an artistic touch.
How do I keep my picnic finger foods fresh during transport?
Insulated containers, thermal bags, and cold packs are your allies. Use them to maintain the desired temperature and freshness of your finger foods. Pack perishables like dips and seafood in individual containers to prevent sogginess or cross-contamination. Learn how to keep food warm for a picnic.
Can I customize the recipes to suit my taste?
These recipes are meant to be a starting point for your culinary journey. Feel free to swap ingredients, adjust seasonings, or experiment with different flavor combinations that resonate with your palate.
Are these picnic appetizers suitable for children?
Many of these recipes are kid-friendly and can be enjoyed by children. Consider their preferences and any potential allergens when selecting your finger foods. Mini sliders, fruit kabobs, and stuffed cherry tomatoes are often popular.