Nighttime picnics: a fun outdoor experience
Picnics at night are a fun and unique way to spend your summer night – they offer peace and quiet, a cozy atmosphere, and the chance to stargaze. It's an excellent opportunity to try something new and enjoy the company of others. In this article, we will guide you and share tips for planning a night picnic.
Choosing a location
When planning a nighttime picnic, it's important to choose a safe and accessible location. Think about factors like proximity to restrooms and sources of light, as well as the level of insect activity. You'll also need to bring plenty of food and supplies, like blankets, flashlights, and insect repellent. Remember to budget for any fees associated with the location or activities. Let's get planning!
Ideas for places to have a night picnic
A park: Look for a park with plenty of open space and well-lit areas. You might even find a spot with a great view of the stars.
A beach: A beach can be an excellent location for night picnics, especially if you're close to the water. The sound of the waves can really add to the peaceful atmosphere.
Your backyard: If you've got a big enough backyard, you can set up a night picnic right at home. This can be especially convenient if you have young children.
A rooftop: This can be a great spot for a romantic picnic at night if you have access to a rooftop. Just make sure to check for any safety concerns before setting up.
A campground: If you're looking for a more rustic experience, a campground can be another excellent location idea for a night picnic. Just be sure to follow any rules or regulations for the campground.
A picnic maker tip from Olga: Double-check the parking restrictions when deciding your picnic location. For example, most beach parking in California closes at 8 PM. Do not leave valuable items in your vehicles overnight.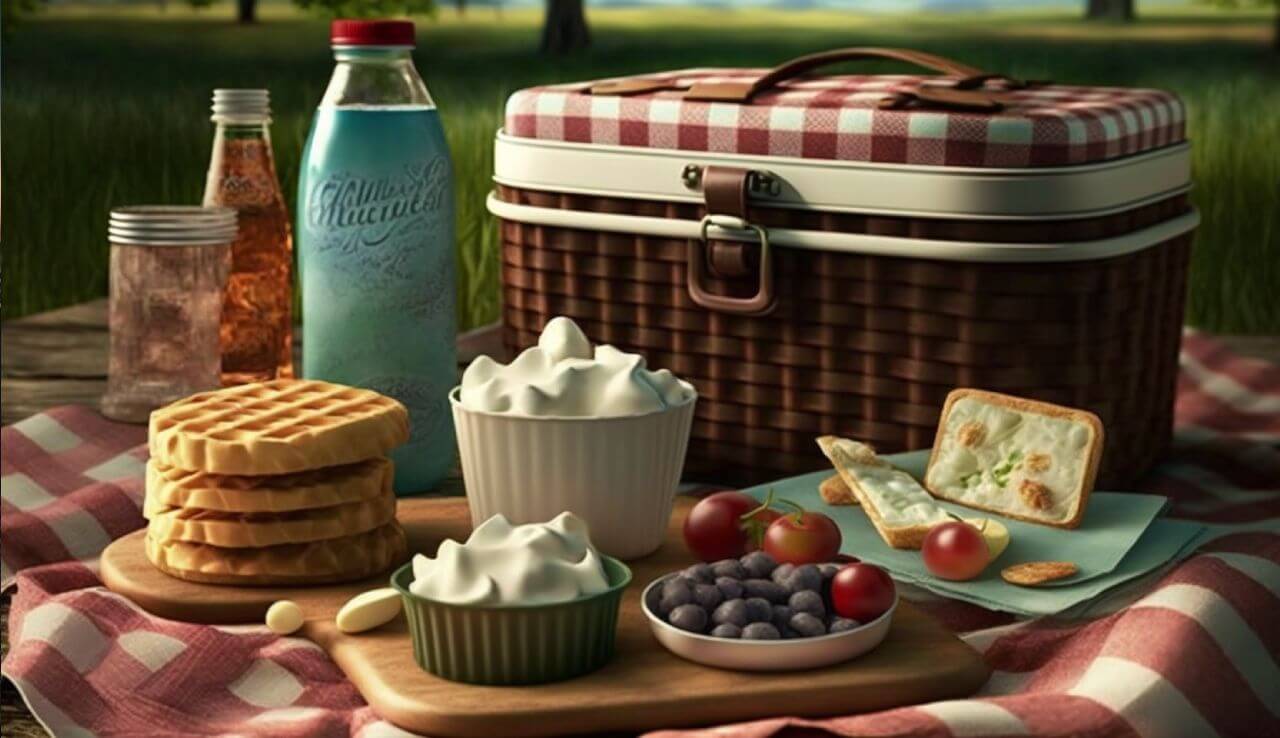 Food and drink
When it comes to food and drink, it's best to keep things simple. Pack non-perishable items like sandwiches, chips, and cookies. Consider bringing a cooler with drinks of your choice to keep them cold and insulated thermal bags to keep your food warm without electricity. If your location allows this – you could also get a portable grill to cook hot dogs or marshmallows.
A picnic with a buffet of gourmet snacks, aphrodisiac canapes, or your favorite delicacies can make your romantic picnic a perfect date night. For sweet lovers – don't forget about dessert!
A picnic maker tip from Olga: Hot water or hot chocolate could be a great idea to warm up during the summer night picnic. For a romantic touch – get fresh flowers and a Bluetooth speaker for ambiance. And, of course, a favorite bottle of wine.
Light up your late-night picnic
Lightning is a magic key that can turn any picnic into a romantic setup that will stay in your memories. There are several types of lighting options you can bring to a night picnic to light up the area:
Battery-powered lanterns. These are portable and easy to bring along on a picnic. Look for a lantern with long battery life and bright LED lights.
Flashlights. A flashlight can be a simple and affordable option for lighting a small area. Just make sure to bring extra batteries.
Solar-powered lights. These lights charge up during the day and turn on automatically at night. They can be a great option if you plan to stay out late and avoid running out of power.
LED fairy lights. These small, battery-powered lights can add a festive and romantic touch to your picnic. They come in various colors and can be hung or placed on tables or blankets.
Candles. Candles can create a cozy atmosphere, but be cautious and follow safety guidelines. Never leave a lit candle unattended; bring some matches or a lighter to light them up.
A picnic maker tip from Olga: Always get extra batteries. It is very common for any battery-operated lights to dry on. Simply prepare with an extra pack of batteries.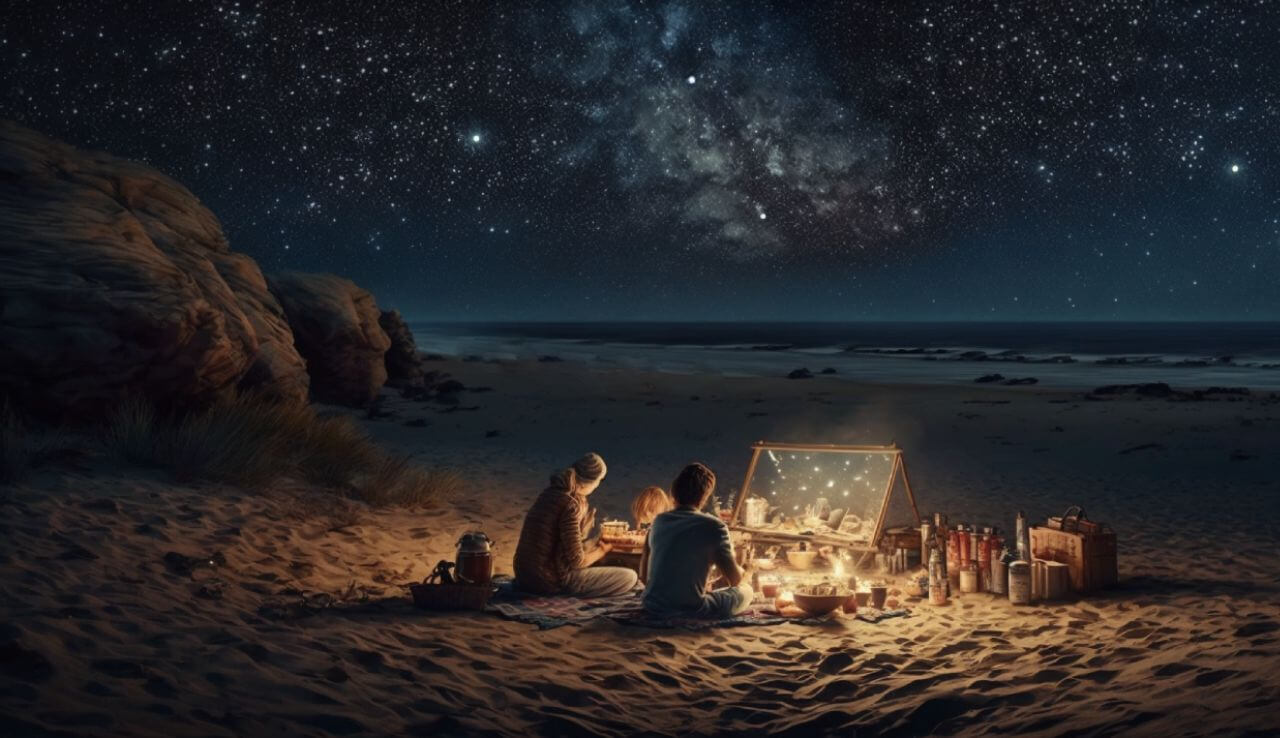 Activities at your night picnic
There are plenty of things to do during a nighttime picnic. Here are a few of them you can choose from:
Stargazing is a popular choice – you can use a smartphone app or a star chart to spot constellations.
You could also bring a card or board games for friendly competition.
If you have access to a campfire, you could tell stories or sing songs around the flames.
Sip your favorite drink, hug your loved one, and embrace the moment.
What to wear
A nighttime picnic is like an informal outing, so it's worth putting some thought into your outfit. You must choose the right outfit for active leisure to bring maximum pleasure. It should be comfortable, practical, and stylish. Wear comfortable linen or cotton clothes, and grab your favorite knit sweater.
The best outfit will depend on the location of your night picnic. If you're at the beach, for example, it's always cooler in the evening and at night because of the wind. Bringing along a cozy blanket or jacket might be a good idea. And when it comes to pants, choose something comfortable. So get creative and have fun with your look!
Protecting against insect bites
Safety is vital for any outdoor activity, and a nighttime picnic is no exception. Protect yourself from insect bites using insect repellent and wearing long sleeves and pants.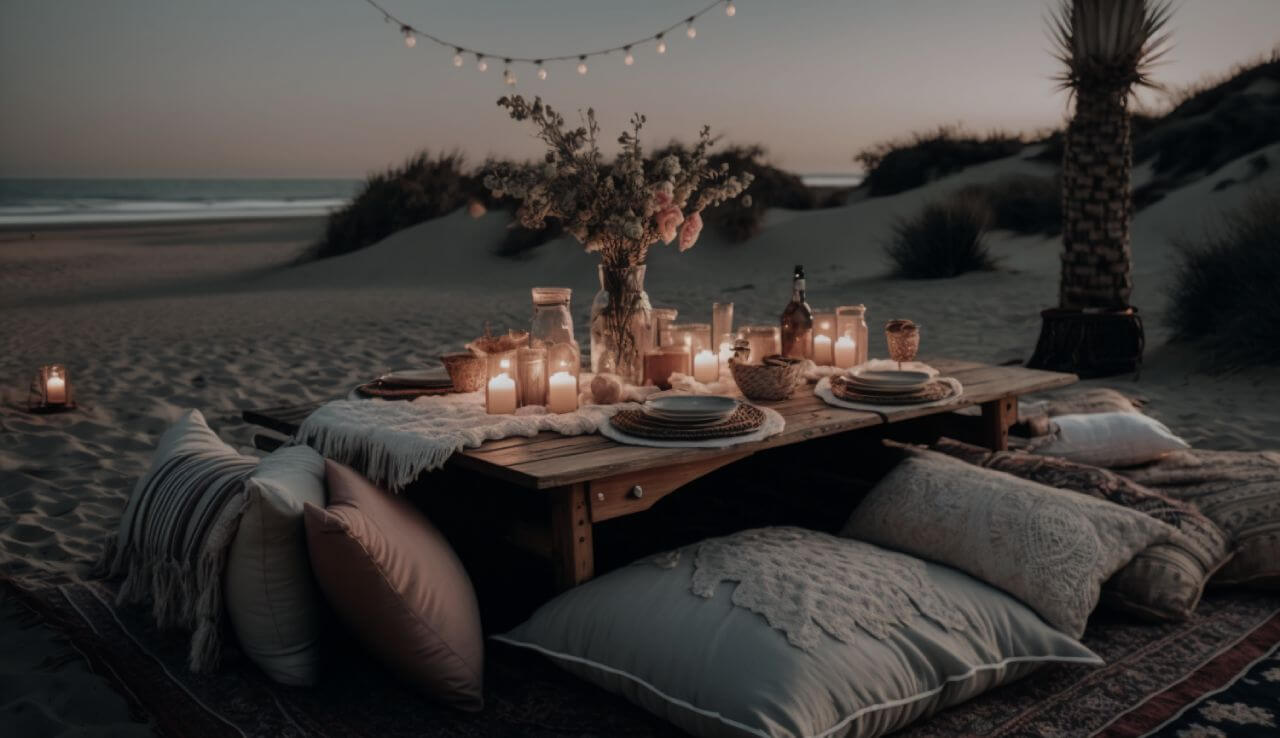 Try your own nighttime picnic today!
In conclusion, a nighttime picnic can be a fun and memorable experience with a little planning and preparation. Feel free to get creative with your food and activities, and remember to prioritize safety. So why wait? Start planning your own fabulous nighttime picnic today, or let us do the business – book your next outing with our professional picnic company – Picnic Makers.