Welcome to the grand milestone of turning 30! The 30th birthday is a remarkable point in anyone's life, a day when we bid farewell to the carefree days of our twenties and embrace the exciting journey of adulthood.
Let's guide you through this significant transition with style, grace, and many heartfelt 30th birthday quotes.
"Welcome to the fabulous 30s! May this decade be filled with adventure, growth, and unforgettable moments."
"As you turn 30, remember that age is just a number. Your spirit is timeless, and your future is boundless."
"Wishing you a decade of dreams realized and goals achieved. Happy 30th, my friend!"
"To the one who keeps improving with time, here's to 30 more years of awesomeness. Happy birthday!"
"30 is the age of wisdom and grace. May this year bring you all the wisdom and grace you deserve."
"Life begins at 30, they say. But you've been living it to the fullest all along. Cheers to your remarkable journey!"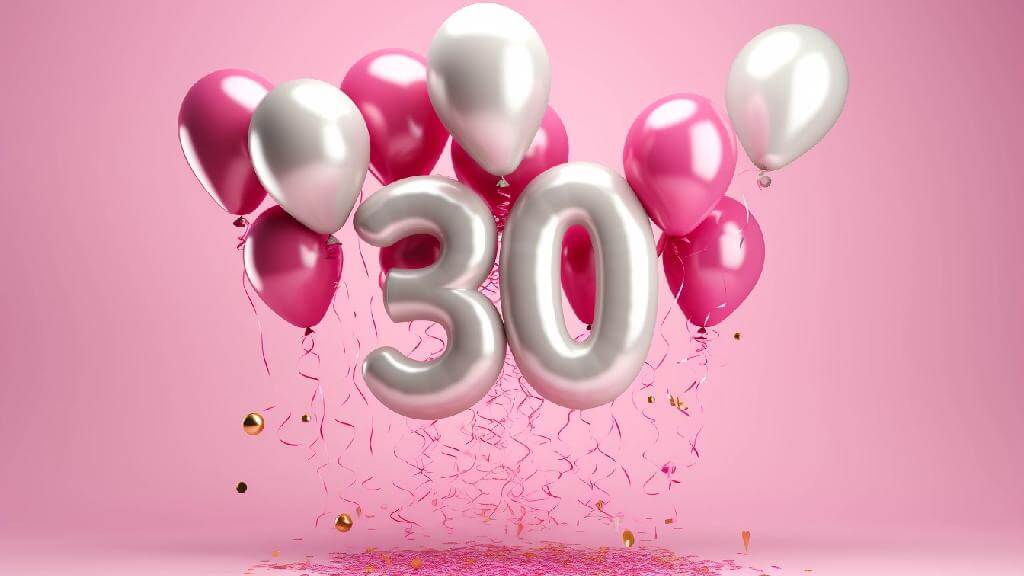 "In your 30s, you have the perfect mix of youth and experience. Embrace it with open arms and a heart full of dreams."
"30 candles, 30 wishes, and countless adventures ahead. May this year be the start of something incredible."
"On your 30th, I wish you the courage to chase your dreams, the strength to overcome challenges, and the love to fill your heart."
"Here's to the next chapter of your life – it will be a bestseller! Happy 30th birthday!"
"You're not getting old; you're just getting closer to becoming a vintage classic!"
"At 30, you're officially a grown-up, but you don't have to act like one. Let's celebrate your 'adulting' with a childlike spirit!"
"30 is when you start to count your gray hairs instead of your birthdays. You're still fabulous!"
"Congratulations! You've reached an age where 'all-nighter' means staying up to watch Netflix, not partying till dawn."
"Don't worry about turning 30; remember, wine gets better with age, just like you!"
"30 is when you have to start listening to your body, but it still whispers, 'Eat that cake!'"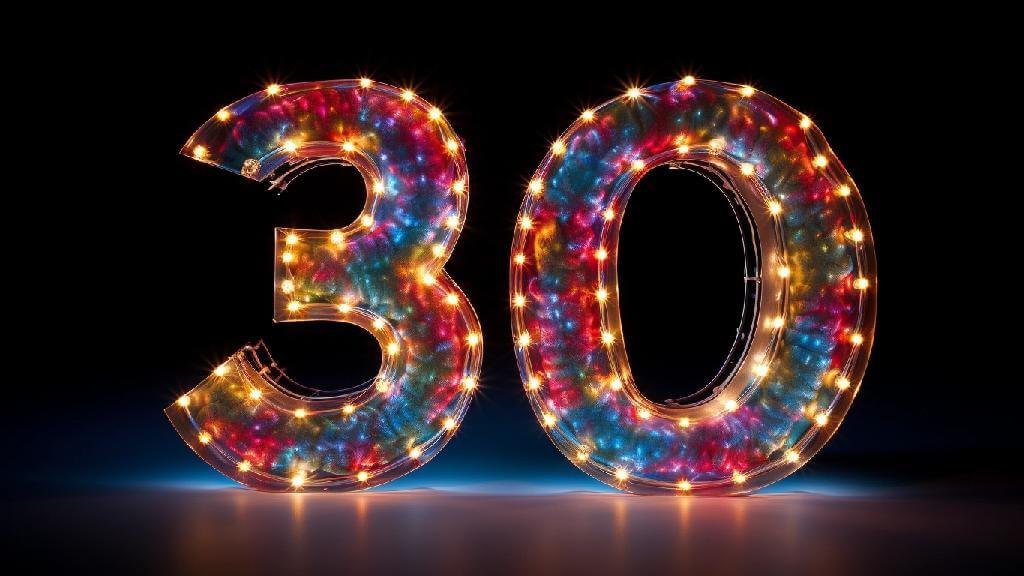 "You're 30 now, so you can't blame your wild antics on being young and foolish. You're officially just foolish!"
"They say 30 is the new 20. So, happy 10th, or 30th birthday!"
"30? You're now eligible for the 'Experienced' category. Your life subscription has been upgraded!"
"In your 30s, you'll discover that 'adulting' mostly consists of Googling how to do adult things. It's a wild ride!"
"Happy milestone birthday! May this year be a stepping stone to achieving your biggest dreams."
"As you celebrate this milestone, remember that age reflects the life you've lived and the wisdom you've gained."
"Milestone birthdays remind you of the beautiful journey you've embarked upon. May your path ahead be even more remarkable."
"A milestone birthday is like a chapter in your book of life. Here's to making this chapter unforgettable!"
"You've reached a milestone that few attain. May this year be a testament to your resilience and determination."
"Milestone birthdays are a celebration of growth and transformation. Embrace this new phase with open arms."
"Every milestone is a marker of your amazing journey. Keep adding new markers with each passing year."
"Milestone birthdays are a chance to reflect on the past and look forward to the future. Your best adventures are yet to come."
"Age is just a number, but milestones are moments to cherish. May this year bring you many reasons to smile."
"Here's to celebrating the person you've become and the incredible journey ahead. Happy milestone birthday!"
"On your 30th birthday, I wish you warmth, love, and endless joy. May this decade be filled with incredible adventures and unforgettable moments."
"As you turn 30, take a moment to reflect on your incredible journey so far. Your achievements amaze me, and I can't wait to see what's next."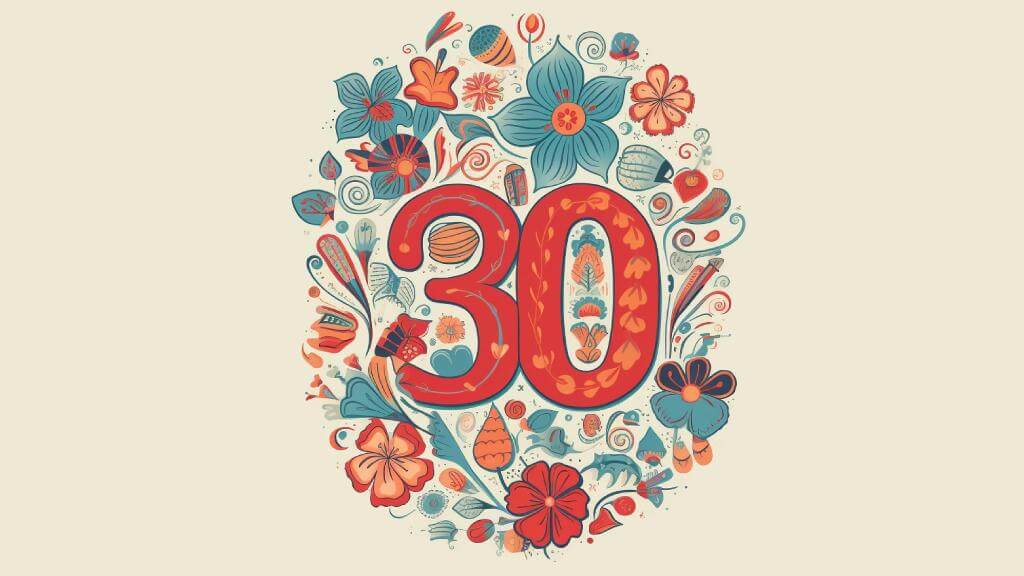 "Here's to three decades of laughter, love, and amazing memories. Happy 30th birthday! May the next 30 be even more incredible."
"Turning 30 is a milestone to embrace. May this chapter be filled with exciting opportunities, personal growth, and boundless happiness."
"Happy 30th to my partner in crime! Our adventures have been epic so far, and I can't wait for all the mischief we'll get into in this new chapter."
"Remember, age is just a number, and you're rocking it! Happy 30th, my forever young friend. Here's to endless fun and youthful spirit."
"Welcome to the wisdom of your 30s. May this decade bring clarity, insight, and a deeper understanding of life's mysteries."
"30 is the age of new beginnings. Embrace the opportunities ahead with open arms, and may they lead you to incredible heights."
"On your 30th birthday, I pray for blessings, love, and pure joy. You deserve nothing less for being such an amazing person."
"Happy 30th to a friend I'll cherish forever. May our bond strengthen as we journey through life's adventures together."
"Wishing you a 30th year filled with robust health, vitality, and the energy to conquer all your dreams."
"May this decade be an exciting adventure, filled with new horizons to explore and thrilling experiences to savor."
"May you find deep, lasting love and companionship in this chapter of your life, surrounded by those who cherish you."
"Here's to a decade of remarkable success and prosperity in all your endeavors. May your hard work yield abundant rewards."
"May your 30s be a period of genuine happiness and contentment, where every day is filled with smiles and laughter."
"Wishing you inner peace and tranquility as you navigate the challenges and triumphs of the next 10 years."
"May your creative spirit flourish, and may you find endless inspiration in the beauty of life and the world around you."
"May your family bonds grow stronger, and may the moments spent with loved ones be the most treasured of all."
"Embrace personal growth and self-discovery in your 30s, and watch as you become the best version of yourself."
"May you discover your true purpose and find fulfillment in every step of your journey through the 30s."
"Life is a canvas, and your 30s are the brushstrokes that add depth and color to the masterpiece of your journey."
What are 30th birthday quotes?
30th birthday quotes are unique and meaningful messages or expressions of good wishes shared with someone celebrating their 30th birthday. These quotes are often used in birthday cards, speeches, social media posts, or other forms of birthday communication to convey sentiments, humor, encouragement, or reflection related to turning 30.
These quotes vary widely in tone and content, ranging from sentimental and inspirational messages to funny and lighthearted ones. They serve as a way to connect with the birthday person, express your feelings, and celebrate this significant milestone in their life.
Why the 30th birthday is special?
The 30th birthday holds a unique place in our hearts for several reasons. It marks the end of one era and the beginning of another, making it an exceptional occasion. Here's why the 30th birthday stands out:
Reflecting on achievements
By the time we hit 30, we've had a decade to build our lives, careers, and relationships. It's a time to reflect on our accomplishments and set new goals for the future.
Gaining wisdom
With three decades of life experience, we've gained valuable wisdom and insights. Turning 30 means we're wiser, more mature, and better equipped to face life's challenges.
Embracing change
The 30th birthday signifies a willingness to embrace change and growth. It's a reminder that we can adapt and thrive in new circumstances.
Celebrating milestones
It's not just an individual celebration; it's a chance to commemorate friendships, family, and the community that has supported us throughout our journey.
Final Thoughts
The journey to the 30th birthday is a significant and transformative one. It's a time to celebrate not just another year but the accumulation of experiences, wisdom, and cherished memories.
But what if you're looking for something unique and luxurious to mark this special occasion? Enter PicnicMakers.com, your go-to destination for an unforgettable birthday luxury pop-up picnic experience.
FAQ
What are some tips for finding the perfect 30th birthday gift?
Think about their interests and hobbies. A personalized keepsake, an experience-based gift, or a thoughtful piece of jewelry can make a meaningful present.
How can I add humor to a 30th birthday celebration with funny quotes?
Inject some humor with lighthearted quotes about turning 30, embracing aging, or poking fun at the "adulting" journey. Just ensure the mood aligns with the birthday person's taste.
What's a memorable 30th birthday quote to include in a card or speech?
Here's one: "Life at 30 is a blend of wisdom, adventure, and dreams waiting to be fulfilled." Feel free to use this or explore other quotes that resonate with the birthday person.
What themes work well in 30th birthday quotes?
Themes such as growth, resilience, and embracing the journey make for impactful 30th birthday quotes. Balancing nostalgia with anticipation for the future, these quotes often touch on the blend of experiences that shape an individual at 30.
Can you suggest a few humorous 30th birthday quotes?
Humorous quotes add a lighthearted touch, for Example: "Turning 30 is like a software update – it might take a while, but you're excited about the new features!"
Are there cultural or inspirational 30th birthday quotes?
Cultural quotes reflect societal expectations, while inspirational ones focus on personal growth. Example: "At 30, you're not getting older; you're getting wiser – and that's your superpower!"