Sweet 16 birthday parties are much-anticipated events that commemorate a significant rite of passage in a teenager's life. Plan a memorable and enjoyable party with these carefully curated ideas spanning different themes and styles that perfectly encapsulate your teenager's personality and interests. 
Let's explore a world of creative, unique, at-home, and gender-specific party ideas to make your teen's sweet 16 an occasion to remember.
Luxury sweet 16 celebration
1. Luxury pop-up picnic 🍉🧺🌳
Create an unforgettable outdoor experience arranged by the best LA professional picnic planning company. Picnic Makers handle all the details for the perfect setting.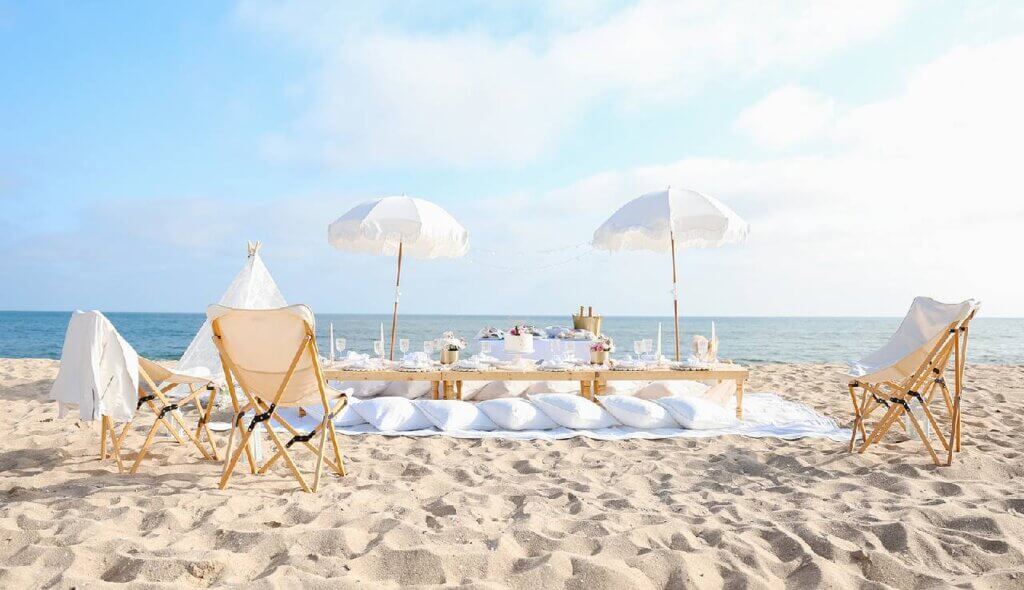 The designer setup includes handmade low picnic tables, boho-style umbrellas, assorted pillows & decor, and more. It's a unique, elegant, and hassle-free way to celebrate a sweet 16, offering the chance to enjoy nature in a comfortable, well-curated environment. This can be especially memorable in a favorite park, beach, or even in your own backyard.
Creative sweet 16 party ideas
2. Movie marathon night 🎬🍿🎞️
Transform your living room into a cozy home theater with comfy seating, atmospheric lighting, and popcorn. Choose a selection of your teen's favorite movies or series for an immersive cinematic experience.
3. Art and crafts party 🎨✂️🖍️
Foster an atmosphere of creativity by organizing an arts and crafts party. This could include painting, sculpting, jewelry, or any craft your teen enjoys.
4. Beach-themed party 🏖️🌴🍹
A beach-themed party might be perfect if your teen loves the sun and the sand. Turn your backyard into a mini beach resort with sand, sun loungers, inflatable pools, and tropical drinks.
5. Murder mystery party 🕵️‍♂️🔍🕵️‍♀️
For a suspense-filled party, consider a murder mystery game. This interactive party idea will keep guests engaged as they play detectives trying to solve the mysterious crime.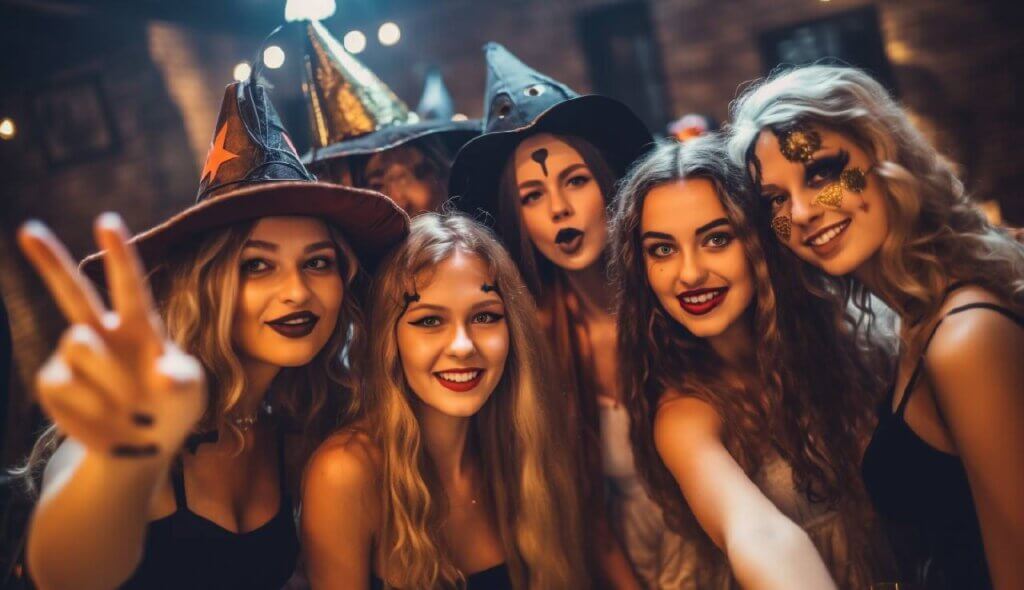 6. Color-themed party 🎨🌈🎉
Celebrate your teen's favorite color with a monochrome party. From decorations to food and dress code, incorporate this color everywhere possible.
Unique sweet 16 party ideas
7. Adventure sports party 🪂🧗‍♂️🚴‍♀️
An adventure sports party at a local park would be ideal for the thrill-seeking teen. Activities like zip-lining, rock climbing, or even a high-ropes course will create lasting memories.
8. Karaoke night 🎤🎶🎉
Let your teen and their friends be the night stars with a karaoke party. A rented karaoke machine, a stage, and a couple of microphones are all you need to get the party started.
9. Cooking competition 🍳👩‍🍳🍽️
Host a cooking contest where teams compete to make the best dish. Provide ingredients and let them showcase their culinary skills, all while having a lot of fun.
10. Fashion show 👠👗💃
Organize a fashion show where your teen and their friends can showcase their styles. Add a red carpet, a jury panel, and a photo shoot for a glamorous touch.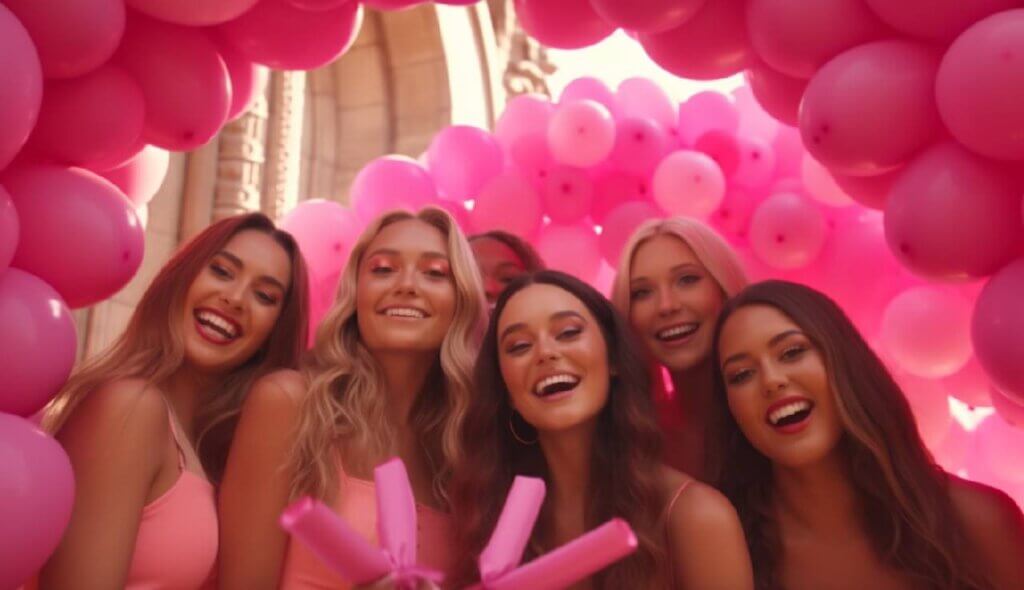 11. Escape room 🚪🔐🔍
An escape room challenge can provide guests with an engaging and fun experience, either in an actual location or virtually. This problem-solving game will surely keep everyone on their toes.
At-home sweet 16 party themes
12. Backyard campout ⛺🔥🍫
Host a campout in your backyard with tents, sleeping bags, a bonfire for s'mores, and some spooky or fun campfire stories.
13. Game night 🎲🎮🃏
Whether it's classic board games, video games, or card games, a game night is a tried-and-true party idea. Set up different game stations for variety and excitement.
14. DIY spa 💆‍♀️💅🧖‍♂️
Transform your home into a relaxing spa with homemade face masks, nail art stations, and relaxing music. Offer plush robes and comfy slippers to enhance the spa vibe.
15. Home concert 🎸🎤🎵
If your teen loves music, consider hiring a local band or DJ to perform. Alternatively, you could set up a playlist of their favorite songs and let them dance the night away.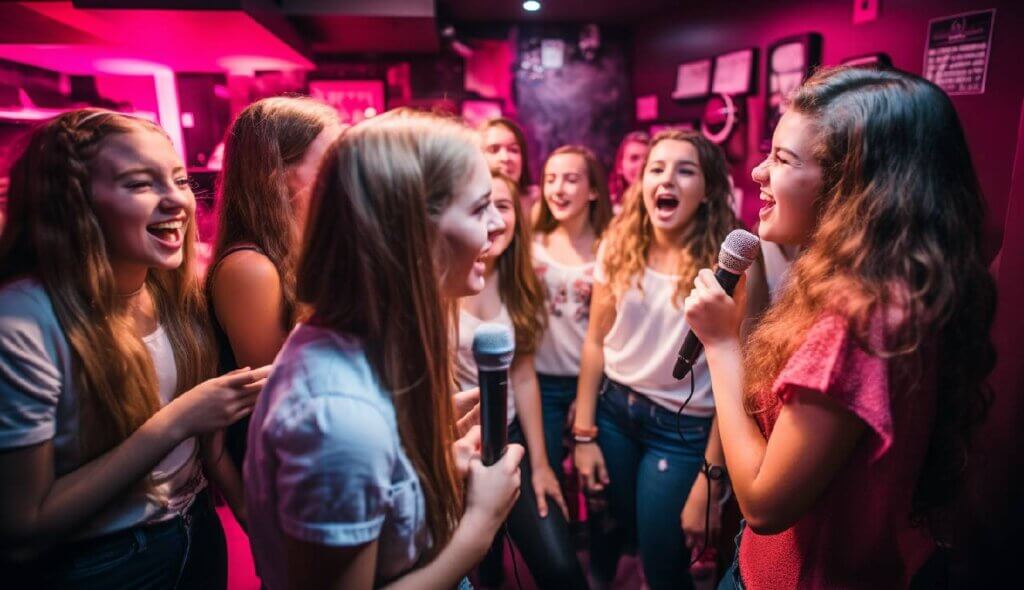 16. Virtual party 🎉💻📱
When physical gatherings are impossible, virtual parties on platforms like Zoom can be just as fun. Host virtual games, movie nights, or chat sessions where friends can catch up.
Sweet 16 party ideas for girls
17. Makeup tutorial party 💄💅💄
A professional makeup artist can give a tutorial, allowing guests to learn new makeup techniques and experiment with different looks.
18. Ballet or yoga class 🧘‍♀️🩰🧘‍♀️
Promote wellness and relaxation with a fun and calming ballet or yoga class, which a professional instructor can conduct.
19. Fairytale-themed party 🧚‍♀️🏰👑
Create a magical setting with a fairytale-themed party. Use decorations, costumes, and props inspired by your teen's favorite fairytale or Disney princess.
20. Enchanting tea party 🍵🍰🫖
Host a traditional afternoon tea with various teas and finger foods. Include tea-related activities and give tea-themed favors to guests.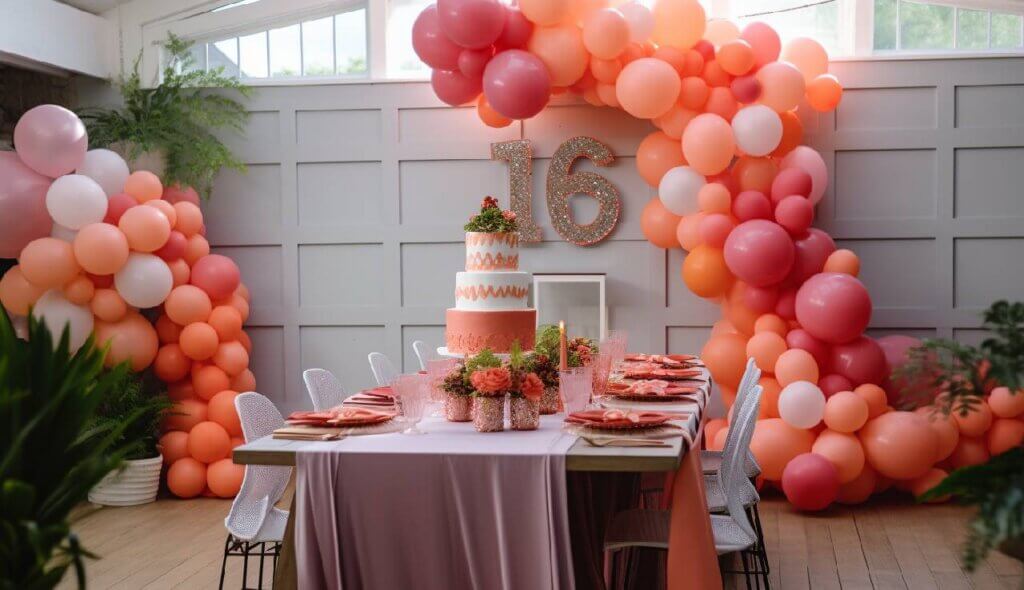 Sweet 16 party ideas for boys
21. Gaming tournament 🎮🕹️🏆
If your teen loves video games, host a tournament with their favorite game. Set up multiple gaming stations and organize a competition with prizes for the winners.
22. Car show party 🚗🏁🏎️
If cars are your teen's passion, arrange a mini car show in your backyard. Invite guests to bring model cars, posters, or car-themed video games.
23. Superhero-themed party 🦸‍♂️🦹‍♀️🎉
Design a party around the birthday boy's favorite superhero. Decorate the venue to resemble a superhero lair and organize themed games and activities.
24. BBQ cookout 🍔🌭🍻
Host a laid-back BBQ cookout. Grill your teen's favorite foods, set up picnic tables, and create a chill atmosphere with background music.
25. Sports-themed party 🏀⚽🛹
Plan the party around the birthday boy's favorite sport. Whether it's football, basketball, or skateboarding, incorporate it into the games, decorations, and food.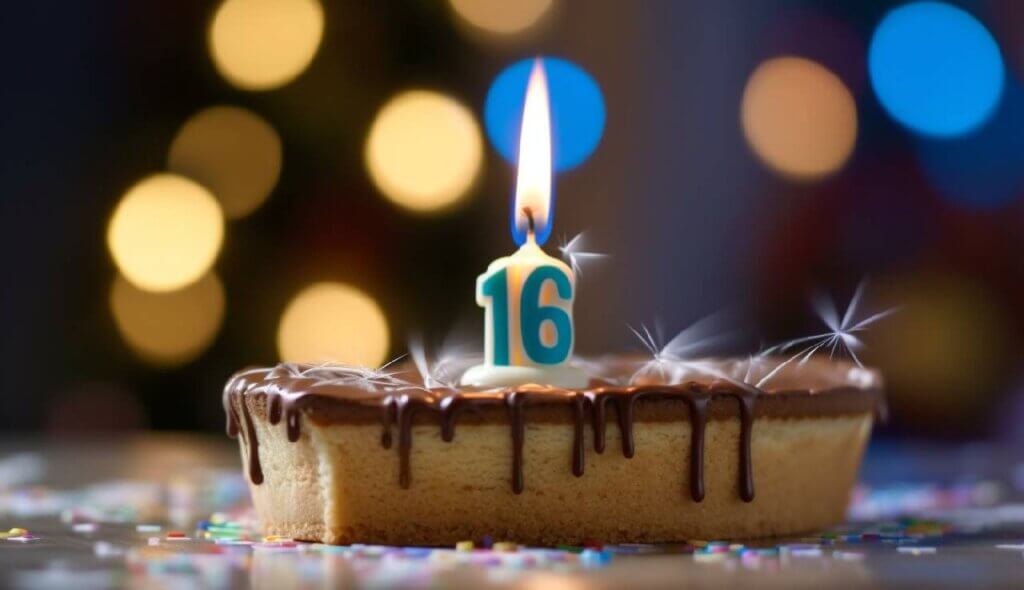 In conclusion, planning a sweet 16 party is an opportunity to celebrate your teen's unique style and personality. The options are limitless, whether creative, unique, at-home, or gender-specific ideas inspire you. 
One particularly unforgettable way to mark this milestone is by choosing a lavish beach picnic experience with Picnic Makers – a professional picnic planning company.
So why not give your teen a special day they'll cherish and book a beautifully curated picnic to make their sweet 16 unique? Remember, the most important thing is that your teen feels memorable, cherished, and loved on this momentous occasion.
FAQs
What is the significance of a Sweet 16?
The sweet 16 marks a girl's transition into adulthood, often celebrated with a lavish party and special gifts. In many cultures, it marks the transition from childhood to adulthood and is often considered a coming-of-age event.
What are some gifts to give a teenager on their Sweet 16?
Personalized jewelry, a scrapbook, a meaningful book or journal, an experience gift, and a DIY gift like a hand-knit scarf or a handwritten letter.
What types of food are popular at sweet 16 parties?
Food often depends on the theme and the teen's preferences. Common choices include pizza, finger foods, or even a taco bar. Consider a sushi platter, a DIY sandwich bar, or an international food theme for a unique twist.
What are some environmentally-friendly sweet 16 party ideas?
An eco-friendly sweet sixteen can be achieved with simple strategies. Use digital invitations instead of paper, opt for reusable or biodegradable party supplies, and consider a plant-based menu. You could also encourage guests to give experiences or donations to a charity instead of physical gifts.
What's a good number of guests for a sweet 16 party?
The ideal number of guests for a sweet 16 party can vary greatly depending on your teen's preferences. Some might prefer a smaller, intimate gathering of close friends, while others might enjoy a larger celebration. Generally, anywhere from 10 to 50 guests can work well. Remember to consider your budget and venue size when planning your guest list.
Should I hire a professional photographer for my teen's sweet 16 party?
Hiring a professional photographer can be a great way to capture high-quality memories of the celebration. However, if it's not within your budget, consider designating a friend or family member as the event photographer or even setting up a photo booth where guests can take their fun pictures.
How far in advance should I start planning a sweet sixteen party?
Typically, starting to plan 2-3 months in advance is a good rule of thumb for a birthday party. This gives you ample time to choose a theme, send out invitations, book a venue if needed, and organize food, entertainment, and decorations.
Do I need to provide party favors for guests?
While party favors aren't necessary, they are a nice touch and a way to thank guests for attending. They don't have to be extravagant – think personalized keychains, mini photo frames, or small bags of candies or homemade cookies.