Bask in the perennial sunshine of Los Angeles and Orange County, where magnificent beaches promise endless exploration. This detailed guide journeys through these coastal paradises, each with a unique character and many attractions.
Best Los Angeles County beaches
Will Rogers State Beach
Situated in the picturesque neighborhood of Pacific Palisades, Will Rogers State Beach is a sprawling stretch of golden sands and deep blue sea. As a part of Santa Monica Bay, it provides a refreshing retreat from the city bustle, drawing both locals and tourists alike.
Parking at Will Rogers State Beach: vary from $8 to $15.
The beach is known for its well-maintained recreational facilities. A dedicated bike path that stretches along the coastline offers a great way to absorb the Pacific beauty. The numerous volleyball courts for sports enthusiasts come alive with friendly games and tournaments.
Will Rogers State Beach is also steeped in cinematic history, often as the backdrop for popular television shows and movies. With its expansive coastline and scenic beauty, it's a beach that combines leisure and allure effortlessly.
Santa Monica Beach
Santa Monica Beach is an alluring hotspot with many activities on offer. It's home to the Santa Monica Pier, a lively venue hosting the Pacific Park amusement park.
Santa Monica Beach parking cost: vary from $7 to $18.
Don't miss the solar-powered Ferris wheel at Pacific Park. It's the only one in the world offering panoramic views of the Pacific Ocean and an unforgettable ride.
Dockweiler State Beach
Dockweiler State Beach in Playa Del Rey is a fantastic locale for those seeking overnight beach camping opportunities. The beach features RV facilities with a panoramic view of the ocean.
Dockweiler State Beach parking cost: vary from $7 to $15.
Dockweiler Beach is known for its lively fire pits, where visitors can gather for beachside bonfires. Moreover, it's located near the LAX airport, offering a unique spectacle of airplanes taking off and landing overhead.
Venice Beach
Venice Beach, situated in Los Angeles County, is a standout destination that offers a captivating blend of culture and recreation. This iconic beach is renowned for its vibrant and bohemian atmosphere, attracting visitors from all walks of life.
Venice Beach parking cost: vary from $5 to $30 per day
The oceanfront walkway invites leisurely strolls while showcasing an array of street performers, artists, and lively vendors. The Venice Skate Park is a hub for skateboarders, adding to the energetic spirit of the area.
Fitness enthusiasts flock to this iconic location, which served as the training ground for legendary bodybuilder and actor Arnold Schwarzenegger. Whether you want to get active or simply soak up the historical charm, Muscle Beach is a must-see attraction at Venice Beach.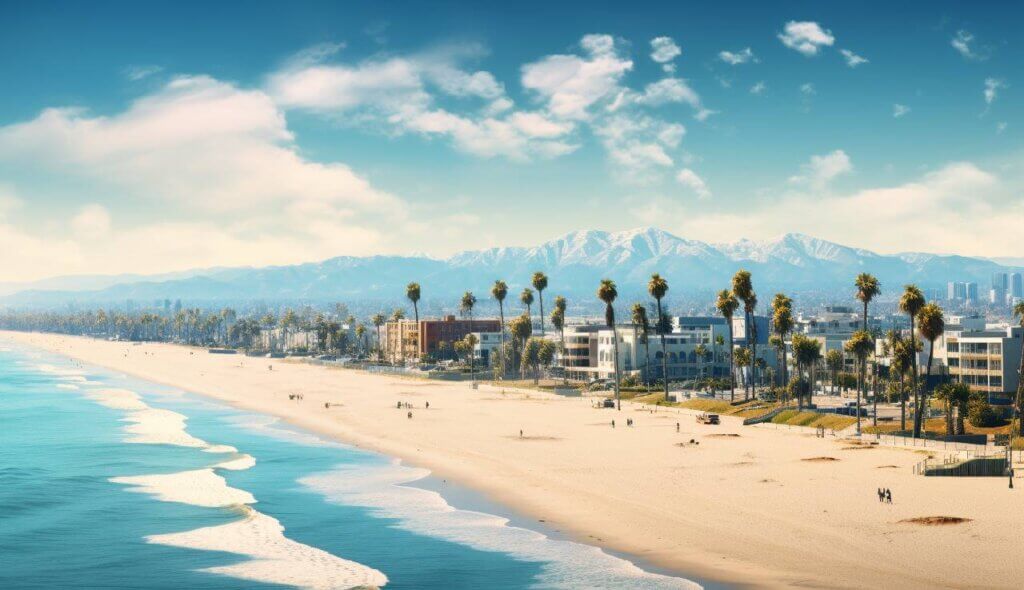 With its unique cultural offerings and historical allure, Venice Beach truly deserves its place among the best beaches in both Los Angeles and Orange County.
Manhattan Beach
Manhattan Beach, exuding elegance, is a local haunt. The beach volleyball courts here are always alive with enthusiasts, and the scenic pier hosts an aquarium and stunning views.
Manhattan Beach Parking Lots cost $2.00/hour.
Manhattan Beach is also a hub for annual events. The International Surf Festival and Manhattan Beach Open Volleyball tournament bring a festive atmosphere to the beach every summer.
Redondo Beach
Redondo Beach is a vibrant mixture of relaxation and activity. The expansive sandy beach lies next to the lively Redondo Beach Pier, featuring an array of shops and eateries.
Redondo Beach Pier parking is $2.00 each hour.
For water sports enthusiasts, Redondo Beach offers paddleboards and kayaks for rent. The harbor also hosts whale-watching tours, adding a dash of adventure to your beach experience.
Best Orange County beaches
Newport Beach
Newport Beach is a sight to behold with its stunning coastline and Mediterranean allure. It's home to two piers, Newport and Balboa, each offering a unique charm.
The Newport Beach Pier parking cost $1.50 per hour or a maximum of $15 for 24 hours.
The Wedge, a hotspot for high-wave surfing, offers thrilling adventures. Take a tour of the elegant homes and yachts of Newport Harbor, and marvel at the area's lavish lifestyle.
Huntington Beach
Affectionately called "Surf City USA," Huntington Beach is every surfer's dream. It's an unparalleled surfing destination with 8.5 miles of sandy beach and consistent waves.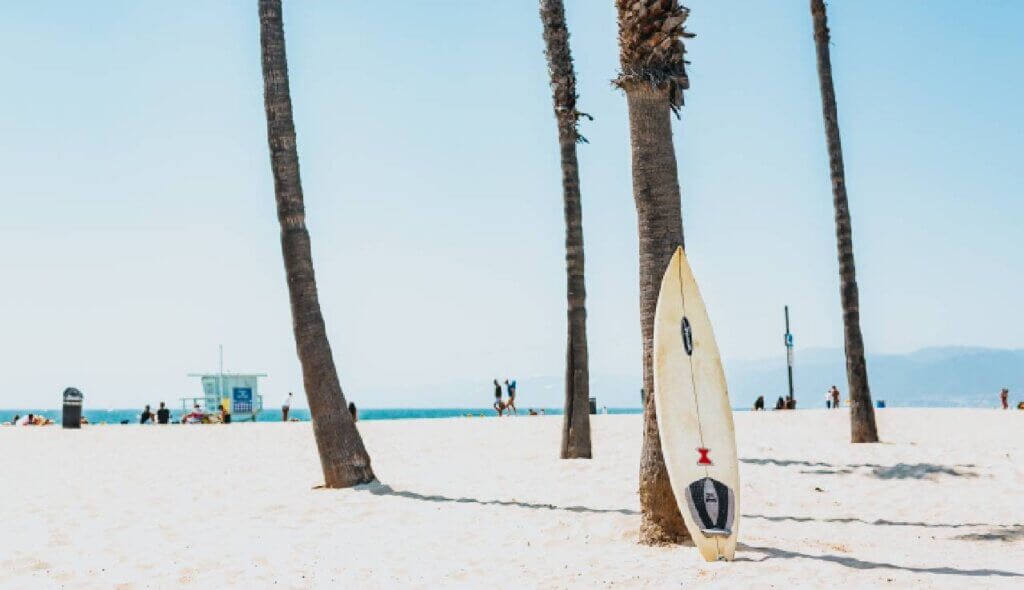 Huntington Beach parking cost is $3 per hour non-peak and $4 per hour during peak season
Not just for surfers, the lively Huntington Beach Pier is a popular spot for fishing and spectating surfers in action. The US Open of Surfing is an annual event attracting worldwide surf enthusiasts.
Diver's Cove & Main Beach in Laguna Beach
Laguna Beach is renowned for its beautiful coves and thriving artist community. Main Beach, located centrally, provides easy access to amenities, while Thousand Steps Beach offers a tranquil retreat down a picturesque stairway.
During summer, the Pageant of the Masters is a unique spectacle. Here, performers pose as figures in famous paintings, bringing art to life.
Laguna Beach Main Beach parking: rates range from $2.75-$4.95 per hour. Most meters have a 3-hour limit.
Laguna Beach offers three primary parking areas to accommodate your needs: the Main Beach Parking Lot, the Heisler Park Parking Lot, and the Aliso Beach Parking Lot. Situated at the southern end of Laguna Beach, near the intersection of South Coast Highway and Broadway, the Main Beach Parking Lot provides easy access to the vibrant coastal atmosphere.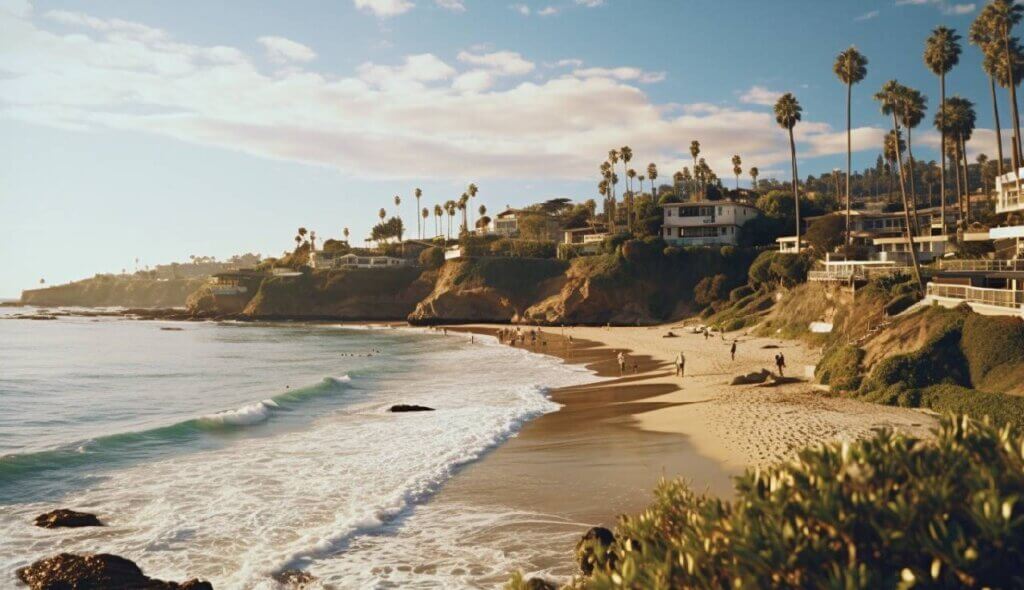 Laguna Beach's Diver's Cove, Main Beach, and Thousand Steps Beach, the thriving art scene and remarkable events such as the Pageant of the Masters, make it a standout destination within the exquisite beaches of Los Angeles and Orange County.
Corona Del Mar State Beach
Corona Del Mar State Beach, aptly named "Crown of the Sea," offers scenic views and a serene atmosphere. It's a perfect spot for family outings, featuring fire pits and picnic areas.
Corona del Mar Beach Main Beach parking is $15 per day.
Nearby, you'll find the Newport Harbor entrance and Inspiration Point. From Inspiration Point, the breathtaking sea views will inspire awe.
Seal Beach
Seal Beach is a charming and peaceful location, the northernmost beach in Orange County. The town exudes an old-world charm, and the historic Seal Beach Pier is perfect for relaxed strolls and casual fishing.
Seal Beach parking rates start at $2 per hour, $10 for all-day parking from 6 am to 10 pm, and $4 for evening parking from 6 pm to 10 pm.
The adjacent Seal Beach National Wildlife Refuge is a haven for bird enthusiasts. A visit here will add a touch of nature to your beach getaway.
Whether you crave serene relaxation, thrilling surf, cultural immersion, or engaging activities, the beaches of Los Angeles and Orange County will not disappoint. When you want to pause from all the beachside fun, why not enhance your experience with a luxury picnic?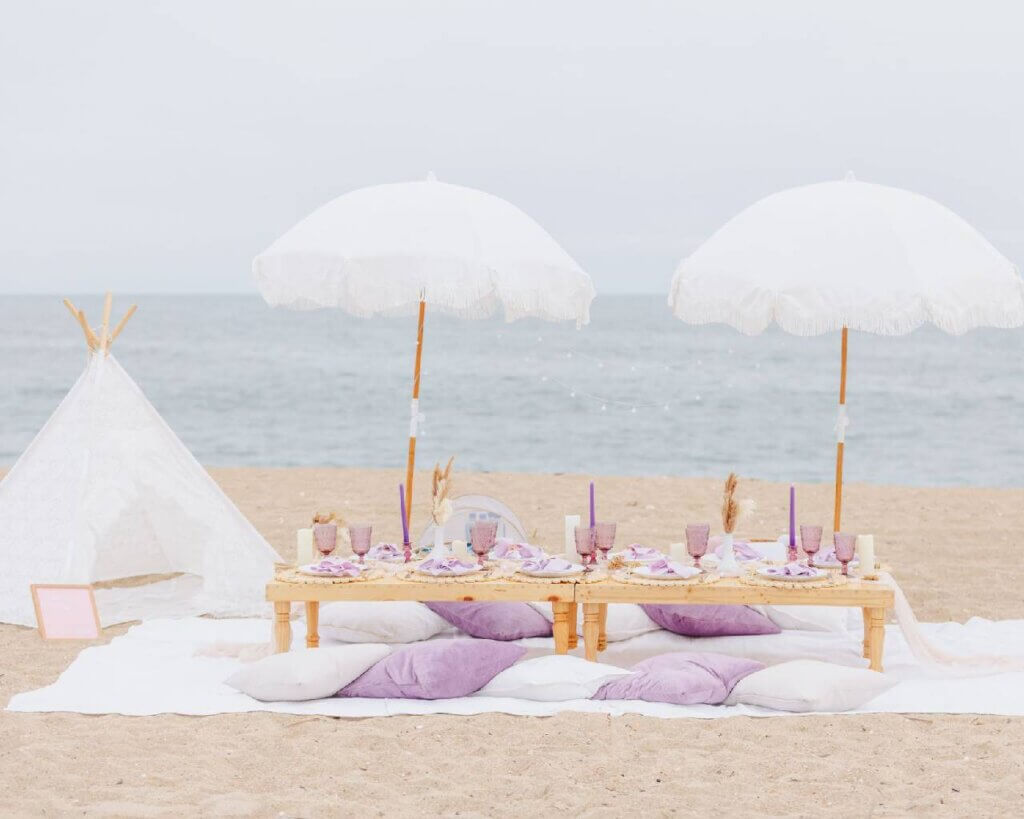 At Picnic Makers, a premier provider of luxury picnics in Los Angeles, we curate sophisticated picnic experiences that cater to your unique tastes. Book online your luxury pop-up picnic experience today and make your beach visit unforgettable.
What is the best time of year to visit these beaches in Los Angeles and Orange County? 
Southern California's climate is pleasant throughout the year, but the prime time for beach visits is from May through October when temperatures are warmer.
Can you swim at all the beaches? 
Yes, you can swim at all these beaches. However, be mindful of posted signs regarding water conditions and potential hazards, and always swim in designated areas where lifeguards are present.
Are there any beaches suitable for surfing in Los Angeles and Orange County?
Huntington Beach, also known as "Surf City USA," is renowned for its consistent surf. The Wedge in Newport Beach is another hot spot for high-wave surfing.
Which beach would you recommend for a quiet, relaxed visit? 
Seal Beach in Orange County is known for its peaceful ambiance and charming old-world feel. It's perfect for a quiet, relaxing beach day.
Can I fish at these beaches? 
Many of these beaches have piers where fishing is permitted. Huntington Beach Pier and Redondo Beach Pier are popular spots.
What facilities do these beaches have? 
Facilities vary by the beach but commonly include restrooms, outdoor showers, picnic areas, lifeguard services, and concession stands. Some beaches, like Santa Monica, even have an amusement park on their pier.
When you want to pause from all the beachside fun, why not enhance your experience with a luxury picnic in Orange County?