You're about to embark on a new life chapter full of love, companionship, and adventures. To celebrate this transition, it's only fitting that you have a bachelorette party that mirrors the excitement of what's to come.
Bachelorette party ideas have come a long way from the stereotypical night of revelry. Today's bachelorette themes focus on creating unforgettable experiences, deepening bonds, and fostering relaxation and fun. If you're searching for bachelorette weekend ideas, read on for inspiration.
1. Luxury pop-up picnic 🥰
This first option is a truly luxe, unique, and memorable experience, not just one of many bachelorette party ideas. Picture this: you and your closest friends gather in a beautiful outdoor location. The sun is shining, a light breeze, and an opulent pop-up picnic has been arranged before you. This is no ordinary picnic, though.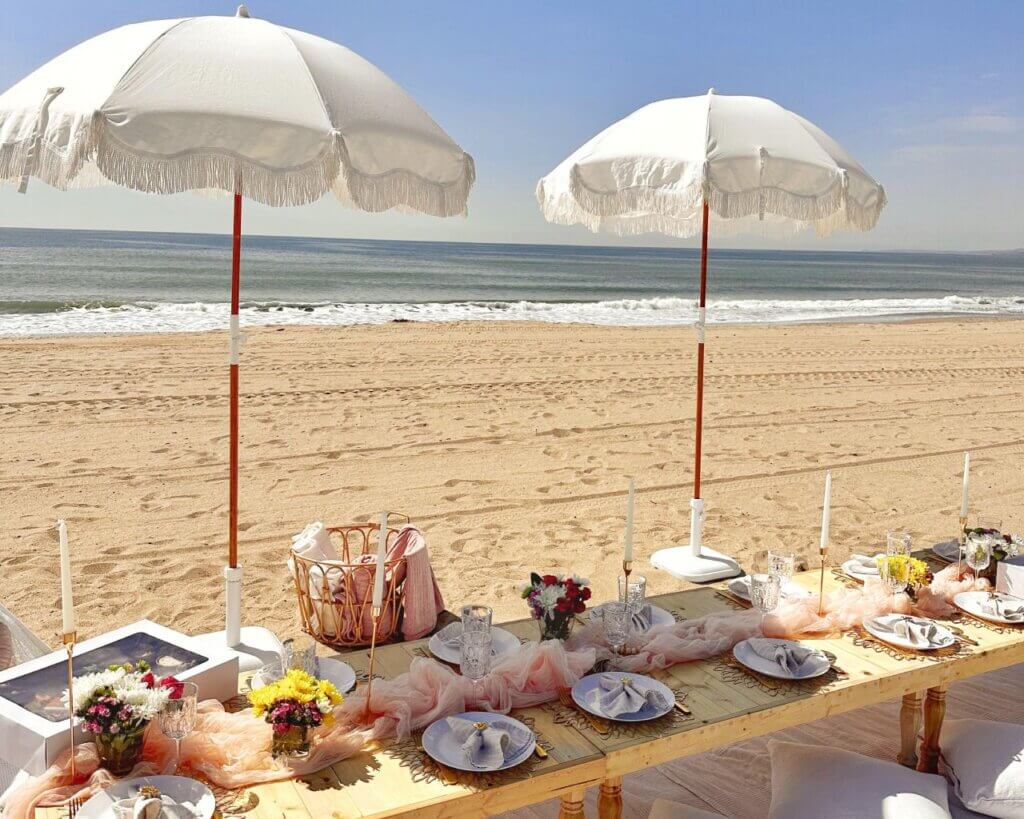 Why is this concept so cool? A luxury pop-up picnic combines the casual fun of a picnic with the elegance and sophistication of a high-end dining experience. It's a cute and romantic way to celebrate your upcoming wedding with your friends, offering a personalized, intimate setting that encourages bonding and conversation.
Picnic Makers, a Los Angeles luxury picnic company, will handle all the details. It's one of the best things to do for a bachelorette party that everyone will remember.
2. Wine-tasting tour 🍷
A wine-tasting tour is an elegant bachelorette party idea. Southern California is home to several renowned vineyards. Booking a private tour can make your day even more special. Not only will you and your friends sample exquisite wines, but you'll also learn about the winemaking process and enjoy the vineyard's beautiful scenery.
3. Wellness retreat 😊
If relaxation and rejuvenation are what you seek, consider a wellness retreat for your bachelorette party. Los Angeles and Orange County offer numerous high-end spa and wellness centers. You can spend a day (or a weekend) pampering yourself with massages, facials, yoga classes, and healthy gourmet meals. It's a unique bachelorette idea that leaves everyone feeling refreshed and renewed.
4. Private yacht party 🛥️
A private yacht party fits the bill if you're looking for more lavish bachelorette ideas. You can cruise along the Southern California coastline, soaking up the sun, sipping champagne, and dancing to your favorite tunes. It's an excellent opportunity for some fantastic photos too!
5. Cooking class 👩‍🍳
For the foodie bride-to-be, a private cooking class is one of the best ideas for a bachelorette party. Not only do you learn to prepare gourmet dishes, but you also get to enjoy the fruits of your labor afterward. Numerous cooking classes are available throughout Los Angeles and Orange County, focusing on everything from local cuisine to international delights.
6. Glamping trip 🏕️
Glamping, or glamorous camping, is a fun bachelorette weekend idea. It combines the allure of the great outdoors with the comforts of home. You can spend the day hiking or exploring nature, then retreat to a luxurious tent or cabin with all the necessary amenities.
7. Art class 🎨
For those who love to get creative, an art class is a fun and engaging bachelorette party idea. Whether painting, pottery or a jewelry-making class, this is a great way for everyone to express their creativity and make a keepsake to remember the day.
8. Beach day 🏖️
Finally, a beach day is one of California's most classic and enjoyable bachelorette party ideas. Pack a picnic, bring some games, and spend the day soaking up the sun and surfing at one of the region's stunning beaches.
9. Dance class 💃
A dance class can be an energetic and fun idea for a bachelorette party. Whether it's a sassy salsa lesson, a sultry burlesque workshop, or a high-energy Zumba session, this can be a fantastic way for the bridal party to bond and let loose.
10. Helicopter tour 🚁
Make your bachelorette party truly unforgettable with a helicopter tour over Los Angeles or Orange County. This is a thrilling way to see the stunning Southern California landscape from a new perspective.
11. Cocktail-making class 🍸
What better way to kick off a night of bachelorette fun than with a cocktail-making class? Learn how to mix your favorite drinks, then enjoy the fruits of your labor. It's a creative, hands-on activity that will get everyone in the party mood.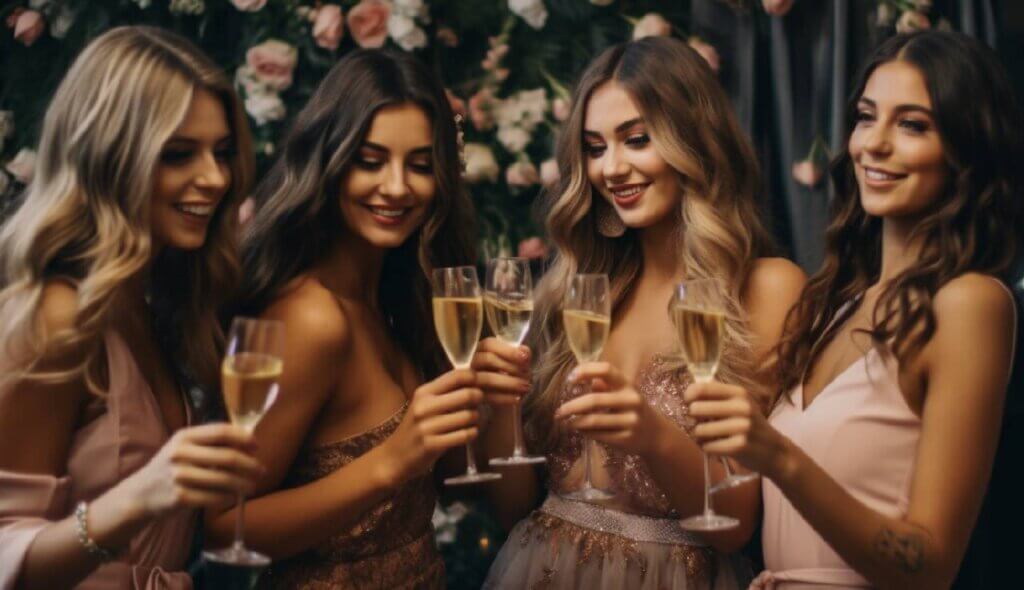 12. Photoshoot party 📸
Celebrate your upcoming wedding with a glamorous photoshoot party. This is a cute, fun way to capture memories with your best friends. Hire a professional photographer and choose a beautiful location for your backdrop. Everyone will have a memento from the day, and you'll have beautiful photos to cherish forever.
13. Boutique shopping trip 🛍️
Los Angeles and Orange County are renowned for their shopping scene. Plan a day out at some of the area's best boutiques, and you might find some unique pieces for your wedding, honeymoon, or just because.
14. Charity run or walk 🏃‍♀️
If the bride-to-be is passionate about a cause, why not organize a charity run or walk for the bachelorette party? It's a fantastic way to do something meaningful while also having fun and getting some exercise.
15. Themed costume party 👠
Let your imaginations run wild with a themed costume party. From a 1920s flapper theme to an 80s neon bash, there are endless possibilities for a night of dress-up and dancing.
16. Visit a comedy club 😂
For a night filled with laughter, consider going to a comedy club. This is a great way to relax and enjoy entertainment before the big day.
17. DIY beauty workshop 💄
Consider a DIY beauty workshop where you can make your own bath bombs, lip balms, or face masks. This is a fun activity; you'll also have some homemade beauty products to take home.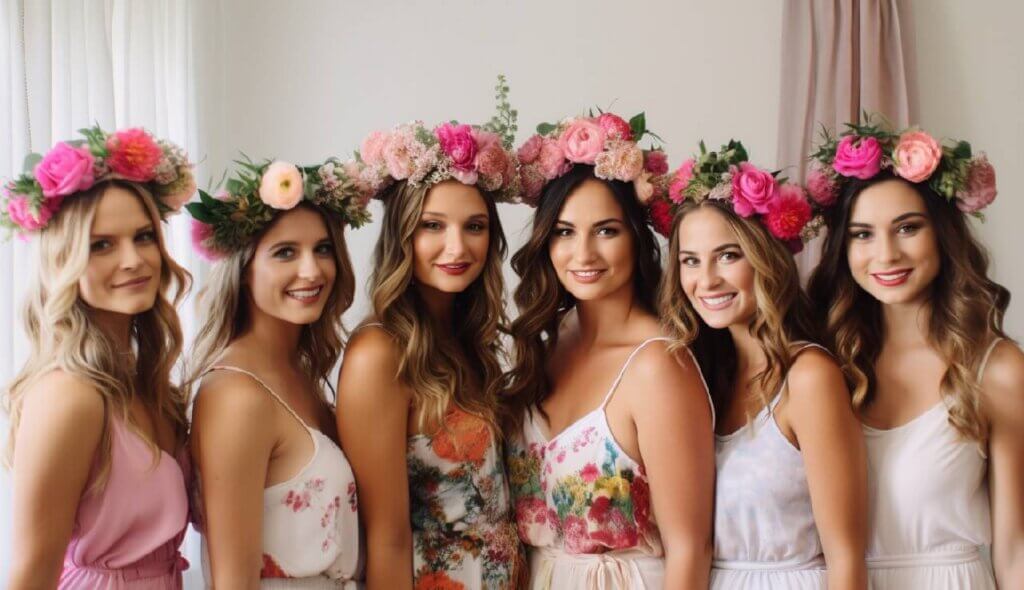 18. Scavenger hunt 🗺️
A scavenger hunt can be fun and interactive to explore Los Angeles or Orange County. It encourages teamwork and competition and can be customized to include meaningful locations for the bride-to-be.
In conclusion, your bachelorette party should be as unique and memorable as you are. These bachelorette party ideas offer a variety of experiences to suit every bride-to-be, from luxury pop-up picnics to wellness retreats and more.
As your day of fun approaches, remember that we, the Picnic Makers, are ready to make your celebration an unforgettable experience. Our luxury pop-up picnics are meticulously planned and beautifully executed, so all you have to do is show up and enjoy. Contact us today to book your event and see why we're the best choice for a truly unique bachelorette party.
Bachelorette party ideas FAQs
What are some unique bachelorette party ideas?
here are numerous unique ideas for a bachelorette party. You can opt for a luxury picnic arranged by a professional picnic planner, a private cooking class, or even a helicopter tour over Los Angeles or Orange County. Other unique ideas include a DIY beauty workshop, a themed costume party, a charity run or walk, or a fun scavenger hunt across the city.
How can I make my bachelorette party memorable?
Choose activities that reflect the bride's personality and interests to make your bachelorette party memorable. A customized event, like a luxury pop-up picnic or a private cooking class, can create unforgettable experiences. Also, consider incorporating elements for bonding and shared memories, like a photo shoot or a group art class.
Are there any creative ideas for a bachelorette party at home?
Absolutely! You can organize a DIY spa day, a homemade cocktail-making class, or a themed movie night. A fun idea could be a cooking competition or even an at-home art class. Another creative idea is to have a pop-up picnic in your backyard.
Can bachelorette parties be multi-day events?
Yes, bachelorette parties can span over a weekend or even longer. Bachelorette weekend ideas could include a glamping trip, a wellness retreat, or a series of activities, like a luxury pop-up picnic on day one, a wine tour on day two, and a shopping spree on day three.
What are some outdoor bachelorette party ideas?
There are numerous outdoor bachelorette party ideas. A luxury beach picnic, wine tour, glamping trip, and scavenger hunt are fantastic outdoor options. Consider a helicopter tour or a charity run if you want something adventurous.
What if the bride doesn't drink? What are some alcohol-free bachelorette party ideas?
There are many alcohol-free bachelorette party ideas. Consider a wellness retreat, an art or cooking class, a DIY beauty workshop, a photoshoot party, or a luxury picnic. These activities focus on bonding, creating memories, and celebrating the bride-to-be.
How can we make the bride-to-be's bachelorette party personal and special?
To make the bachelorette party personal, focus on the bride's interests and preferences. A customized bachelorette luxury pop-up picnic could be a great option, allowing you to choose the location, menu, and décor. You could also incorporate elements related to her hobbies or passions, like a cooking class for a foodie bride or a private art class for a creative bride.