Los Angeles, the City of Angels, has the potential for memorable experiences. Its diverse culture, scenic views, and dynamic vibe make it the perfect setting to create romantic and adventurous memories.
Whether planning a first date, an anniversary celebration, or just looking for fun date ideas in Los Angeles, we've got you covered. We've curated a list of 20+1 exceptional ideas to inspire your perfect rendezvous in this captivating city.
1. Romantic date picnic
Indulge in the ultimate romantic date picnic experience with Picnic Makers, where every detail is designed to ignite your love. Say goodbye to traditional dining and embrace the enchantment of al fresco dining. Select your dream spot – a breathtaking beach or a picturesque park.
Imagine yourself beneath the radiant sky of LA, snuggled on a cozy blanket, while the symphony of gentle waves caresses your senses or the tranquil park scenery steals your heart away. This epitomizes the idyllic LA date, where simplicity, elegance, and intimacy harmonize flawlessly, making every moment a testament to the power of love.
2. Griffith Observatory stargazing
Stargazing at Griffith Observatory is an all-time favorite among date night ideas in Los Angeles. The observatory offers stunning views of the city and the stars. This combination of breathtaking vistas and celestial wonder makes it an ideal date for the starry-eyed romantics.
3. Sunset horseback riding
Immerse yourselves in the magic of a sunset horseback riding experience, creating unforgettable memories during your Los Angeles date. Embark on a guided tour through the picturesque Hollywood Hills, where breathtaking vistas await.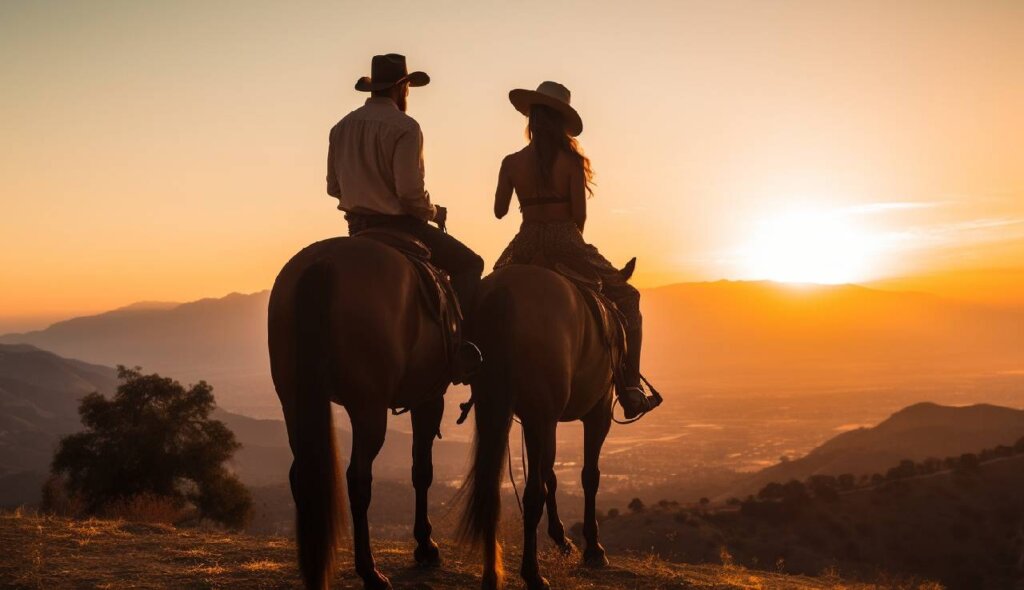 Witness the city bathed in the mesmerizing glow of the setting sun, casting a golden hue that captivates the heart. Let the beauty of nature and the company of your loved one make this moment truly extraordinary.
4. Venice canals walkway
For a stroll, the Venice Canals Walkway offers an enchanting setting that will surely delight you. The man-made canals, cute footbridges, and charming homes make this spot one of the romantic date ideas in Los Angeles that couples should not miss.
5. Wine-tasting in Malibu
Embark on a delightful wine-tasting adventure in the scenic landscapes of Malibu. Indulge in the luxurious experience of savoring exquisite wines while immersing yourself in the breathtaking vineyard vistas. Whether a relaxed afternoon or a captivating evening, this destination provides an idyllic setting for a romantic escape from bustling city life.
6. Visit The Getty Center
A trip to The Getty Center is an excellent choice for art-loving couples. Its stunning architecture, beautiful gardens, and breathtaking views offer a cultural and visual treat that ranks high among LA date ideas.
7. Paddle boating at Echo Park Lake
Echo Park Lake is an iconic LA spot that offers paddle boating. This fun and interactive date idea allows you to explore the lake at your own pace, surrounded by the lovely cityscape.
8. Comedy show experience
For couples who enjoy a good laugh, a night filled with laughter and entertainment at a renowned comedy venue in Los Angeles is an excellent date idea. Located on the iconic Sunset Strip, this establishment has played host to numerous legendary comedians, ensuring an unforgettable experience.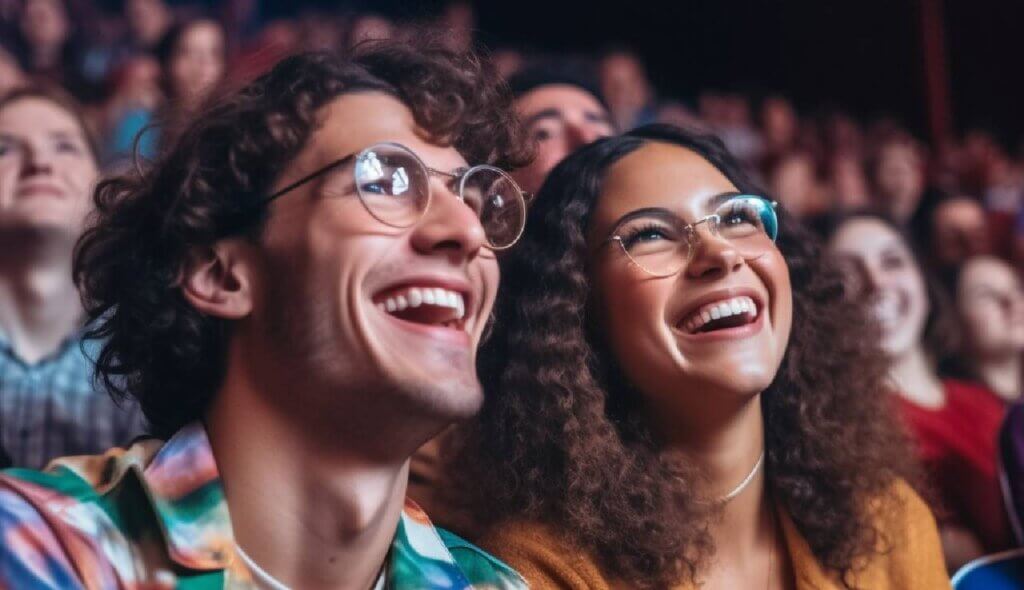 9. Explore the Los Angeles County Museum of Art (LACMA)
LACMA is not only one of the largest art museums in the western United States, but it's also a perfect place for a romantic stroll. The iconic Urban Light installation offers a beautiful backdrop for memorable photos.
10. The Magic Castle
For a truly unique and magical LA date, visit The Magic Castle. This private club for magicians offers a fun and mysterious experience. While access is usually limited to members, booking a stay at the Magic Castle Hotel can get you in.
11. Spa day at Wi Spa
A day at the Wi Spa offers couples a relaxing and rejuvenating date. The 24-hour Korean spa provides multiple therapeutic services and a rooftop terrace with an impressive view of Los Angeles.
12. Explore The Last Bookstore
One of the most iconic spots in Downtown LA, The Last Bookstore is perfect for literature-loving couples. Its labyrinth-like setup, including a tunnel of books, creates a unique and romantic ambiance.
13. Hike up to the Hollywood Sign
For adventurous couples, hiking to the Hollywood sign is one of the most iconic LA date activities. It's an invigorating trek that rewards you with an up-close view of the sign and sweeping vistas of Los Angeles.
14. Marina Del Rey dinner cruise
For a luxurious dining experience, embark on a Marina Del Rey dinner cruise that offers gourmet food, live music, and romantic stargazing opportunities, all while you sail across the tranquil marina.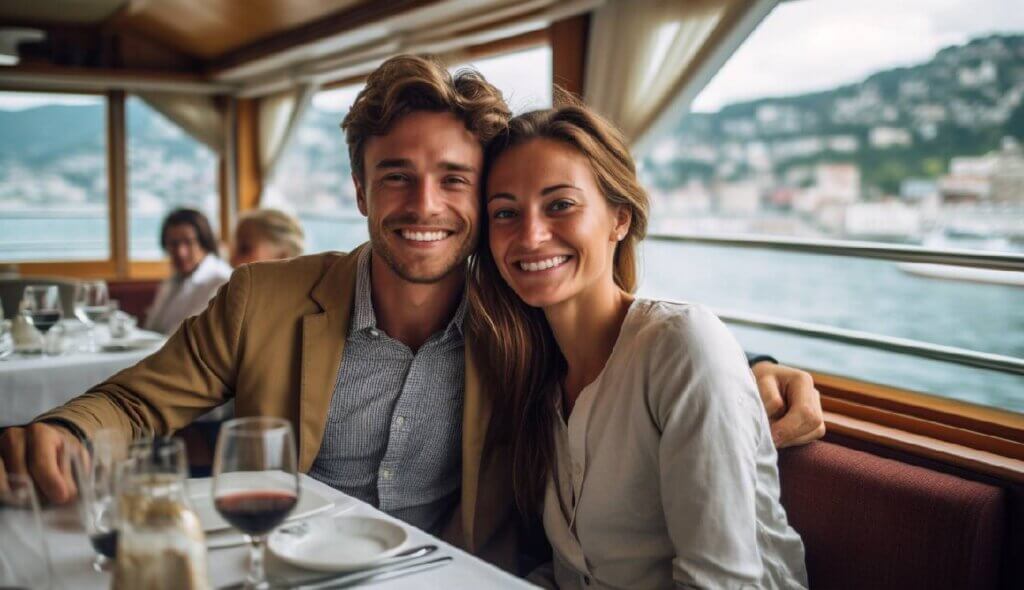 15. Farmer's Market foodie tour
Visit the Original Farmer's Market for a fun and food-filled date. With various vendors selling different types of food, you can sample a bit of everything and enjoy the vibrant atmosphere.
16. Attend a concert at the Hollywood Bowl
A show at the Hollywood Bowl, one of LA's iconic music venues, makes for a memorable evening. Enjoy live performances under the starlit sky for an enchanting LA date night.
17. The Broad Museum
The Broad is a contemporary art museum in Downtown LA. Its unique architectural design and impressive collection of contemporary art make it a must-visit for art enthusiasts.
18. Visit Descanso Gardens
Descanso Gardens offers a serene escape from the city. The tranquil gardens, beautiful flowers, and peaceful ponds create a romantic environment perfect for a peaceful date.
19. Surfing at Huntington Beach
For the adventurous, surfing at Huntington Beach is one of the most exciting date ideas in Los Angeles. Just a short drive to Orange County, it's a fantastic way to have fun and enjoy the Californian sun.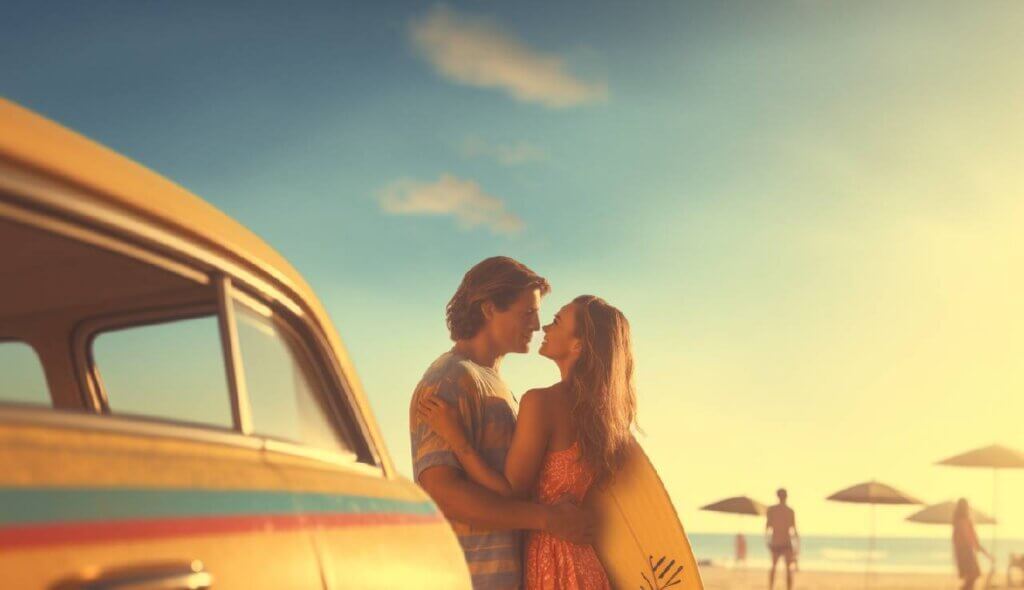 20. Drive-in movie at the Paramount
For a nostalgic date, consider a drive-in movie at the Paramount. With modern movies and classics, you can enjoy a movie night in the privacy of your car, evoking the classic American pastime.
21. Hot air balloon ride
For an exceptionally memorable and one-of-a-kind date, consider embarking on a hot air balloon ride over the breathtaking landscape of Southern California. Feel the thrill as you soar through the skies and take in the awe-inspiring views of the region.
In Los Angeles, the possibilities for unique, romantic, and fun dates are nearly endless. Make these dates even more special with a luxury picnic by Picnic Makers. Whether it's your first date, anniversary celebration, or a surprise for your loved one, a picnic curated by us will add elegance and intimacy. Choose your spot, and we'll handle the rest.
FAQs
What is a unique date idea in Los Angeles for nature lovers?
Outdoor enthusiasts would enjoy a hike up to the Hollywood Sign. It's an invigorating trek that rewards you with an up-close view of the sign and sweeping vistas of Los Angeles. Alternatively, they could also go for a surfing date at Huntington Beach.
What romantic date ideas are available in Los Angeles? 
Los Angeles is filled with romantic date ideas. These include a sunset horseback ride through the Hollywood Hills, a luxury picnic arranged by Picnic Makers at the beach or a park, stargazing at Griffith Observatory, or a stroll along the Venice Canals Walkway.
What are some date ideas in Los Angeles for art enthusiasts? 
Art enthusiasts could visit The Getty Center or The Broad Museum, both known for their stunning architecture and extensive art collections. The Los Angeles County Museum of Art (LACMA) is also a great choice, offering the iconic Urban Light installation.
What are some unique date night experiences in LA? 
Unique date night experiences in Los Angeles include attending a show at The Comedy Store on Sunset Strip, enjoying a concert at the Hollywood Bowl under the starlit sky, or a drive-in movie night at the Paramount. A magical night at The Magic Castle is also a unique experience.
Are there any date ideas in Los Angeles that involve food and drink? 
Yes, couples can consider wine tasting at Malibu Wines, a Farmer's Market Foodie Tour at the Original Farmer's Market, or a luxurious Marina Del Rey dinner cruise. These options combine food, drink, and a unique experience.